Guitar Hero Warriors of Rock
The Guitar Hero franchise is probably one of the cleverest ideas to come out of the gaming industry in years and even though the naysayers are a little jaded as to each release, the latest version of the game, Guitar Hero Warriors of Rock has enough musical oomph to hopefully prove them wrong. However as with every Guitar Hero game, the track list is the soul of the game and in order to appreciate the gameplay, you really need to be a fan of the bands included. With that said, Guitar Hero Warriors of Rock contains over 90-songs from classics such as Bohemian Rhapsody from Queen to modern tracks like uprising from Muse and some heavy stuff... like Ramstein and Slipknot!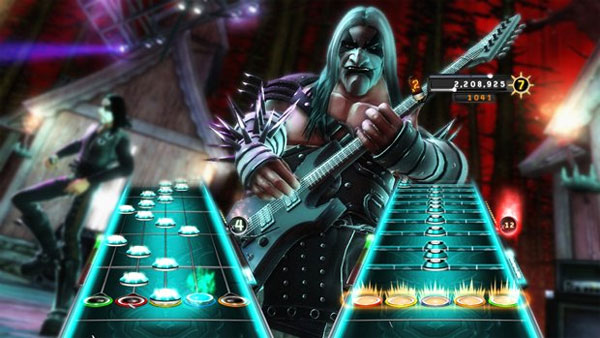 Featuring a variety of gameplay modes from quick play, online and other cool things... the career mode... err quest mode is where it all happens. For those that want to play through all the songs with an over the top story, Warriors of Rock supports a "quest" mode where you need to play music to free the Demigod of Rock, who is meticulously voiced by Gene Simmons (KISS).
Unfortunately for the Demigod of Rock, he has been imprisoned by a beast from hell and this is where the player comes into the mix. By using your skills on the guitar, drums or microphone and the better you play/sing, you will virtually be turned into a rock superhero, provided you have collected enough stars during the songs that you play.
This element of the game reminds of those classic heavy metal band covers that mixes demonology with scantily dressed women and of course, rockers. Depending on which avatar you chose in the game, they each have different powers which can be accessed during the "quest" mode. Needless to say, it's an interesting attempt on the career mode of previous Guitar Hero games and because of its over the top nature, it works well.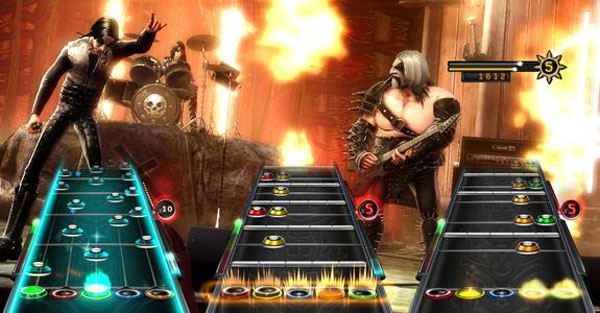 Once you have battled your way through the quest mode, you should hopefully have enough experience to battle the big bad at the end in order to free the Demigod of Rock. When it comes to other modes, the game contains an interesting "party mode" for up to four players and is great with a couple of mates and some beers.
Competitive mode is more serious as you can battle it out against your friends via local or via the internet. Create mode makes a welcome return which allows gamers to tweak their own music (GHMix 2.0) and even their characters look. Lastly we have "quick" play that gives you access to almost the full track list (provided they have been unlocked in quest mode). This allows you to master the songs on your terms and allows you beat those sometimes difficult challenges that are present for certain tracks.
There is an even an RPG element to quick play and the more challenges you beat, the more stars you are awarded which then allows you to unlock new tracks, clothes and locations for your player. Although this review focuses on the game itself, it should be noted that this latest title contains a brand new guitar with some interesting cosmetic changes and more importantly a lighter guitar. But like all Guitar Hero games, previous peripherals can still be used with Guitar Hero Warriors of Rock so backward compatibility is the name of the game here.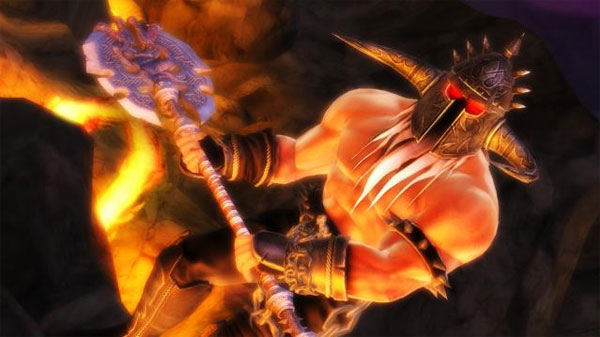 Graphically, Guitar Hero Warriors of Rock is a good looking game on the XBox 360 and the characters appear to be more detailed than previous versions. The crowd effects are great as are the various locations in the game. Nothing is more impressive than seeing the animated version of Warriors of Rock Bohemian Rhapsody which is worth its weight in gold. For music, if you're a fan of heavier rock than Guitar Hero Warriors of Rock is the game for you. Just check out the listing below.
A Perfect Circle – "The Outsider"
Aerosmith – "Cryin'"
AFI – "Dancing Through Sunday"
Alice Cooper – "No More Mr. Nice Guy"
Alter Bridge – "Ties That Bind"
Anberlin – "The Feel Good Drag"
Anthrax – "Indians"
Arch Enemy – "Nemesis"
Atreyu – "Ravenous"
Avenged Sevenfold – "Bat Country"
Bad Brains – "Re-Ignition (Live)"
Band Of Skulls – "I Know What I Am"
Black Sabbath – "Children Of The Grave"
Blind Melon – "Tones Of Home"
Blue Öyster Cult – "Burnin' For You"
Bush – "Machinehead"
Buzzcocks – "What Do I Get?"
Children Of Bodom – "If You Want Peace… Prepare For War"
Creedence Clearwater Revival – "Fortunate Son"
The Cure – "Fascination Street"
Deep Purple – "Burn"
Def Leppard – "Pour Some Sugar On Me (Live)"
Dethklok – "Bloodlines"
The Dillinger Escape Plan – "Setting Fire To Sleeping Giants"
Dire Straits – "Money For Nothing"
DragonForce – "Fury of the Storm"
Drowning Pool – "Bodies"
Edgar Winter– "Free Ride"
Fall Out Boy – "Dance, Dance"
Five Finger Death Punch – "Hard To See"
Flyleaf – "Again"
Foo Fighters – "No Way Back"
Foreigner – "Feels Like The First Time"
George Thorogood and The Destroyers – "Move It On Over (Live)"
The Hives – "Tick Tick Boom"
Interpol – "Slow Hands"
Jane's Addiction – "Been Caught Stealing"
Jethro Tull – "Aqualung"
John 5 – "Black Widow Of La Porte"
KISS – "Love Gun"
Linkin Park – "Bleed It Out"
Lynyrd Skynyrd – "Call Me The Breeze (Live)"
Megadeth – "Sudden Death"
Megadeth – "Holy Wars… The Punishment Due"
Megadeth – "This Day We Fight!"
Metallica & Ozzy Osbourne – "Paranoid (Live)"
Muse – "Uprising"
My Chemical Romance – "I'm Not Okay (I Promise)"
Neil Young – "Rockin' In The Free World"
Nickelback – "How You Remind Me"
Night Ranger – "(You Can Still) Rock In America"
Nine Inch Nails – "Wish"
The Offspring – "Self Esteem"
Orianthi – "Suffocated"
Pantera – "I'm Broken"
Phoenix – "Lasso"
Poison – "Unskinny Bop"
Queen – "Bohemian Rhapsody"
Queensrÿche – "Jet City Woman"
Rammstein – "Waidmanns Heil"
The Ramones – "Theme From Spiderman"
Red Rider – "Lunatic Fringe"
R.E.M. – "Losing My Religion"
Rise Against – "Savior"
The Rolling Stones – "Stray Cat Blues"
The Runaways – "Cherry Bomb"
Rush – "2112 Pt. 1 – Overture"
Rush – "2112 Pt. 2 – The Temples Of Syrinx"
Rush – "2112 Pt. 3 – Discovery"
Rush – "2112 Pt. 4 – Presentation"
Rush – "2112 Pt. 5 – Oracle: The Dream"
Rush – "2112 Pt. 6 – Soliloquy"
Rush – "2112 Pt. 7 – Grand Finale"
RX Bandits – "It's Only Another Parsec…"
Silversun Pickups – "There's No Secrets This Year"
Slash featuring Ian Astbury – "Ghost"
Slayer – "Chemical Warfare"
Slipknot – "Psychosocial"
Snot – "Deadfall"
Soundgarden – "Black Rain"
Steve Vai – "Speeding" (Vault Version)
Stone Temple Pilots – "Interstate Love Song"
Strung Out – "Calling"
Styx – "Renegade"
Sum 41 – "Motivation"
Tesla – "Modern Day Cowboy"
Them Crooked Vultures – "Scumbag Blues"
Third Eye Blind – "Graduate"
Tom Petty & The Heartbreakers – "Listen To Her Heart"
Twisted Sister – "We're Not Gonna Take It"
The Vines – "Get Free"
The White Stripes – "Seven Nation Army"
ZZ Top – "Sharp Dressed Man (Live)"
Not bad hey? Very cool indeed! <insert air guitar rift>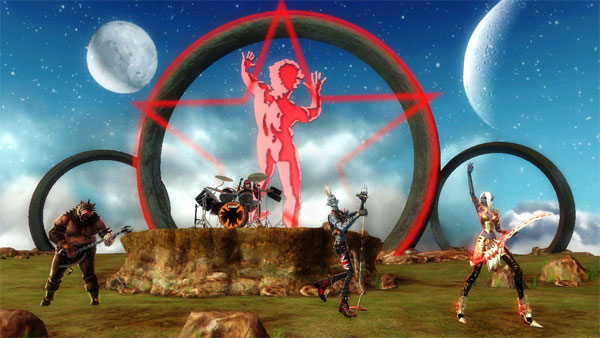 In conclusion, I thoroughly enjoyed Guitar Hero Warriors of Rock and the minor tweaks in the game definitely makes it a fun experience. The quest mode is a blast to play and with its mythological heavy metal inspired story, it's definitely a great incentive to get players to finish the title. Even though in essence, it's still Guitar Hero but when there's new tracks involved that you enjoy, there's little to complain about this instalment of one of the world's coolest franchises. ROCK ON!