Guitar Hero Metallica
You immediately know that you are in for a treat from the spectacular opening sequence of Guitar Hero Metallica which features the band majestically walking into a stadium with music taken directly from a Western film. Even the characters in the game look like their real-world counterparts such as Kirk Hammett and James Hetfield thanks to the Metallica agreeing to be motion captured for the title. It's these little things that makes the game so damn good and Guitar Hero Metallica is one of those games <cue record scratch sound> ... provided you like Metallica!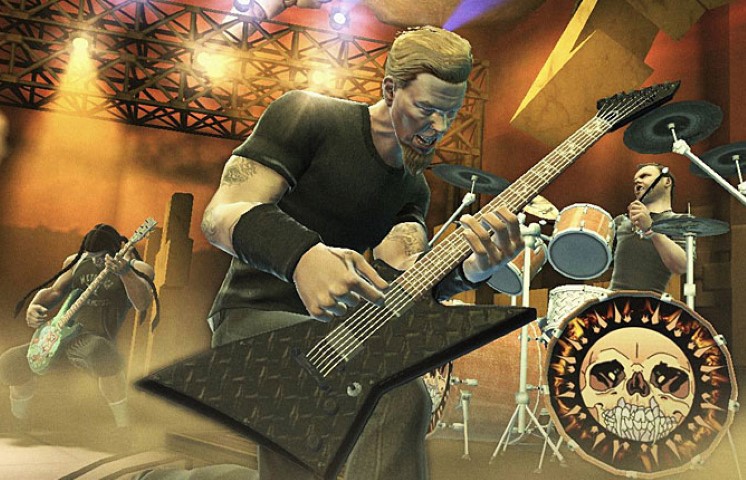 With Aerosmith one of the first bands to appear in their own Guitar Hero spinoff, it was inevitable that other bands would follow and Metallica is the latest band to follow in their steps. Of course Aerosmith had a mixed reaction to the gaming community and fortunately both Activision and Neversoft have ensured not to make the same mistake twice and have included a few new tweaks and additions to this current game.

Although at its heart, Guitar Hero Metallica is almost a carbon copy of previous titles in the series, however new tweaks such as the ability to unlock new venues and songs through the collection of stars makes for a much smoother and less frustrating experience. What these means to the gamer is that as you play, the more stars that you earn for perfect playing will assist in opening up new venues and tracks.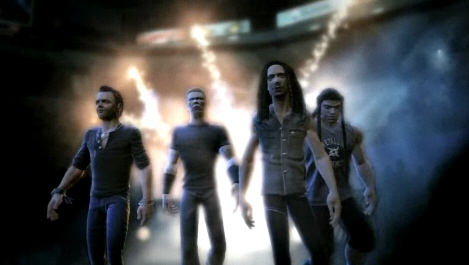 Also, by completing songs, gamers are always awarded some great videos of Metallica and Metallifacts which gives the player some in-depth and sometimes mundane information about the band. Other unlockable items include band photos, original music sheets and full lyric information for those true Metallica fans. Definitely some great treats for fanboys and fangirls!
As with Guitar Hero World Tour, this current installment of the game still allows gamers to play lead guitar, bass, drums and vocals for that true Rockstar experience that is made even heavier with the Metallica tracks.
Of course, by successfully matching the notes to the music or the pitch level of the vocals from the onscreen prompts, you are awarded points and stars to assist in your progression. The Guitar, both lead and bass are perfect as are the drums for this game, however Neversoft haven't yet mastered the vocal aspect of the game which is still a little off when compared to Singstar. Even so, the instruments are what make this game great so Rock on!
Featuring a variety of different difficulty levels, Guitar Hero Metallica boasts a new level of difficulty called Expert+ which truly transgresses the whole experience for drummers through the inclusion of a new foot pedal. Interestingly enough, it's only recommended for the hardcore gamers due to the difficulty level but those who have mastered the previous versions may want to investigate. Of course this pedal comes at an additional cost.

As with the other games in the franchise, the song list is either a make or break feature of the title and if you're not a fan of Metallica then I highly suggest you steer yourself away from this game, even though it contains around 20 or so non-Metallica songs which are quite "rocky" heavy.
The coolest thing about the songs from Metallica is the length of the tracks which sometimes seem to go on forever and is like a rock opera. Depending on difficulty level chosen, these do become extremely tricky with a variety of notes required to be strung on the guitar or hit on the drums, definitely rewarding though. Fortunately for those who have never played Guitar Hero World Tour before can jump into the tutorial which teaches you the basics of becoming a rockstar!
The track list for Guitar Hero Metallica is as follows and although it contains 28 Metallica tracks, the rest of the tracks included are either influenced or have toured with Metallica. Although I'm really not sure about Queen's Stone Gold Crazy, however it was still fun to play. Guitar Hero Queen? Maybe...
All Nightmare Long
Battery
Creeping Death
Disposable Heroes
Dyers Eve
Enter Sandman
Fade To Black
Fight Fire With Fire
For Whom The Bell Tolls
Frantic
Fuel
Hit The Lights
King Nothing
Master of Puppets
Mercyful Fate
No Leaf Clover
Nothing Else Matters
One
Orion
Sad But True
Seek And Destroy
The Memory Remains
The Shortest Straw
The Thing That Should Not Be
The Unforgiven
Welcome Home (Sanitarium)
Wherever I May Roam
Whiplash
Complementing Metallica's intensity are the following 21 rockin' tracks personally chosen by the band:
Alice In Chains - "No Excuses"
Bob Seger - "Turn The Page (Live)"
Corrosion of Conformity - "Albatross"
Diamond Head - "Am I Evil?"
Foo Fighters - "Stacked Actors"
Judas Priest - "Hell Bent For Leather"
Kyuss - "Demon Cleaner"
Lynyrd Skynyrd - "Tuesdays Gone"
Machine Head - "Beautiful Mourning"
Mastodon - "Blood And Thunder"
Mercyful Fate - "Evil"
Michael Schenker Group - "Armed and Ready"
Motörhead - "Ace of Spades"
Queen - "Stone Cold Crazy"
Samhain - "Mother of Mercy"
Slayer - "War Ensemble"
Social Distortion - "Mommy's Little Monster (Live)"
Suicidal Tendencies - "War Inside My Head"
System of a Down - "Toxicity"
The Sword - "Black River"
Thin Lizzy - "The Boys Are Back in Town"
The gameplay features a strong career mode that has your band inspired by Metallica (hence the introduction) and as you progress by completing songs with more stars, additional songs and venues are open. The cool thing about the career mode is that there is another rival band that you are playing against who attempts to sabotage you along the way, a cute little side note to the game. You are also awarded money which can be purchased for cosmetic accessories such as new guitars or clothes.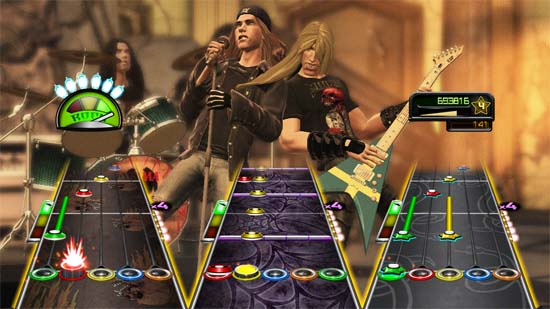 Apart from career, there are a variety of other gameplay modes, including Music Studio and you can play the title online as per all good Guitar Hero titles. Unfortunately for now, the downloadable content is a little limiting for Guitar Hero Metallica, however we're sure that there will be more tracks to follow.
Graphically, the characters of Metallica look great, even though they are quite cartoony and although the graphics are pretty much the same on all systems, the star of this game is the music itself.
In conclusion, Guitar Hero Metallica is a decent improvement over Guitar Hero Aerosmith and hopefully this will inspire other bands to join in the fun. If you're a fan of Metallica then you're definitely in rockstar heaven, however if you're not... this is definitely a big pass but fortunately we're fans and this is one rocking game!