Gears of War 3
Gears of War 3, is developed by Epic Games and itís available for the Xbox 360 console. Itís finally here ladies and gentlemen; GOW3 has been long awaited for by all Gears fans. Epic worked really hard on making sure to end the GOW franchise with a bang.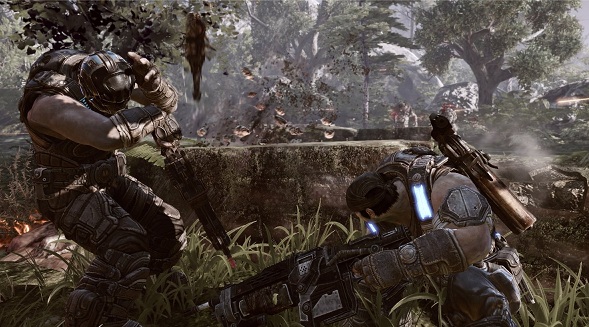 Letís start off with the gameplay. Campaign, of course, was something we all were waiting for. To see where our fellow COGís end up after Gears of War 2. Not to spoil too much into the gameplay but of course all of our favorite COG members have aged (itís passed two years now) and we end up having a few new members in the crew this big bold over the top crew. Anya, Sam, and Jace are new COG that you get to have fun with and are able to play as. Whatís great with the story line is that we get to see glimpses of what makes some of the characters tick, and maybeÖjust maybe get to care about the characters that much more. After all without the emotional attachments to a character, who cares what happens to them? Not so here, you end up caring.

The new mission besides killing the Locust and Lambent is to rescue Marcus Fenixís father, Adam Fenix. The new thing with campaign is the new four-player co-op. The thing Iíve found is you definitely would love to have your friends join you it makes the gameplay more fun and fast pace. You make your way past hordes, rescue missions, and ride arounds. Not to mention going back and forth between Alpha and Delta squad. Not a bad way to spend forty or more hours of gameplay. The action is pulse pounding frantic at times. If this is truly the end of the series then it is an over whelming satisfying way to bring it to a close. With the campaign we find that the human race is not in the best of shape. Now forced to have bases in isolated areas, things are very dark in deed for the race of human beings. Extinction is not so far away, thatís when things get to be desperate and rip roaring battles are in the playerís future.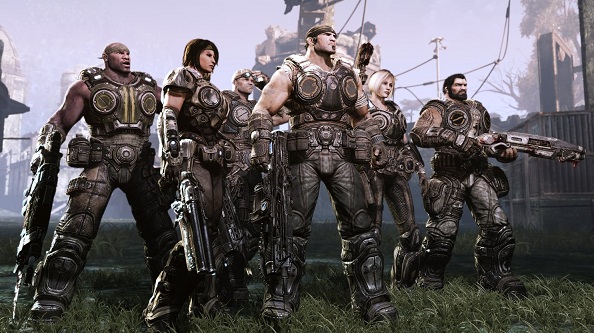 Campaign is not the only thing to look forward with Gears 3. You have the new Horde features and a new mode called Beast Mode. Horde has its original content and rules to play with. The basic rule of horde is make your way through hordes of locust and lambent. The new features is the way to you can plant artillery to help you last longer in horde. You are able to built defense turrets, barriers, and decoys. The more you built and rebuilt the more your level goes up with those new features. Now the new mode, Beast mode, is something they made so the players can play as the Locust this time.

Consider this pay back during horde. Your goal is to go through twelve levels going against COG members. In each level, you have two minutes to pick the locust you are allowed to be and go destroy the COG. Now it isnít as easy as it sounds, the COG have some defenses up just like horde. And the higher you go the more you unlock other Locust to choose from and it becomes interesting and entertaining. Itís a good new way to see the enemy side of battle. Each level you also have the Heroes you have to execute. Not to give too much away but once you get a hold of this mode you will be hooked into it. And lastly we have the multiplayer of this game. Gears 3 did release a beta couple of months ago so that we can play and give feedback on the multiplayer side. They seem to have taken a few things into mind.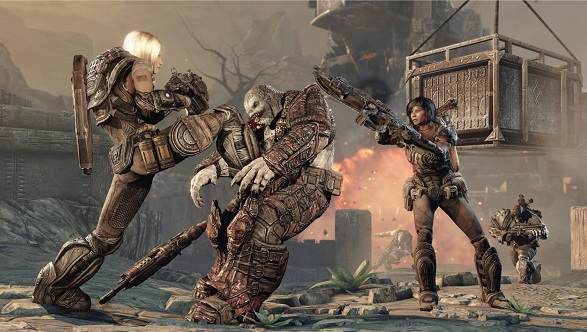 So far, you have your usual mode between Team Deathmatch all the way up to Warzone. Whichever takes your fancy; Gears 3 has it there for you. The weapons are the key things that changed. Hammerburst got downgraded as well as the new weapon in the game, Retro Lancer. Some of the maps that were on the beta were also upgraded. A couple of new rooms in Trenches, and new routes in Thrashball, the guys in Epic did consider the players voices and we all have to thank them for that. What best way to fix things in your game then to take feedback from the people who invest in your game.

Graphic and Sound in this game was advanced from Gears 2. You can tell the deep expressions from Marcus face during all this mayhem. The brutal combat and visuals are a true symphony for the eyes. The sound was definitely something to look into in the game. From the hype when a horde was brewing, to the times where sneaking is key, and all around sounds of battle are sending little jolts of adrenalin through you as you advance. Sound effects on to the sound track join into suck the player into this gaming world and make them a part of it. When you get a chance during campaign look around at your surroundings, even in the devastation, the graphics are wonderful to behold. The team really put a lot of work into the graphics making the game new to the years in the making.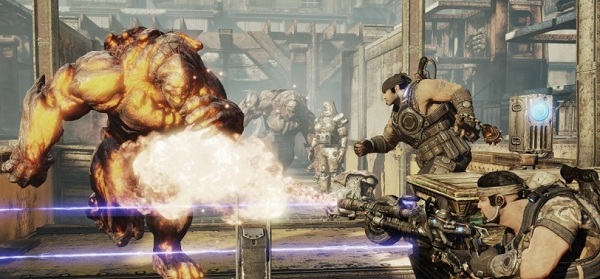 Gears of War 3 was well worth the wait. Even though the campaign was way extended, beast mode was like a tease with few rounds, and horde still lacks the fun after a few rounds. The graphics are great but once again, you run up a few walls your character can sort of go through them. Not all games are perfect but Gears of War 3 will not be forgotten for a while. Any new game coming up will always be compared to this third person shooter. Great job for the Epic team definitely a great game that will continue to bring new hype. Gears fan, you all wonít be disappointed.

Noemi Portillo