Garou Mark of Wolves
The legend grows as this classic descendant of Fatal Fury arrives on Xbox LIVE Arcade. It's been 10 years since the death of Geese Howard. However, Howard's immense martial arts skills have been passed to his son, Rock. The new hero is joined by a cast of 12 new characters plus one returning fighter, Terry Bogard, for this tournament of champions. Representing the world's best, the maulers gather once again to crown the "King of Fighters." Garou: Mark Of The Wolves improves on the Fatal Fury system by adding three new battle formats, creating fights more furious than before. [xbox.com]
This port comes from one of the best oldskool consoles around, the Neo Geo and fans of the original game Garou Mark of Wolves can now play this game thanks to XBox Live.
Featuring a classic side-on action fighting game, the game is reminiscent of titles such as Street Fighter where players must select a character to play and fight their way to the end.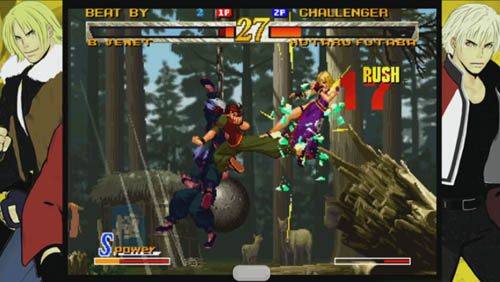 Of course, each of the characters you select have their pros and cons and the title offers an interesting "story mode" for each of the characters. A rather "short" story for the characters too! Add in the bad voice acting from the era of this game and it's oozing with classic fighter entertainment with sprite graphics and poorly digitised sound effects. The only next generation aspect of the game is the background pictures which is high resolution.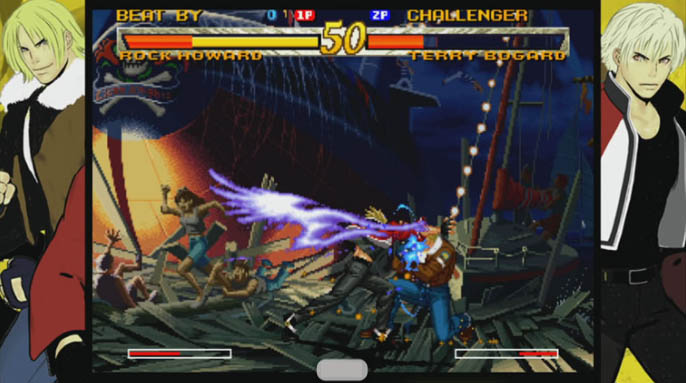 At its core, you basically pick a character and use the XBox 360 controller to fight yourself to victory through kicks, punches and jumps. The controls are well mapped on the 360 controller with most gamers having no issues in picking up the controller and start playing.
As you progress, so do your opponents which become a little harder to defeat and at times frustrating. Unfortunately the repetitive nature of the gameplay just proves how basic some games were of this era and unfortunately it translates poorly to the 360.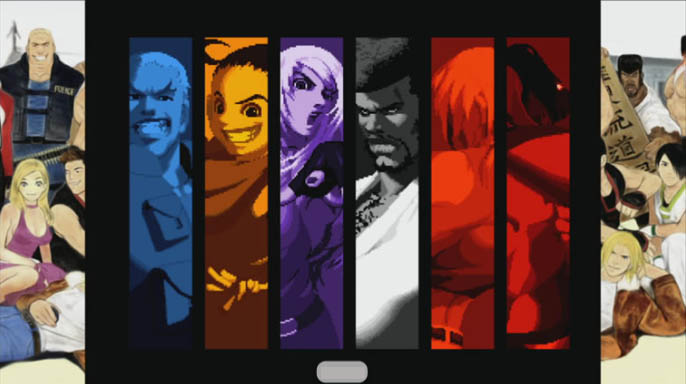 Graphically, this is what the game was like when it was originally released with colourful sprite based graphics that at times look like LEGO. It's a shame that the title didn't receive a facelift but for those who loved the original game, I'm sure they'll be downloading this game to reminiscence.
At the end of the day, Garou Mark of Wolves is an interesting walk down memory lane, however it fails to successfully deliver a truly entertaining experience due to the graphics and limited gameplay. Definitely aimed at the those who loved the original!