Fruit Ninja Kinect
Its simplistic premise is almost ludicrous. Yet, just speaking the title brings a smile to most anyone's face. Fruit Ninja is a port over from iPod/iPhone/ Android that just had to happen to the full body tracking Kinect for the Xbox 360, so now we have Fruit Ninja Kinect for Xbox live Arcade.
Halfbrick Studios has a runaway hit on their hands here, as my aching arms will attest to. While having an exuberant amount of fruit slashing fun, you are for sure getting a work out here. Have a care not to overdo, because you just get carried away by the silliness and fruit juice splashing fun.

In this game you are Ninja. Well, Ninja in training anyway. So you are learning to fight with your hands, making them deadly slashing weapons the better to take care of some Ninja Business with. Stepping in front of the Kinect sensor causes a shadowy rendition of your-self poofs on screen in all your Ninja coolness. Striking from this shadow as a true Ninja should.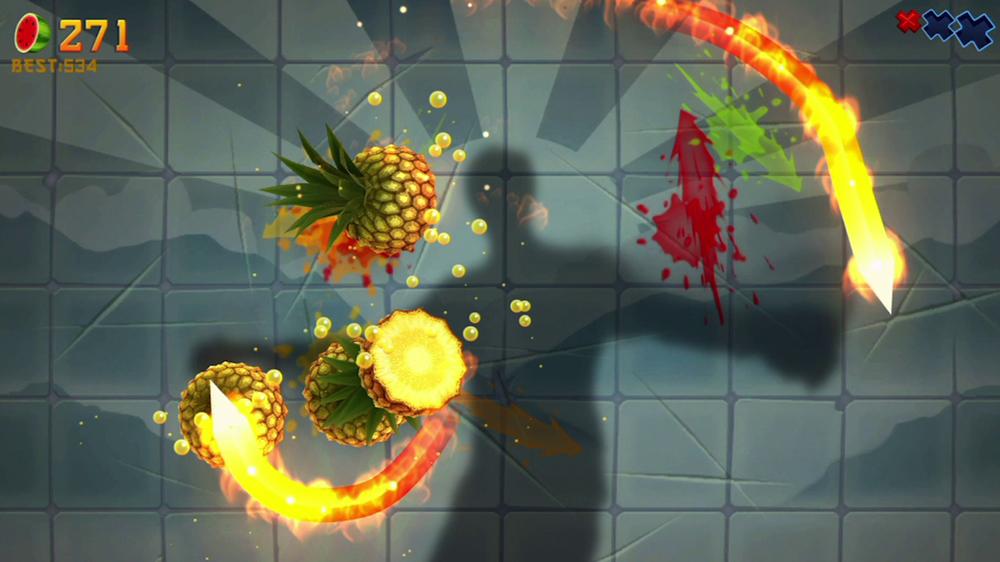 Since you are in training you will be slashing at delightfully and rather juicy fruit flying around in front of you. Simple? Yes, until your Sensai introduces a few bombs in the mix. Don't slash the bombs or they go off, robbing you of the points you have accumulated.

This masterful manipulation of fruit cutting frenzy brings everything that players may have loved about the hand held version, and more. Fruit Ninja Kinect has a Party Mode, players and their closet Ninja friends can make it an evening of who has the coolest fruit slashing moves. My favorite is the Yin and Yang supports Heaven and Earth move… well at least that's what I call this succulent eviscerating circling arms move. The new game Challenge system also shows who is at the world wide top of the leaderboards.

There are also 12 achievements with a total of 200 points. One such coveted achievement is the limp arm causing "Fruit Annihilation" achievement. You get this by slicing up 10,000 fruit.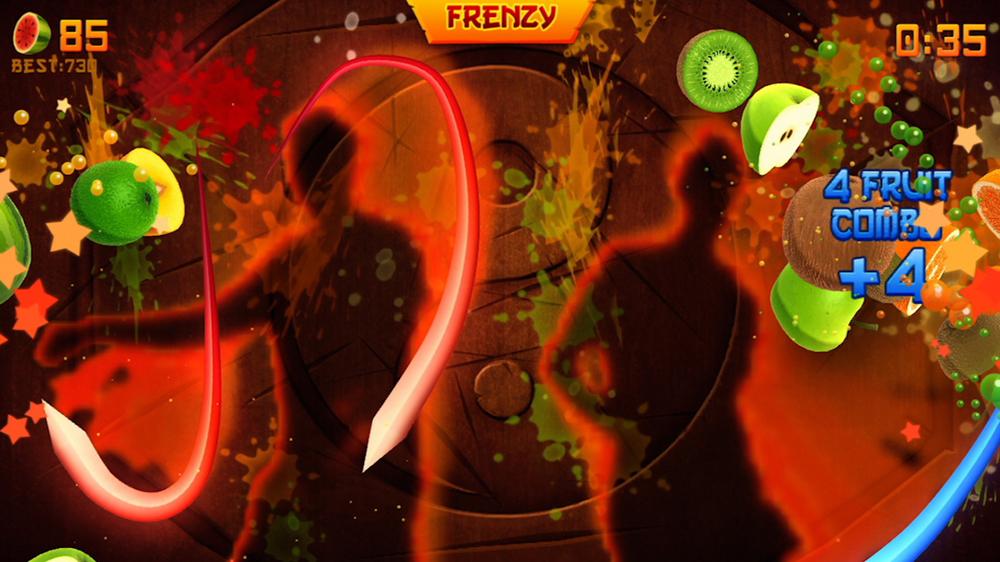 There are also specials and power ups that fly around the screen in the middle of all this fruitgasmic mayhem. One which causes a fruit frenzy bringing triple the fruit flying around for us to bring on the fruit justice. Another is one that brings everything into slow motion, this one is awesome to behold and fun when there are both bombs and fruit on screen. See if you can slice your way around the bombs without touching them off and only hit the fruit. Giddy exhilarating fun abounds here my fellow Impulse Gamers.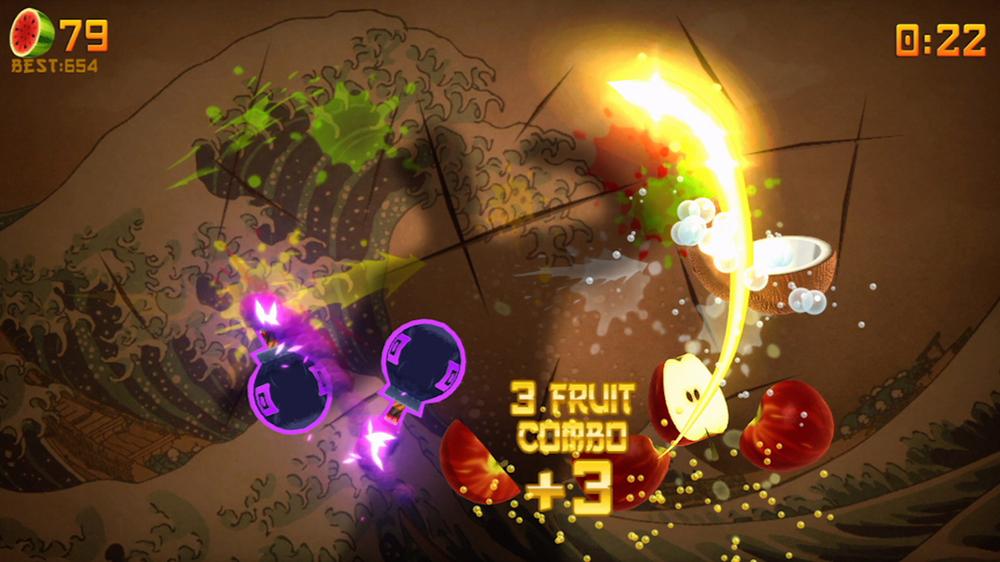 The modes in the game all just as fun as the next providing fruity fun, Case in point, this article, now I have fruit on the brain.

Arcade Mode is a fast and frantic game mode. Some of the power-ups mentioned earlier are real boons here and boost your scores to mad pointage. The "Freeze" banana slows down the action, making it easier for you to set up your combos. A blue-striped "Double Points" banana doubles all point values. Yes that is ALL point values including critical points and combos. Then the Orange striped banana of "Frenzy" triggers an explosion of fruit and stars that pour in from both sides of the screen!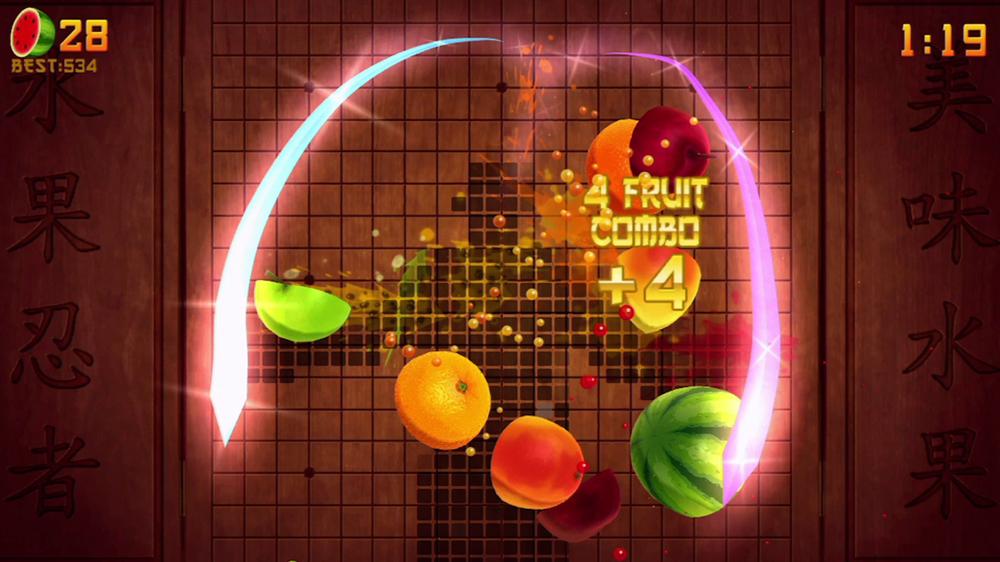 Classic mode takes us back to the original mode that started the Fruit Ninja phenomenon. While there is no timer, it is a three strikes and game over kind of game play. Bombs are still in the mix to test your skills further.

Zen Mode, ahhhh the Zen Mode….slip into a meditative state with this peaceful and relaxing game mode. No penalty for missing targets, no bombs, just do your best to get the highest score you can in this 90 second game mode.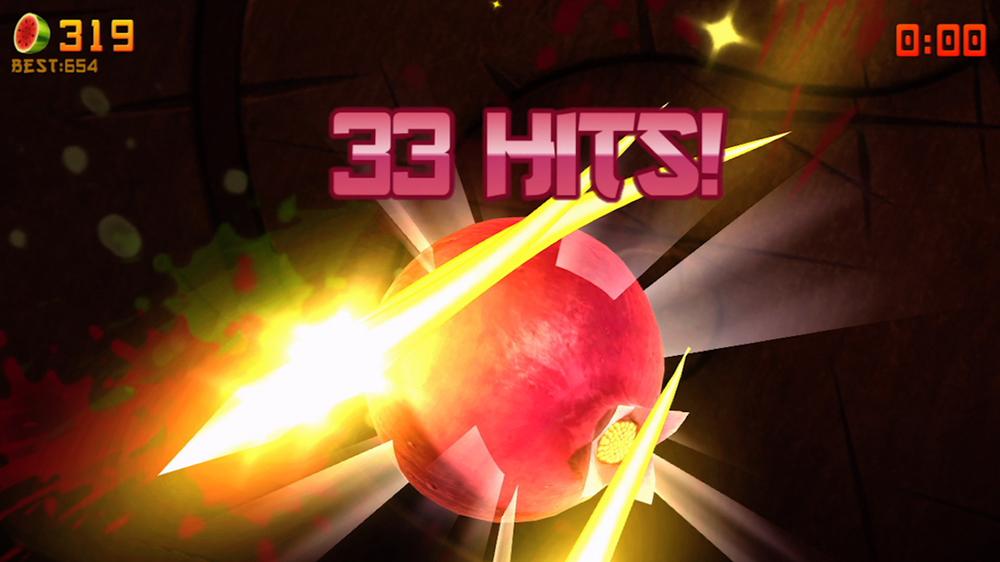 As Shael and I tested out the game, she found out that slashing half-heartedly is not the way to go. Be one with the Kinect and let the Spatial Awareness happen.

There are also rewards that can be earned like different colors to your slashing animation on screen, this coupled with Fruit facts from your Sensai and the game play makes this a delightful game experience.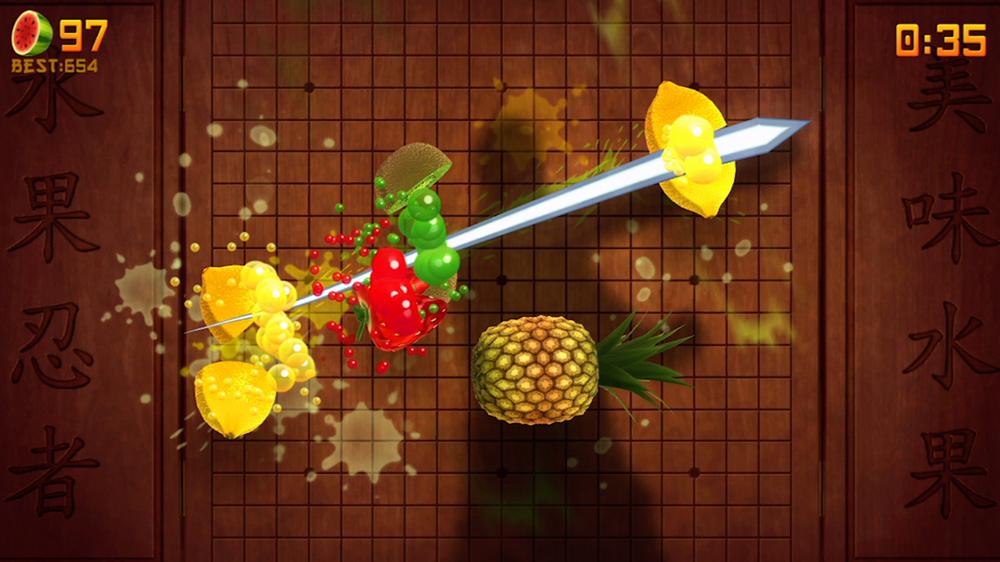 Have fun, play games
Edwin Millheim and Shael Millheim
Impulse Gamer