Fight Night Round 4
I still remember when Fight Night was first released on the XBox 360 that left many gamers gobsmacked at the realistic graphics and sturdy gameplay. Thankfully after a stint in the wilderness, the state of the art graphics have returned which have received another impressive facelift but what sets this apart from its predecessor is the inclusion of new boxing styles that borders on a sporting simulation.
Of course the game can still be played as an old fashioned boxing arcade game, however if you really want to move to the next level, this game allows just that. Boasting fighting styles from Mike Tyson to Muhammad Ali, Fight Night Round 4 truly transcend this game as another button masher and actually makes you work for your victories.
Featuring some interesting and diverse gameplay modes, the crux of Fight Night Round 4 is the "Legacy Mode" which in laymen's terms is the career mode. This allows you start as an amateur boxer and make your way to the top at one fight at a time. As you progress, so do your statistics which allows you to challenge more difficult opponents with a goal to become the number boxer in the world.
The game supports a variety of training modes to assist you reach your goals and these mini-games are actually a great way of mastering the title. For those who have burdened by time, there is an option to bypass the training and this is dependent on how realistic you want the experience to be.
Creating your boxing "Avatar" is a treat and although there are virtually hundreds of looks that your boxer can have, if you have an XBox Camera, you can even take a photo of your face which becomes superimposed on the character. That's right, I'm about to kick some ass!
In terms of opponents, we already know that Ali and Tyson are starring in the game, however the roster also includes legends and current champions such as Lennox Lewis, George Foreman, Joe Frazier, Manny Pacquiao, Miguel Cotto, Anthony Mundine, Billy Dib and Ricky Hatton. Talk about the wow factor!

The control system is perfect on the XBox 360 with the controls quite well mapped on the controller and everything feels "just" right. Depending on your gaming experience, new comers may take some time getting use to the controls as they jab, uppercut and block their way to victory. The force feedback on the controller is used quite sparingly and adds to that entertaining boxing experience.
The different boxing styles in the game have been flawlessly implemented in the title and each boxer, depending on their style, handles different. And of course, each fighting style handles differently, which means you virtually have to be on your toes all the time with the pros and cons of each style. The AI of the title has improved as well that balances perfectly between easy and difficult as they block, dodge and of course lay right into you.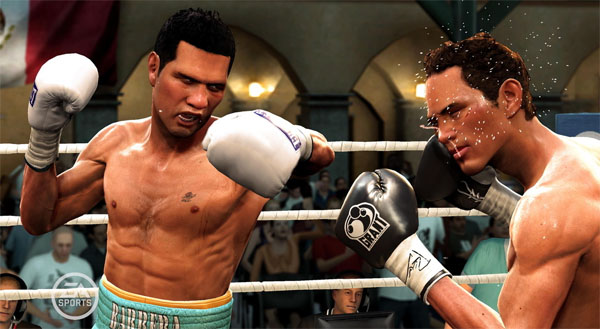 For those that love online play, Fight Night Round 4 features a thoroughly enjoyable romp through both ranked and unranked matches plus an engaging World Championship mode. As you fight your way up the ranks, your goal is to reach belt matches. The only downside to online play is your internet connection and that there are virtually hundreds or thousands of better players than you are which does become a little frustrating at times. Still a fun experience!

Graphically, Fight Night Round 4 is eye candy on the 360 with lush graphics, detailed players and some great special effects from lighting to "fluids" which almost looks like you are watching TV. It's amazing that EA have once again raised the bar from its predecessor.
Match that with a great soundtrack which suits the genre perfectly and a variety of realistic boxing sound effects and you have another match made in gaming heaven. Of course, the slick menu system only helps even more!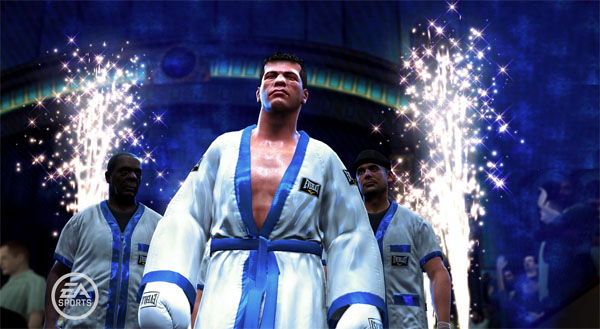 Final Words? EA Sports have created a worthy successor to the franchise with improved graphics, refined and entertaining gameplay that will have you boxing the absolute living daylights out of each other. Whether you want a career or just a quick game here and there, this boxing title is varied enough to encompass all your sports action.