Fight Night Round 3
Fancy a bit of biffo? Then this brilliant game from EA has you covered with a host of goodies that will make fight fans happy for a very long time. There have been fight games on almost every system since there was a system, but this one brothers and sisters, this one takes the damn cake.
Boasting graphics that are sure to make you cry, Round 3 pound for pound is gonna rattle your skull, loosen your teeth and generally make you cry as you work your way through the ranks until you become the heavy hitter that your momma always said she thought you were.
Every thing you can think of has been taken care of in this title, I simply can't get over how much detail there is in the game. All the name boxers look exactly like their real life counterparts, bodies sweat and bleed, and when you take a ton of hits, the deformity work on the character maps has to be seen to be believed. Tattoos, scars and the general look of the boxers is there for all to see. And for those looking for just that little bit more, this game features some of the best looking ring girls that you are likely to see in some time.
Not only is the boxing realistic, even the gaming environments take you deep into the world of the boxer. Rings, training rooms, lighting, everything comes together perfectly to provide you with a convincing gameworld in which to fight. Add to that the ability to re-enact classic bouts in black and white no less and I think that you are going to consider the purchase of this game one of the best things you did for your 360 in the short time that you have owned one.
Getting into the fighting itself and I don't think that you have experienced anything as realistic as this unless you were a boxer or street brawler. Round 3 has developed a great system to allow fighters a chance to see how their opponents moves are developing, but only slightly. This is in order to give people time to react and actually defend as opposed to a slugfest where you would just cop the punches and hope that if you hit your buttons fast enough, you could do enough damage to win. Moves like roundhouses are telegraphed out enough that you should have time to react and at least try to block incoming wild swings.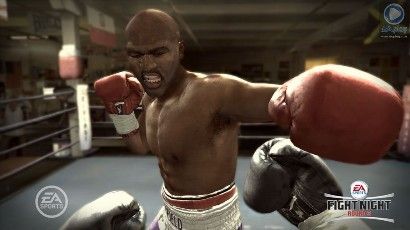 Online boxing is a heck of a lot of fun and from what we've seen in testing this out, the servers seem fast enough to handle pugilists from all over the place belting the bejeezus out of each other. Spending many hours online fighting people all over the world has reinforced however that we are pretty crap boxers here at the impulsegamer stable! We got smacked down in almost every bout, winning only when we were convinced that we were fighting someone who had bought everything they needed to play the game, including a 360 console and internet connection, just for a laugh.
I will wrap it up by saying that you really should get this game. I couldn't really find anything to fault the game at all other than at times it felt that the bouts online were weighed pretty damn unevenly. Was that because we had glass jaws? There are distinct ways that gamers will take to this game and those with twitchy fingers should be able to kick major butt every time due to the serious amount of moves that can be made.
If you are not a fight fan then possibly no matter how much I rave will make you buy the game. But at least do yourself a favour and give it a rent, just to see how good it is. Who knows, maybe we'll convert you yet.
Highly recommended.