Great graphics, great atmosphere but shame about the gameplay. I was really looking forward to this more mature Kinect game but after my lengthy training session and then the fighting bouts, I was scratching my head in confusion. The quick answer is that the biggest problem with Fighters Uncaged is that the title is quite unresponsive. Compared to all the other launch Kinect games, it's like there is an ongoing lag between you and the Kinect sensors.
Shall we keep going? The positives of the game is that it includes a truckload of different combat manoeuvres (70 to be precise) and there are over 20 gaming environments to pummel your enemies in. Another killjoy is that the game only supports single-player because with the addition of two people, things may have been a little better.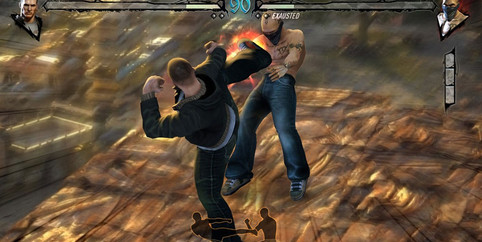 The story of Fighters Uncaged revolve around Simon, a street brawler who is attempting to raise through the ranks of illegal street fighting by fighting his way to the top. He does have a goal and that is to save his father as he battles his way through an underground league in order to rescue his father from the world of organised crime. The story of Fighters Uncaged seems a little forced, contrived and slapped onto the gaming engine because it definitely takes a back seat to this Kinect game. They really could have fleshed the story out more and connected it better with the various fights. Then you have tutorials!
Before engaging in the game, you need to complete the tutorial which teaches you the basics, one by one, left and right. You have to perform each manoeuvre three times in order to progress and this was an extremely experience. Once you do get into the game, this is where it falls apart because I was raising my knee to get my opponent or attempting to punch them in the head and my character was not responding.
The fighting is basically perform one move and then wait. Perform another and then wait. The waiting definitely makes the game quite frustrating because no matter how hard or fast you attack... you just have to wait while the opponent gets you.
To add more fuel to the fire, as you progress through the levels, your opponents difficulty increases and they attack you faster and harder but you still seem stuck in this "slow-motion" gaming dimension. Funny enough, the games dodge mechanics works perfectly. It's definitely a what the moment! The combat is slow but the dodge and block mechanics are normal?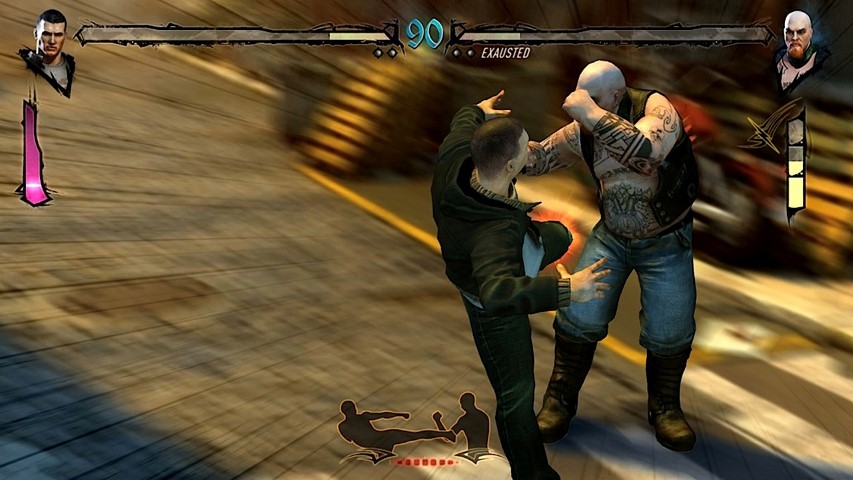 Apart from fighting and in order to progress through the game, you are awarded points and tokens. By collecting tokens, you can then progress to other leagues as your opponents become tougher and you become more frustrated at the whole process. If you do not collect enough, you need to continue fighting until you beat your opponents without getting your ass handed to you. It's all quite difficult if you ask me!
Graphically, the game isn't that of a bad looking game. The environments are actually quite cool and detailed with some nice effects but unfortunately the gameplay doesn't mesh with this. The soundtrack is a generic and "action" orientated score that is nothing special but suits the premise. The sounds effect are quite powerful as you hear each punch, elbow, kick etc...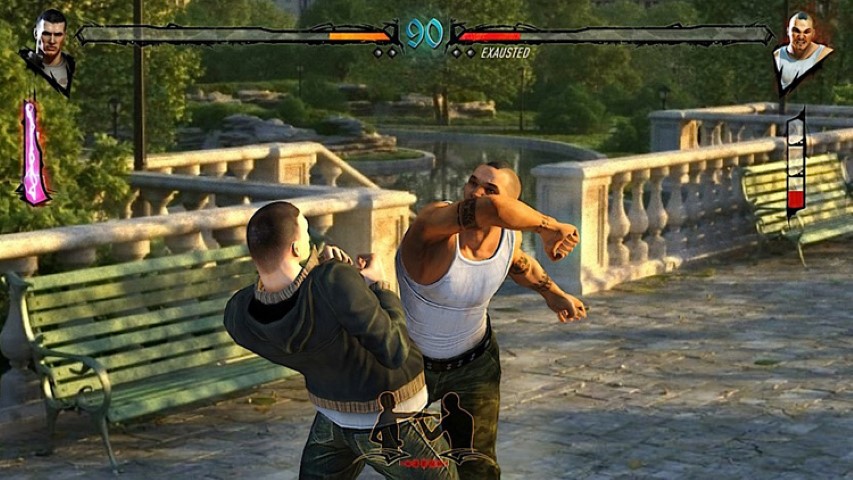 In conclusion, Fighters Uncaged lacks any real gaming substance and although I can appreciate what the developers were trying to achieve, they really needed to test this game before releasing it in order to jump on the Kinect Launch bandwagon. Some further testing and streamlining, this game could have been really good. I also forgot to mention that apart from frustration, the game is quite physical and in the first hour or so, it'll be like a hard gym workout, until you realise that your attacks are moot. What a shame!