Being a long time video game soccer-head, I could not resist a chance to examine what the latest EA Sports FIFA game was like. For most of the past decade, I have been a devotee of the Pro Evolution Soccer series. Now, FIFA, it seems to have well and truely caught up with some big enhancements.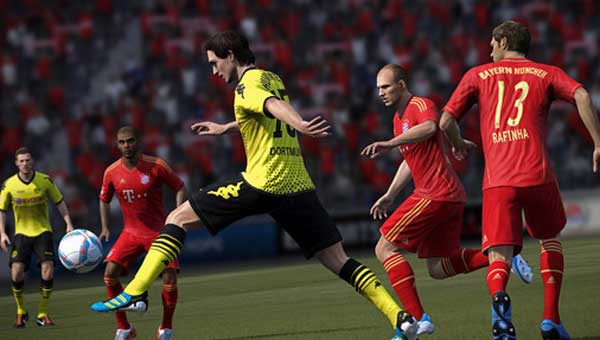 Now, not only does the FIFA franchise have the licenses for all the major leagues, most importantly the top four levels of the English leagues which are now the epicentre of soccer interest it seems. But there is also the French, Spanish, Italian, German, American, Russian and the up and coming Australian A-League to name but a few. National teams are also included, such as the Australian Socceroos and England. All up over 500 officially licensed clubs and more than 15,000 players.
But where FIFA now seems to have caught up and perhaps even taken the lead over Pro Evo is with the introduction of three new key areas. An Impact Engine, Tactical Defending and Precision Dribbling. The Impact Engine improves collision variety, accuracy, and momentum preservation. A new advanced procedural animation system is used along with collision physics to produce different results depending on the players and physical forces involved. This affects all players, so even those off the ball may have collisions. The Impact Engine also directly affects injuries sustained by players during a match.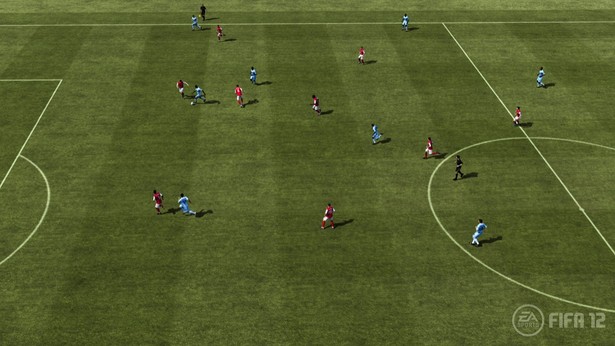 The Precision Dribbling feature allows players to dribble whilst shielding, meaning you can still move around the pitch whilst holding players off, rather than being stuck to the spot. Close control has been added below jogging as a way of allowing players to take smaller, more frequent touches, keeping the ball closer and keeping tighter control. Players will now be much more aware of their surroundings. As an example, players in possession near the touchline will understand their position, and keep tighter control of the ball to stop it running out of play.
An improved artificial intelligence system named Pro Player Intelligence aims to make AI-controlled players react to the skills and capabilities of other players with appropriate actions. For example, a winger will be more likely to cross the ball into the box when he has a waiting team-mate with aerial ability, whereas he might look for support and play the ball along the ground if that team-mate is less of an aerial threat. Players will also make better use of their own strengths, so for example a creative player might look for less obvious opportunities such as playing long accurate passes, where another player in his situation would be more likely to play it safe with a short pass.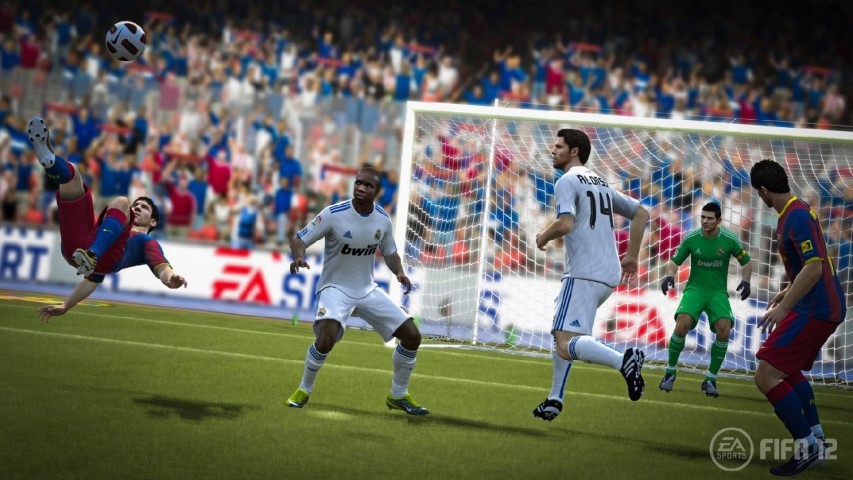 Graphics & Audio
Graphically, there is great detail in all the animations. The club kits are included with highly recognisable player characters. Stadiums are excellently reproduced with reasonable crowd scenes. The field grass texturing is pretty good, but not quite there. It appears too billiard table like. All the menus are well laid out in the traditional format that makes navigating fairly simple to understand.
Career mode is another interesting option within FIFA 12. It allows the player to either become a manager, a single player or a player-manager. Player managers both run the team and play as a single player on field. As a manager, the relationship with the players is determined by factors such as team selection, success and salaries. Squad members can go and talk to the press to stir up interest and dissent within your squads.
Audio includes many team chants that you hear unique to certain teams with all the regular ohhs and ahhs that a soccer gamer would now be well and truely accustomed to. There is also the ability to swap commentary teams namely Martin Tyler and Alan Smith with Clive Tyldesley and Andy Townsend which adds a bit of variety to your games as the same rehashed lines can become predictable after a while.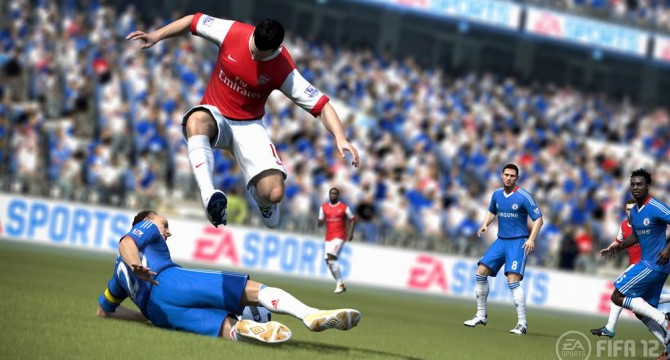 Online mode has the option of Head to Head seasons, where a player's team has the challenge of trying to climb through 10 divisions of 10 matches per a competition, with promotion and relegation. Cup or knockout competitions will be staged every few weeks.
Final Level
All up FIFA 12 is a very addictive and at the top difficulty level very challenging. There are many options to stop you getting bored and constantly tossing up varied challenges. The audio is real life like which recreates the atmosphere of game day. This title is definitely worth consideration if you like your soccer.