Fatal Inertia is one of the latest titles from THQ that is set the 23rd century which combines futuristic street racing with demolition derbies. Unlike traditional racing games, Fatal Inertia mixes racing combat with the environment to create a truly unique and quite entertaining racing game that is not your stock standard Need for Speed but more like Need for Speed meets Mad Max. In its essence, Fatal Inertia is futuristic racer that combines the best elements of game such as Wipeout and even Mario Kart to create a rather entertaining game with next-generation graphics and apt gameplay.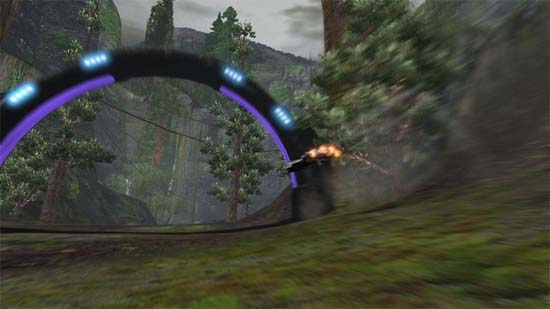 Features
Fatal Inertia contains a variety of different gameplay modes with the main crux of the title being the career mode that allows you to compete in a series racing leagues across distinct and exotic locales. As with all good career modes, the title begins quite easy with the difficulty increasing as your progress through the various leagues.

Apart from racing at super fast speeds, the player also has access to a plethora of entertaining and sometimes powerful weapons that are scattered throughout the gamine environment. My favourite weapon or missile in Fatal Inertia is the magnetic missile which can be fired both behind and in-front of your craft and once attached to your enemyís vehicle will hamper their vehicles that make for some extremely difficult maneuvering.
There are virtually dozens of different weapons and items that your vehicle can consume and can all be used in different ways. Fire a missile from behind your ship and youíll get a few seconds of boost which may give you that slight edge for victory and needless to say, thoroughly entertaining.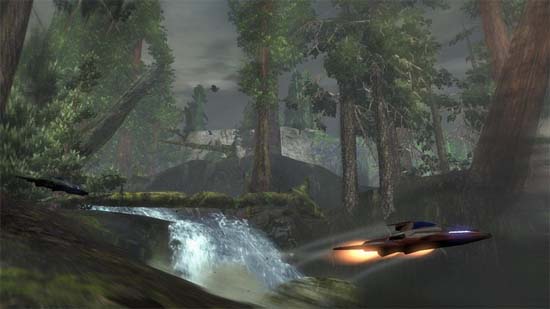 Another interesting gameplay feature of Fatal Inertia is an elasticized cable that can be used with a standard or magnetic grapple. This gives the gamer a variety of new tactics while playing the title such as grasping on to other vehicles and even the landscape. Although initially a little difficult to master, this feature opens up a whole world of new racing possibilities such as shooting the cable forward and using it as a slingshot or even firing it at an opponent in order to steal their inertia.

The control system of Fatal Inertia is perfect on the cordless controller on the XBox 360 and the developers have also ensured to give the gamer a true sense of speed in the title, especially when nitro is released that gives your craft a true power boost. Used incorrectly, it may also cost you the race as the power-up is quite powerful at the best of times. The gamer can also upgrade their ships from not only a performance system but also visually. With this in mind, it will take novice gamers a little while to master the control system.

Other gameplay modes such as race and knockout are ideal for those times when the player has limited time but what really wins the award is the full throttle mode which gives the gamer access to all power-ups based on acceleration that is great for those who wish to live on the edge with a true sense of high speed racing.
Graphically, Fatal Inertia is visually impressive on the XBox 360 with beautifully designed 3D landscapes and detailed futuristic ships. The special effects are also quite expressive from lighting to amazing explosions that go hand-in-hand with the game. The soundtrack of the title suits the genre perfect but is a little uninspired at the best of times, however fortunately the sound effects have been implemented quite well and I urge gamers to play this title on a true surround sound system to truly experience the title. Match that with a large Plasma or LCD television and itís almost like going back to the old coin-op arcades.

In conclusion, Fatal Inertia is good racing title that features a sturdy gaming engine, a variety of gaming modes and decent graphics. Although not giving too much new to the genre, itís definitely recommended to those gamers who need something a little different than the Need for Speed or Motorsport Forza series with its futuristic feel and brilliant weaponry engine. Definitely worth checking out.