F1 2011
Codemaster's has released a follow up to F1 2010 with a 2011 version. A better Grand Prix racing simulation has not been created for the home user in my opinion. Codemasters, who are renown for creating great driving simulators, such as Dirt, TOCA and now you can add F1 2011 to that impressive list.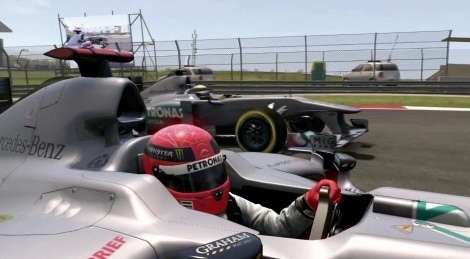 The game itself is an accurate recreation of the 2011 Formula One season, with all the tracks, teams and drivers that started off the season in 2011. It does not have the driver changes that have come throughout the season however such as new Aussie hopeful Daniel Ricciardo. There is no actual tutorial on how to play the game, it does have a proving grounds option where you can set the lowest playing standard, which then allows for a lot of forgiveness in the car, including damage when hitting walls and provides an ideal driving line for you to follow.
There has been marked improvements from the 2010 version of the game to 2011 in a number of departments. Graphically, there is an improved frame rate, thus allowing you to notice objects more clearly at the higher speeds. There is improvements in the sound department also, with better recreation of engine sounds getting to higher pitches, and other sounds such as the wind whistling past your helmet as you hurtle around the circuits.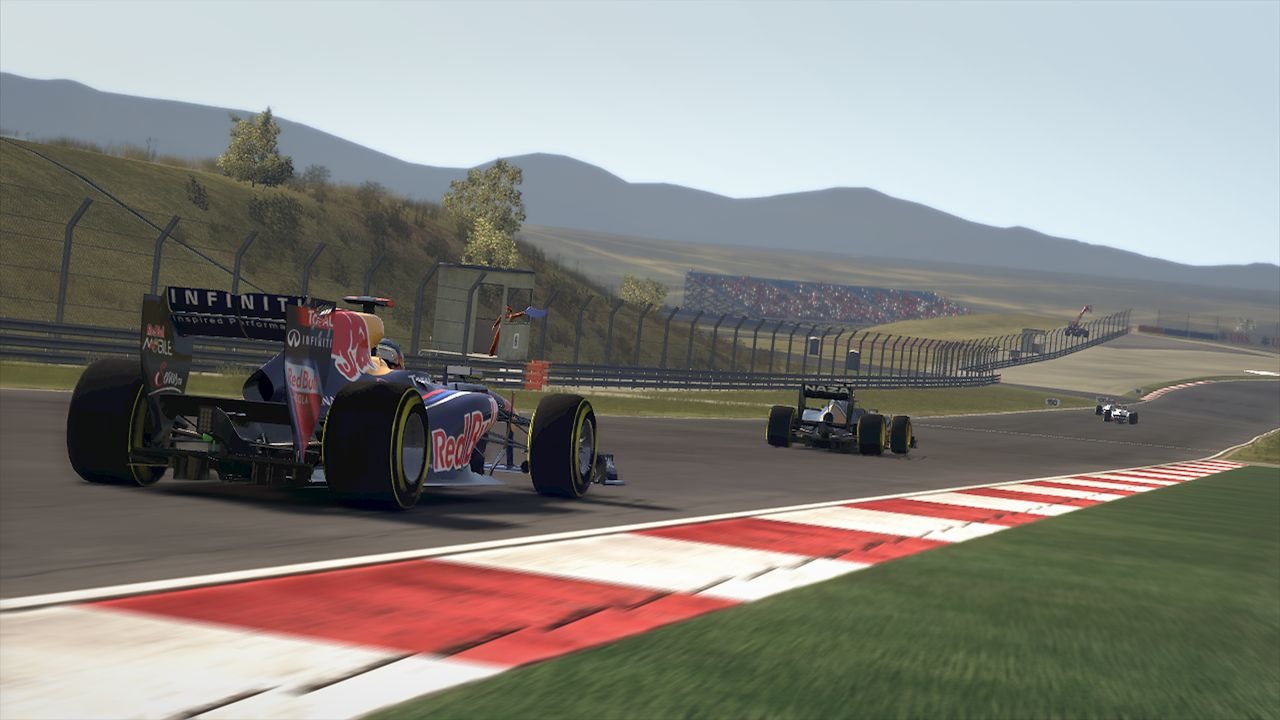 Also, KERS and DRS systems have been included also to be even more closely faithful to real grand prix racing. The trick is when to activate these to fully take advantage within a race and also to fend off other cars that are using them to take over you on the track. The dreaded safety car also will join in races when there is on track damage further making this simulation closer to the real sport.
Naturally you can take on an entire season, the 19 race schedule or just a single race. And it is possible to break this down even further to a single lap, 3 laps, a small percentage of the overall race distance or to go for the entire gruelling event. There are 4 levels from easy through to advanced. When you play advanced, be warned the grand prix car of today are incredibly brittle and touching other cars, or walls will cause significant damage requiring you to pit and lose significant time on your rivals. When in the pits, your crew looks like the real thing and take similar time to what occurs on race days when replacing wings, refuelling etc. In race, the start it seems is where most of the accidents tend to occur with drivers flying into the first corner. It is nigh on impossible not to touch another car in the process, just like the real races. Any wonder why Mark Webber is so cautious off the line.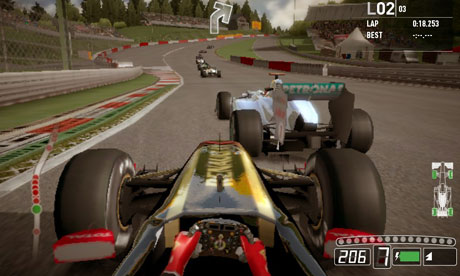 What must be noted too on damaging your car, you will also lose performance. If your wings are damaged, so will your cornering ability, as will driving with a dry weather setup when in the middle of a rain downpour. Your crew also makes in race announcements that are meaningful to the race you are in. When running off track in a race, invariably you tend to run into sand traps. Your tyres noticeably pick up the pebbles and this takes a while for them to fall off which further adds to the realism.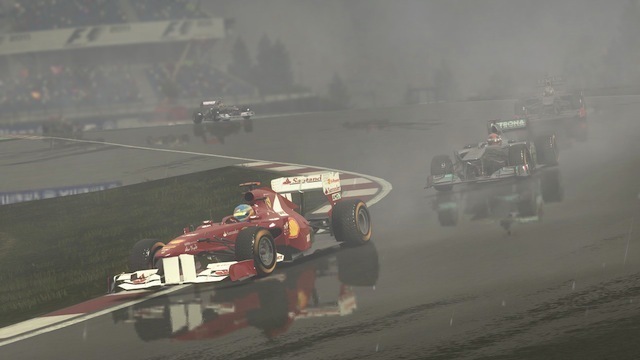 Overall, this game is a true simulation of today's grand prix racing. It is both as accurate as you could hope to realistically be able to play. Graphically and acoustically it is superb. If you like Formula One racing and want to play it at home on your console or PC then this game is the pinnacle of simulations on the sport ever produced. The only thing missing is the cramped cockpit and the g-forces you would get in the real thing.