Dungeon Defenders is a kind of mash up of tower defense meets a sword and sorcery rpg. Players are adventuring in the world of Etheria fighting against an ancient evil. Of course what self-respecting adventuring hero would not be?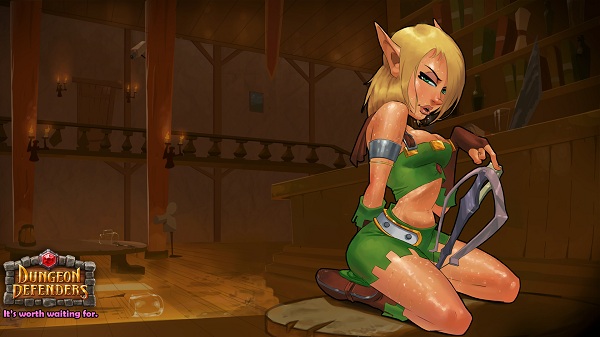 This one has turned out to be one of the most fun ones we have played in a long time. While some may find some parts repetitive, this brightly colored gaming world harkens back to some of the adventuresome coin op games we used to get together with friends with in the arcade and blow threw 20 dollars in quarters in no time flat because we wanted to get to the next boss fight or we wanted to get to that next level for bragging rights and the chance to place our initials in the top ranking players of a game. Yea, thatís what it feels like.

That is exactly where it shines the most is playing with others. Boss fights are actually satisfying, all out mayhem and scrambling between keeping up the defenses, healing and fighting some more.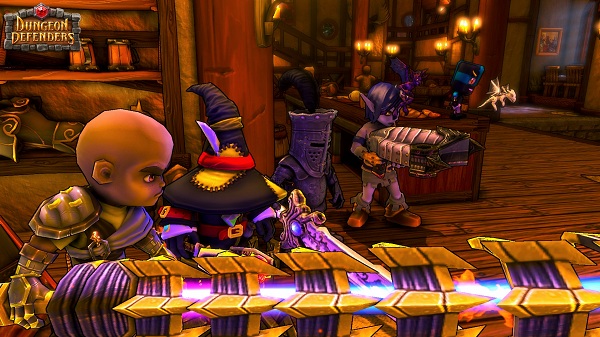 The premise is not just seasoned warriors defending the realm; the champions have been called away and have left their young disciples to defend the lands. The opening is straight forward and gives background to the simplistic story line, itís a tale that we all have heard in one form or another. Though here we are just as eager to jump on in and game. When you get right down to it, itís the simplest tale of all, one that connects with everyone. Good vs. Evil.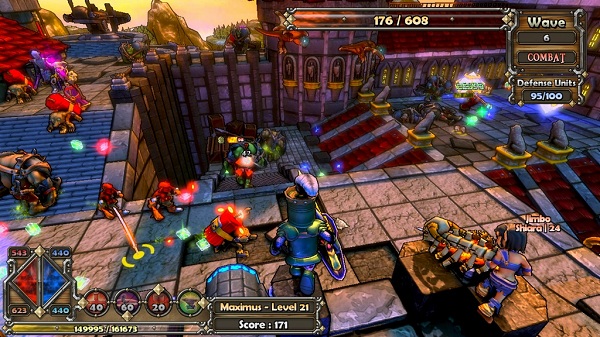 The art style of the game as noted is very bright colors with quirky tongue and cheek character styles of animation. It all harkens to everyone favorite kid friendly anime style, only with an adult humor to it. After all when choosing characters, the Squire is without pants and just barley shows his polka dot (Or are those hearts?) boxer shortsÖ.and the huntress turns her shapely bum towards the player with a little wiggle almost as if the character really wants you to choose her for the adventure. For the gaming test and review I chose the Monk of course due to my kung Fu back ground. All of the character animations are jaunty anime renditions of young warriors.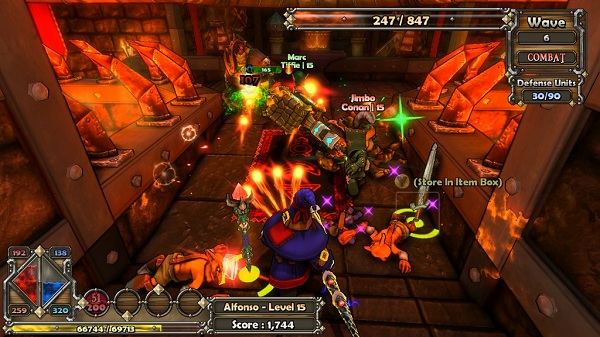 Weapons are oversized to the extreme, the better to hurl out the beat down to the hordes of enemy.

Each character has their own strengths and weaknesses so having a full party playing together with all of the character classes is much more beneficial. The party is well balanced to each otherís abilities and compliments one another well. Itís classic sword and sorcery fare that you just feel at home with at once.

After a basic choose your character and rename them as you wish, you start out in a tavern where the tutorial voice over explains this is where it all starts, where you plan your games, gather equipment and then also hang your trophies.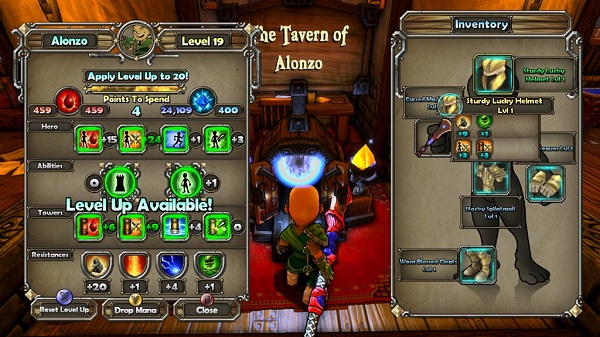 As I noted the graphics are bright in color which can be a bit distracting when the action gets very heavy, there mild clipping but nothing that will distract, nor have I found any dreaded character gets stuck in the graphics bug here. So get your game on Impulse Gamers.

Controls are straight forward, and I think that the controls lend themselves well to the Xbox 360 controller. Though some of the sub menus could have been easier to get to and stream lined, it is not cumbersome at all.

Sound effects are very pleasing. From screaming and grunting orcs and suicide goblins to the nice sounds of the towers sending out their insistent and sometimes final words of destruction on the enemy.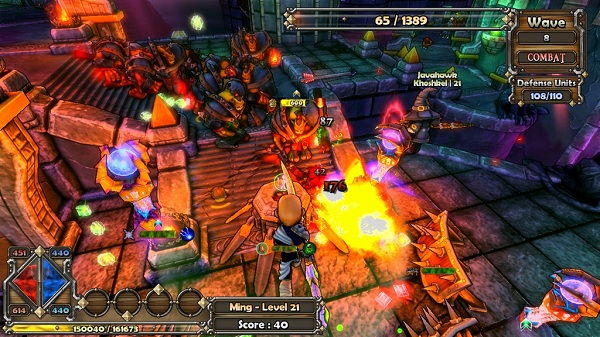 While you can play in single player, the game just screams for multiplayer co-op. So do yourselves a favor grab some of your Dungeon delving friends and have a go at Dungeon Defenders, you will smile and you will have some fun.

Check out Dungeon Defenders and have a blast at some gaming goodness yourself.

Have fun, play games.
Edwin Millheim
Impulse Gamer