Doom II
One of the most popular and influential games of the 90's comes to XBox Live with Doom II, a PC first person shooter classic. Re-released by Bethesda, Doom II pretty much remains the same as the original PC game but where it does shine is with the inclusion of multiplayer via the XBox Live network.
At it's heart, Doom II is a first person shooter that transforms the player into a space marine who must descend into the pits of Hell in order to stop a plethora of demons from overrunning the universe. Use your fists, guns, shotguns or the BFG, an experimental super weapon in order to dispatch these nasties. Simple hey? Actually, the gameplay is quite easy in the single-player and although it looks like LEGO at times, the reminiscing of this great game brought a big fat smile to my face.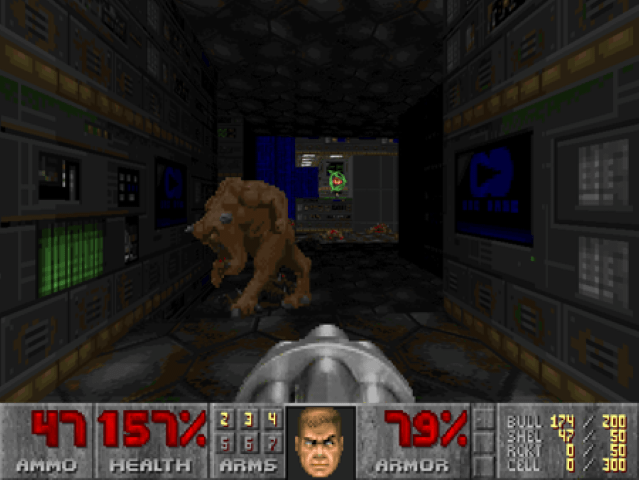 The controls have been well mapped on the 360 controller as you shoot, explore and find secret rooms filled with bonuses. For those who have never played the grand daddy of first person shooters, you cannot jump or even look up and down. This feature would not come from ID, the original developers until they released Quake but even so, it actually works well in a strange sort of way.
Add in a variety of boss battles and you have everything you need for a fun first person shooter experience. The big downside of the title is that the game looks quite dated but in terms of navigating this world, it's silky smooth. The game even contains new levels for the player to get lost in the original experience which is pretty damn cool. For me, it was playing these 9 new levels, created by Nerve Software that had me going back to Earth, as opposed to Mars.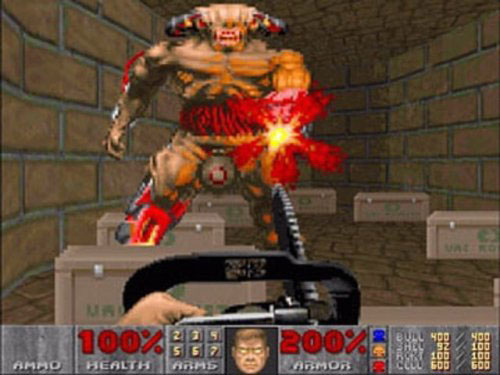 For multiplayer, the game supports up to 4-players via co-op or traditional death match games and even if your ping is slow, the games graphics will ensure that you can still keep up with those on super connections. Co-op is also available via split screen but for me, the online co-op was really cool and you could easily finish this game in a sitting with other gamers. In multiplayer, there are a variety of settings to tweak in the games, including different coloured marine suits.
Graphics? Even though I loved the original, they pretty much bite on the XBox 360 and it doesn't even make use of full HD graphics which is a slight dampener on the whole Doom II experience. But apart from that, the level designs are great as are the characters and weapon effects. Throw in that memorable Doom II soundtrack and the 16-bit sound clips of monsters dying and getting angry and this is a true walk down memory lane.
Even in this world of Red Dead Redemption and Call of Duty, this game has a quintessence of magic that remains intact in this game and it's really a pure and fun experience. It may not have next-gen graphics or a fantastic plot but it does play well, even after 16-years and once I started playing, I had to finish this game... one more time, in the 21st century.
Legendary!