Disney Infinity
To infinity and beyond! That is certainly what Disney done with their latest video game, Disney Infinity that although reminiscent of Skylanders, definitely takes this idea to a totally new level. Not only does it manage to capture the characters, stories and environments of many Disney franchises but it also delivers a strong gaming engine that can actually be played by both children and adults alike.
Similar to Skylanders, Disney Infinity is available as a Starter Pack that comes with the game plus three figures that include Mr. Incredible (The Incredibles), Sully (Monsters Inc.) plus Jack Sparrow (Pirates of the Caribbean) and their power discs. Additional Disney characters can be purchased that give the player access to different abilities and even stories.

Disney Infinity Starter Pack includes:
Disney Infinity Video game

Disney Infinity Base

3 Disney Infinity Figures: - Mr. Incredible, Jack Sparrow and Sulley.

3 Disney Infinity Play sets: - Monsters University, Pirates of the Caribbean and The Incredibles.

Your first Disney Infinity Power Disc

Unique web codes to unlock content online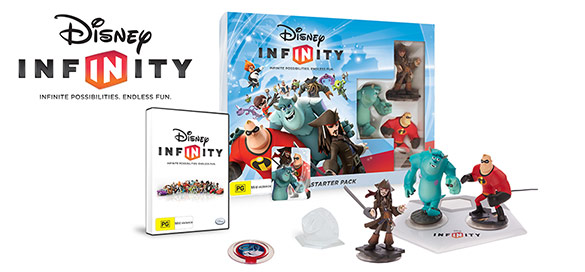 The gameplay of Disney Infinity is reminiscent of Toy Story 3 in that the game is an open world environment that you could almost consider it Disney's version of Grand Theft Auto light. However at its core, Disney Infinity is an action adventure based in a third person view with a whole wealth of Disney characters that require the player to complete missions, solve puzzles and of course engage in combat.
With combat, the game is very kid friendly from not just the control system but the relatively short and sweet battles that you have which keeps the violence quite cartoonish. You can even drive vehicles around too that really enhances the gameplay. Disney Infinity also offers players two gameplay modes that include Toy Box (create your own worlds) or Play Sets (story based campaigns based on the various characters of Disney Infinity). Both modes are a treat to play!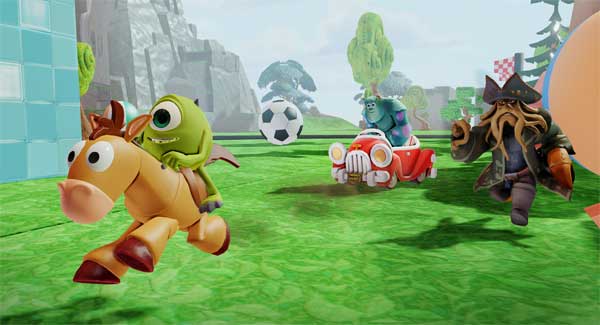 Disney Infinity is divided into various play sets such as Monsters University or The Incredibles which dictates the themes, characters and stories from these franchises. For example, in The Incredibles, players battle it out with Syndrome, their arch-nemesis as Metrocity is in danger from this super villain. The Incredibles play set is quite reminiscent of Grand Theft Auto and inFamous in relation to the open world game mechanics.
There is even an EXP system used to help unlock additional bonuses for your characters. Whereas Monsters Inc revolves around Monster's University where the gang gets mixed up in all sorts of University antics and mayhem plus a healthy dose of Tom Clancy-like stealth mechanics. The goal here is to beat their rival university, Fear Tech.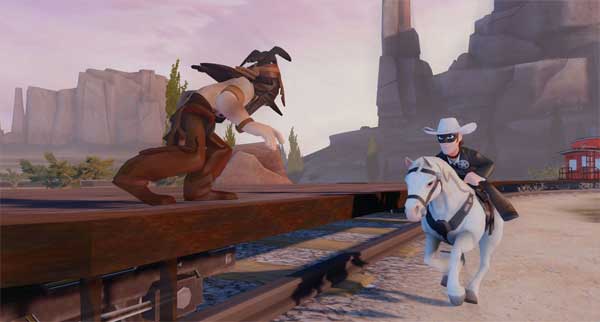 However where the game shines in this mode is via the Pirates of the Caribbean play set that is totally different than the two aforementioned sets. Unlike the large city of The Incredibles or the various pranks and scares of Monster University, Pirates of the Caribbean allows you to sail the seven seas for swashbuckling action that not only allows for battles against other ships but battles that take place on the ships themselves. Nothing is more fun than controlling Jack Sparrow and his gang in this truly enjoyable play set that was definitely the highlight of the game for me. Each of the various play sets in this game will take most players around 4 to 5 hours to complete and probably more if you're trying to find all the hidden toy pieces and attempt to complete all challenges.

But apart from the play sets, players have access to the Toy Box which merges all these gaming elements of these titles into one big toy box. It's basically Minecraft meets Little Big Planet and from here, you can explore strange castles, fight enemies, race cars and perform a variety of other entertaining objectives that is great for multiplayer fun.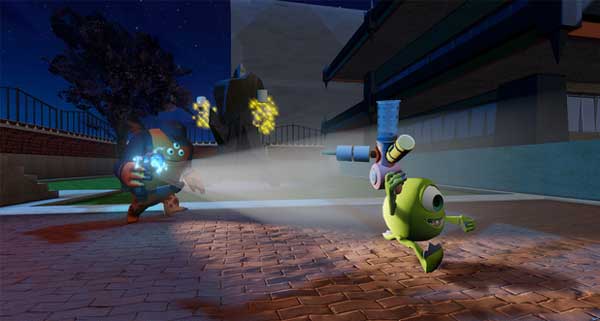 The building tools that come with the Toy Box are quite easy to use and is only limited by the players own imagination. Whether you want to make a Disney maze filled with pirates or some strange Incredibles racing game, there is no limit to what you can make. There's definitely hours upon hours of enjoyment to be found here, especially if you have an imagination that goes a little wild at times. Toy box offers up to two players locally or up to four players online and your masterpieces can be shared with the greater community. There are some amazing toy boxes out there at the moment that would have taken people quite a while to put together. Another fun element of the Toy Box is the Hall of Heroes which highlights your current abilities of your characters and the better they become, the better their statues look.

The only slight drawback to this game and I mean slight, is the reliance on Disney commercialism. Unfortunately if you purchase just the Starter Pack, there are parts of the game which cannot be completed without purchasing additional play sets. The game can still be finished but you just miss out on certain areas and storylines plus of course the very cool characters themselves. Even so, boys have been collecting action figures since Star Wars, way back in 1977 and the toys that come with Disney Infinity look amazing. Given that, while you are playing, certain elements of the game will be locked off from the player and in order to rectify this, a purchase must be made. This also creates another slight problem that you need two characters from the same universe to interact in their respective play sets.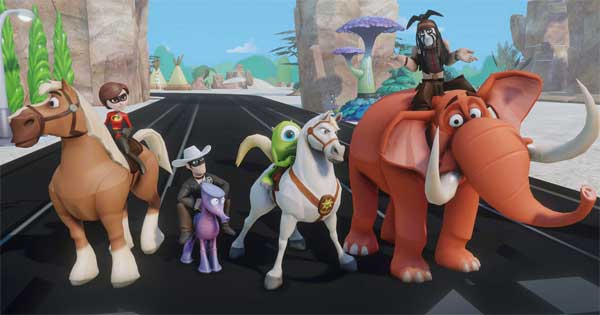 Graphics/Audio

Graphically, Disney Infinity looks identical to the various films from these colourful franchises and whether it's the world of Monster's Inc or Pirates of the Caribbean, each character looks like their movie counterpart, even Jack Sparrow for that matter... just a little more cartoonish. The worlds where you play are also quite detailed with some gorgeous lighting and special effects thrown into the mix. The voice acting is spot on and many actors have reprised their Disney roles for this game and this really goes hand in hand with the gameplay. The soundtracks are equally as enjoyable and help relive key Disney moments.
Final Level
Disney Infinity successfully takes the Skylanders premise to a whole new level and seriously improves the gameplay. More importantly, players can actually relate better to the characters due to the big name Disney names that grace this title. Right from the get go, players will find themselves entertained but just be warned that if you're a collector, this game may get expensive. Recommended!