DiRT 3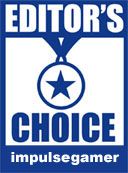 Our friends over at Codemasters sent over a copy of Dirt 3 to have a go at. I enjoy racing games, though on the one hand I was thinking oh, another racing game….charming. I was not expecting to be blown away by any length. Racing games bore me after one race round. Not this one, Dirt 3 is what a racing game should be like. Codemasters crowed about the biggest content-rich racing game to come from the virtual garages of Codemasters. You know what? They are so right.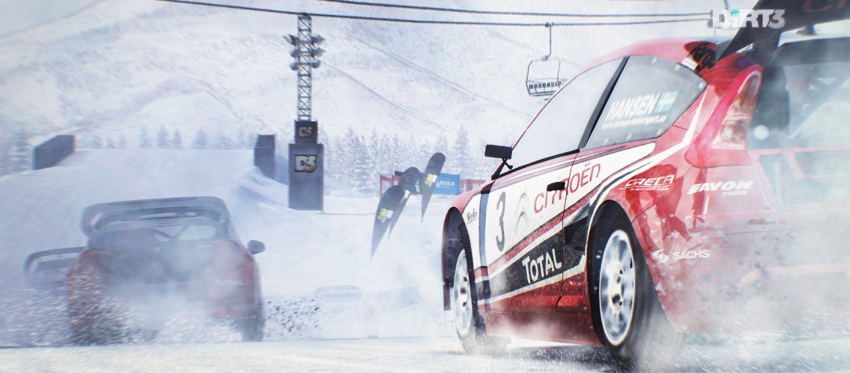 There are a pleasingly great number of tracks to go ripping around on. In Dirt 3, players start out as a top professional sports driver. There you are in the fierce competitive world of off-road racing as well as the spectacular Gymkhana- style driving events. The driving is exciting with a goodly number of different environments to keep things more than a little interesting.

Navigation through the game, in my opinion is much easier. The trailer is gone; instead we have flashy menus to navigate around. The menu designs are very pleasing to the eye, adding a bit to the overall look of the design of the game and feel.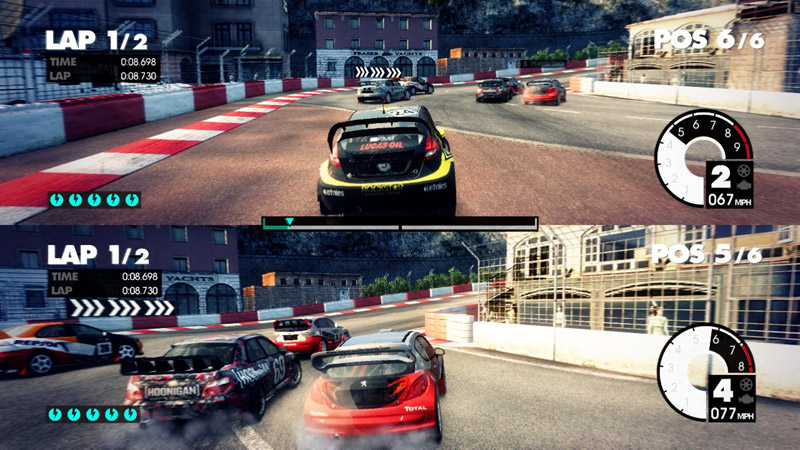 Within the menus, you find Dirt Tour, Multiplayer, Single-player, The Options Menu, My Dirt, and VIP. Before getting to the main menu, players can put in the online activation code to unlock online play, five exclusive vehicles and youtube video sharing. The menus are not very busy, there is a lot of space and text, and then choose racing events by way of floating triangles. Opening these give way up to four events. These extra events are unlocked with points and of course the player earns those points in racing. The only time things slow down a bit is when changing the look of the vehicle. Going to My Dirt, then to Garage, then select class, then pick the car to change… for the rest of the game that is so stream lined it feels a bit cumbersome, though it serves its purpose and gets the job done. Load times are fairly fast, the visuals leading up to a race are pleasing to the eye.

Speaking of pleasing to the eye, the graphics are spectacularly beautiful. Be it a mountain forest track or a snow and ice slicked track, or the plains of Kenya's gravel and sand tracks. The looks are pleasing, so much so it is a shame you can't take time to appreciate it more. Lighting from day races on to night racing, everything is spectacular. Now for the first time also, as I noted…there is snow in the game. You would think this is not a big deal, but it is a surprisingly exciting experience. Driving through the snow, racing faster as is falls, it can become blinding. Even cooler (NO pun intended) the handling of the car actually changes. Nothing like blasting along on a snow and ice crusted road to bring up the adrenalin.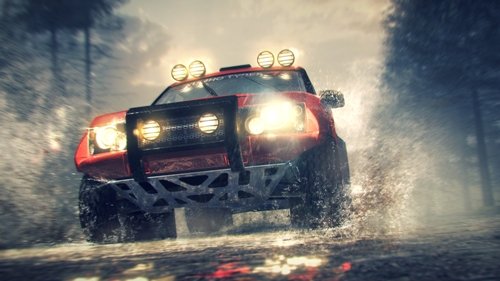 Along with the scenery and weather effects, the cars damage models look spectacular. For this review I just took one race and spent time bashing into things to see the effects. Even better with all the bits flying off of a car and the dust and snow kicking up, the game never pauses. There are not any stutters in graphics at all.

The folks at Codemasters keep things very accessible to all levels of gamers. There are different racing assists in the game so a novice racer can get the feel of this heart pumping racing game, and veteran racing gamers will find enough of a challenge to keep them pushing for the next race. All gamers get to feel a rush of achievement for doing well in a race. Then there is the Flashback mode, in other words if you smash up pretty bad, a push of a button will reverse time and give you the chance to do it better.

Playing the game with the Xbox controller is pretty tight, but for an even more in depth experience players can also use an Xbox 360 wireless racing wheel. I have to say I never felt the urge to get a racing wheel but Dirt 3 actually got that pang in the back of my mind to do so. For those long time followers of the Dirt series you will notice the handbrake has now switched back to the B button ala Dirt 1 controls. Control lay out is solid.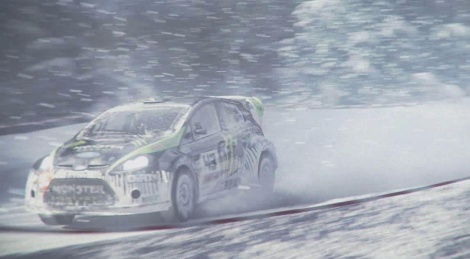 Multiplayer is here too. So there are plenty of opportunities to race against other drivers from around the world. Multiplayer has all of what you can expect in a racing game and more. It seems the world has gone Zombie crazy with zombie modes popping up in many games. Dirt 3 does it with a twist and a game of keep away. In Outbreak mode a car starts out infected and must race after the other cars in the game. If the infected car bumps another car it to becomes infected. The infection spreads with a bump from the infected car so players are in a mad desperate dash to be the last car with all the other players infected and coming after them now. This mode is good fun and gives some wild ride experiences in the game. I am really not a fan of zombie modes in games, they come off as cliché and gee let's do a zombie mode because everyone else is doing it and fans want it. Dirt 3 developers pulled off a zombie kind of mode here with panache and a bit of originality. It is simple in concept but what a blast to play.

Transporter mode is pretty much a capture the flag kind of mode. Between all of the multiplayer game modes, Outbreak and Transporter seem to shine the most in levels of fast paced fun.
Sounds in the game are just as solid as the graphics. Vehicle interactions with the road sound crisp as it changes from different surface conditions. The engine sounds mixed with slight buttering backfires of the exhaust are all pleasing and immerse the player in this world of rally racing. Thankfully the sound track has been toned down from the game before and is more in the back ground where it should be. It feels more like a racing game, rather than arcade game. Well done indeed. Voice acting is for the most part what one would expect. Some lines come off rather forced and does not seem natural at all. One in particular seems just creepy happy all the time. Sprinkling in words like amigo and such, of course it's a character, and that may be how it was written. It's just seems off.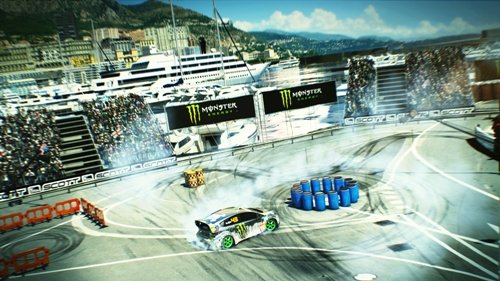 Dirt 3 has modest game length; the concept over all does not grow tiresome which is great. It has solid fun gameplay from single player experience, to multiplayer online or even split screen multiplayer. Dirt 3 may not please everyone out there, what game does really? Dirt 3 is a solid addition to the series, which keeps rally car racing as the coolest thing out there.

Have fun, play games
Edwin Millheim