Def Jam Rapstar
With over 40 Rap and Hip Hop tracks, Def Jam Rapstar is the ultimate non-mainstream music "karaoke" game for the XBox 360 that not only contains an impressive track listing but has a few inspiring non "Singstar" tricks up its sleeves. Although it has a similar premise to other music games, Def Jam Rapstar takes your performances to the next level, provided you have a camera with the ability to record your singing/performances and even upload them to the Def Jam Rapstar community for others to see you. Before you buy the game, I strongly suggest you check out some of these home-made music videos because by Snoop Doggy... there are some classics!
Unlike Singstar and other music games, Def Jam Rapstar monitors your singing a little differently. Although it monitors your timing and pitch, for rap songs, it monitors how you say the words which is highlighted by a bouncing ball. It does take a little time getting use to but at the end of the day, it works quite well. Needless to say, some of the tracks are quite difficult to master due to the almost tongue twister inspired lyrics. Nonetheless it can be a singing workout at times!
By singing correctly with the lyrics displayed on screen, you are awarded points and if you continue doing well, there is even a multiplier that boosts your score. Very cool. There is even a career mode which is great for practicing and my favourite, the Freestyle mode that allow you to create your own "music" masterpieces and once again, check out the online community.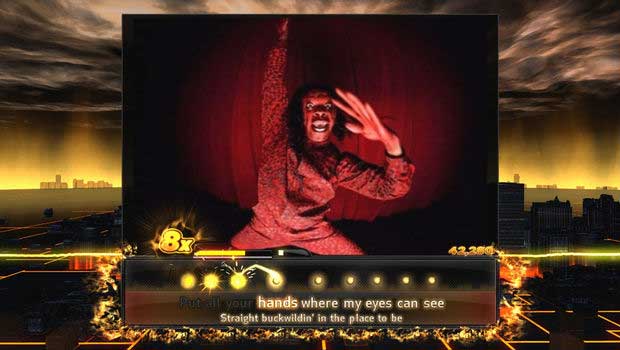 Featuring a variety of gameplay modes from single to two player and party, Def Jam Rapstar has a mode for almost every occasion. Of course most music games come into their own with other people around. The two-player mode allows you to sing as either a duet or a battle which is actually quite fun, especially battle which is almost like a sing off. Party is another entertaining mode for a night in with your friends and a few beers as you rap and hip hop to your hearts content.
As mentioned, the game also records your performance, provided you have an XBox Live Vision camera and once your song is finished, you can watch the video and decide whether you would like this uploaded. You can even do some basic special effects as well that almost acts like a video editing software package. It should be noted that you can only post up to 30 seconds of your music video which is understandably, given the size of the video.
However the star of this game are the songs that include favourites such as the Beastie Boys, Lil Kim, Outkast and Rob Base. The audio quality is perfect and sounds phenomenal through a surround sound setup. Then you have the graphics which are equally as impressive and boasts a relatively easy to use interface and menu system, especially when your editing the effects. Definitely a prerequisite to have a FULL HD TV.
Def Jam Rapster Track Listing
| | |
| --- | --- |
| Artist | Title |
| 2 Pac | I Get Around |
| 50 Cent | I Get Money |
| Beastie Boys | Brass Monkey |
| Big Pun | Still Not a Player |
| Biz Markie | Just a Friend |
| Busta Rhymes | Put Your Hands |
| DJ Khaled | We Takin Over |
| DMX | Ruff Ryders Anthem |
| Dr. Dre | Nuthin But a G Thang |
| Drake | Best I Ever Had |
| Ice Cube | Today Was a Good Day |
| Ja Rule ft. Ashanti | Always On Time |
| Jim Jones | We Fly High |
| Kanye West | Golddigger |
| Kanye West | Stronger |
| Lil Jon | Get Low |
| Lil Kim | Crush On You |
| Lil Wayne | A Milli |
| LL Cool J | Mama Said Knock You Out |
| Ludacris | Stand Up |
| Method Man & Redman | Da Rocwilder |
| Method Man ft. Mary J Blige | All I Need (Remix) |
| Nas | Hate Me Now |
| Nelly | Hot In Herre |
| Notorious B.I.G. | Juicy |
| Notorious B.I.G. | Big Poppa |
| Onyx | Slam |
| Outkast | So Fresh So Clean |
| Pete Rock & C.L. Smooth | T.R.O.Y. |
| Public Enemy | Fight the Power |
| Public Enemy | Can't Truss It |
| Puff Daddy / P. Diddy | All About the Benjamins |
| Rob Base | It Takes Two |
| Run D.M.C. | Run's House |
| Salt n Pepa | Push It |
| Slick Rick | Children's Story |
| Snoop Dogg | Gin & Juice |
| Soulja Boy | Turn My Swag On |
| T.I. | Live Your Life |
| Terror Squad feat. Fat Joe & Remy Martin | Lean Back |
| Tribe Called Quest | Scenario |
| Twista | Slow Jamz |
| Wu Tang | C.R.E.A.M. |
| Young Jeezy | Put On |
| Young Joc | Its Goin' Down |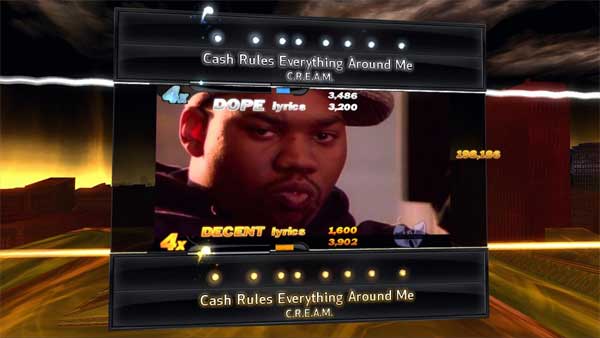 In conclusion, Def Jam Rapstar is a fun game and if you are into rap and hip hop, than this is a must have karaoke game. It's great that the developers have jumped on the social media bandwagon because it does create a solid community behind the game. Even if you don't want to use this online, it's still a great music game for the XBox 360 thanks to its tracklisting and sturdy gameplay. This is not your stock standard Singstar game but something left out of centre!