Hype is a little like hope. It's like when you're a kid and you're hoping that the toy you've been harping on for all year, lives up to the hype. Dead to Rights: Retribution is a little like that and we've seen some great hype over the last few months, especially with some the awesome trailers released by Bandai Namco. The question is… does it live up to the hype or is it just another slam bam thank you mam third person action game. After just finishing the game and letting it digest for a few days, I must admit that on most levels, the game lives up to the hype, especially with the ability to play as a dog at certain parts of the game. It was quite unique and freshened up a rather stale genre but frustration also comes into play. More on that later though.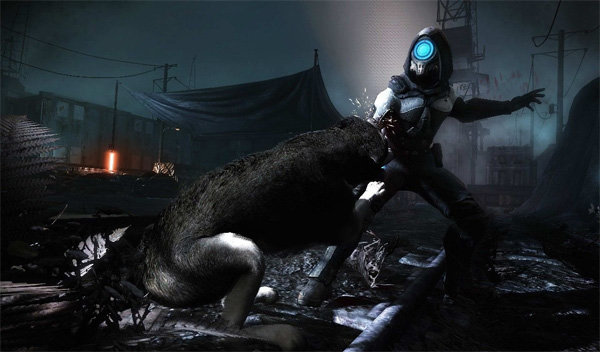 What about the story? The story (although clichéd) revolves around a cop named Jake Slate who is not only deadly with his assortment of weapons but also his body. So if you're a little squeamish, you might want to pass because at times, this is quite a violent game. Apart from controlling Jack and as mentioned, you get to control Shadow, your loyal canine and together you make a pretty damn impressive pair... vice copy and dog. When you do get control of your characters, the game starts with a bang as control Shadow in order to ward off any enemies around your injured master which is really cool, thanks to his doglike abilities.
The controls of Dead to Rights: Retribution is quite sturdy and it is well mapped on the 360 controller. Unlike the "flying" motion of Just Cause 2, Dead to Rights: Retribution feels tighter and more realistic. Controlling Shadow is the best part of the game as you rip apart your enemies and perform some cool doglike manoeuvres. Jack on the other hand is more grounded as he needs to use his guns or fists to take out his enemies.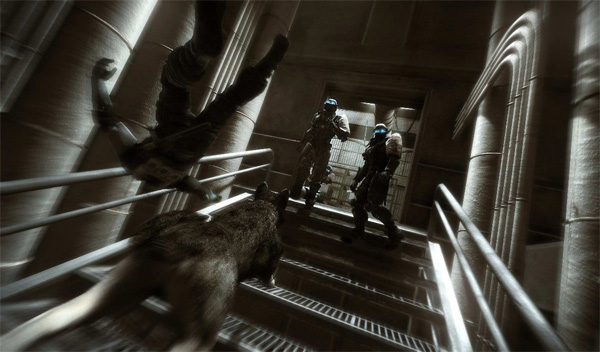 The game contains a healthy amount of weaponry at your disposal which makes fighting a treat. The melee combat (block, punches and combos) is a bit of a, pun intended, hit and miss but it does work. It's hard to get involved in fisticuffs, especially when there are too many enemies around as it takes a little more work to knock them down as opposed to a bullet. There are also some cool finishing manoeuvres but the animations do become a little repetitive. At the start, they are very cool but like God of War III, you want more! Some frustration does come into play in terms of where your bullets hit and although a headshot kills your targets, body shots are entirely different.
The game has a cover system as well which is also used by the enemy and not everything in the environment can be used as a cover which is a shame. It's competent but not as good as say… Splinter Cell Conviction or Gears of War II. Shadow on the other hand is fun to control, especially with his dog powers, but he can easily be taken down with a bullet but this adds a great strategy of the gameplay. Thankfully if he does go down, Jack has the ability to revive him. Shadow reminds me of playing Splinter Cell game due to his stealthy nature and the ability to sense enemy heartbeats. His kills are also a treat to watch.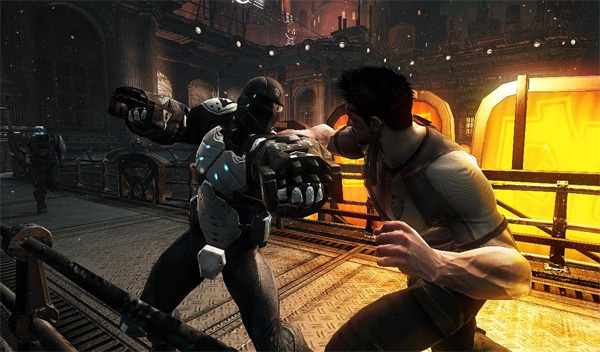 Exploring the world of Dead to Rights: Retribution was entertaining and there's some great level design implemented into this game. In terms of gameplay, there are a variety of objectives that must be completed in each level and interactive items will display a subtle flash to prompt the gamer if you do get stuck. Add in some great challenges along the way and some over the top boss battles and the game has a real 80's action move feel to it.
Graphically, Dead to Rights: Retribution is a good looking game with some great level design and character designs. Shadow is the star and moves quite realistic, especially when you are controlling him. All the other characters such as Jack and the enemies are animated good and interact perfectly with the gaming environment, especially with the cover system. There's some great use of lighting and a few special effects along the way. The soundtrack suits the title perfectly and the voice acting is professional, albeit a little corny at times. For some reason, this game has a Capcom feel to it.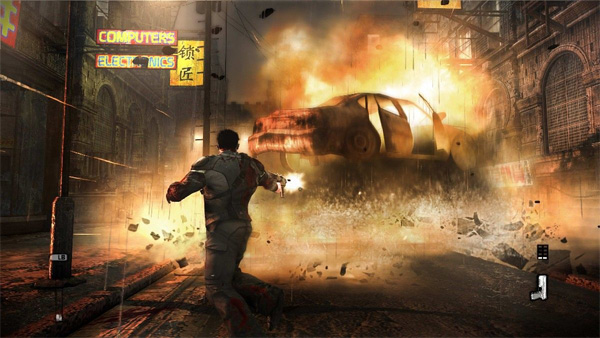 In conclusion, Dead to Rights: Retribution throws a few curve balls into the third person action franchise. It does take a little getting use to the controls but once you have mastered them, you'll shooting and biting in no time and wanting to play more of Shadow. Maybe they can release some online content where you only play as Shadow? I enjoyed playing it, a little more than Tom Clancy's Splinter Cell Conviction where we've seen it all before because Retribution tries something different and for the most part, it succeeds. If you don't believe me, rent before you buy!