Dark Souls
Namco Bandai's spiritual sequel to Demon's Souls arrives on the XBox 360 and PS3 with Dark Souls, that furthers the hardcore nature of the RPG genre. This action based RPG transforms the player into one of the walking dead as you are given a strong prophetic purpose that must be completed.
Needless to say if you can remember the original game, it was easily one of the most punishing games ever made if you failed your challenges and Dark Souls goes even further. However for some unknown reason, this difficulty is quite addictive as you attempt to ensure that your mistakes don't hamper your goals.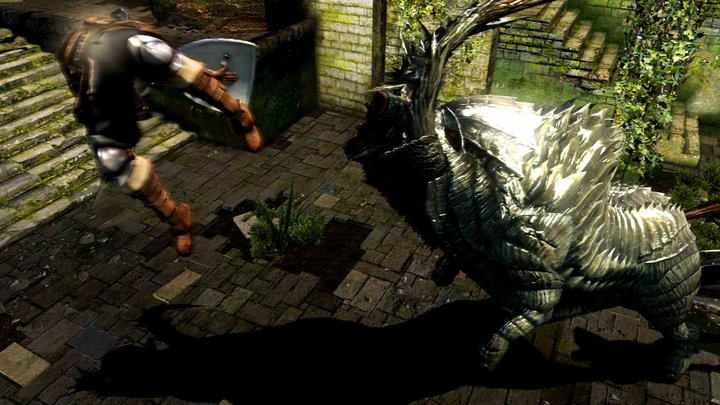 Fortunately before your thrown into the deep of the pool with all the monsters, the first level of the game starts as a tutorial as you attempt to escape the walls of a prison. This level will teach you the basics of interacting your character with this gorgeously designed 3D world.
I must admit that the control system behind Dark Souls is quite simplistic and works quite well, with the left analog stick used to move and the right to look. The shoulder buttons are used to attack and defend and when you do engage your first enemy, you will soon realise how perfect the control systems are, except when the enemies start to increase in difficulty which begins quite soon.
Enemies are varied in the game and based on classic RPG archetypes and generally most will give you a run for your money, especially those damn bosses like huge dragons and demons. Whether melee or ranged attacks, another arsenal in your kitty is magical combat. Magic is varied in the game and there's plenty of different spells that are available to you.
If a wizard is not your style, there are plenty of other classic Dungeons & Dragons classes at your disposal such as hunter or warrior. However block and parry are the two most important aspects of fighting. Block helps you survive a little longer, while parry if you can manage to pull it off, will allow you to block and do a devastating attack on your enemies. You can even use the environment to take down enemies such as fires or at times, stone blocks where enemies get stuck.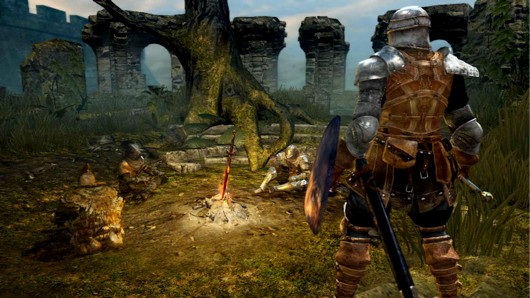 Save points can sometimes be a pain in Dark Souls, especially when you are handed your collective undead butt to you, time and time again. The save points in the game are called Beacon Fires or bonfires in the gaming environment and pose as a safe haven. These safe havens are also used to level up your character and help them regenerate their health.
The frustration with the combat is that when you die and restart at a save point. Unfortunately your enemies that you may have killed also respawn which does throw a spanner in your strategies. This game is difficult and there's no way around that. You'll also see this many times... You Died You Died You Died You Died You Died You Died You Died You Died You Died You Died You Died You Died You Died You Died You Died You Died You Died You Died You Died You Died You Died You Died You Died You Died...
Even looting is scarce in the game and you may look at hundred bodies or open a myriad of chests and you'll only find a few trinkets. However when you do find that perfect sword or item, it's strangely rewarding.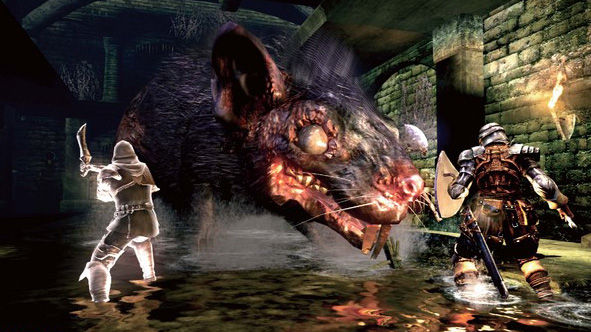 The multiplayer aspect of Dark Souls is where the game does work. This is not to say that single-player is bad but it's just very difficult. Multiplayer supports up to 4 players and there are sometimes ghost images of players in your game. You can actually sit back and watch these ghosts perform certain tasks such as puzzles or boss battles and these are left as clues for the player.
If things do become too challenging for you or you want to try something different, other gamers can join in and assist you in particular areas of the game in classic Dungeons & Dragons fashion. Just be warned who you let into your world because they can just as easily get you killed as well. Once again, that hardcore RPG aspect comes to live.
Graphics/Audio

Graphically, Dark Souls is a very good looking title on the 360 and the attention to detail in this RPG universe is outstanding, especially the Gothic inspired buildings ad castles. There's also some great lighting (e.g. sunshine and torch lights) used in the game that really makes the game come alive, even though it's quite dark and brooding. Add in realistic animations from the NPC's and enemies that you face and Dark Souls is a great looking RPG.
One issue with the graphics however is the camera angle which sometimes can be a little fiddle some in key parts of the game but for the majority, it all comes together well. The second issue is that every now and then the game shutters in certain places and this seems to be at times where the developers were trying to cram too much into the gaming environment.
The soundtrack of the game is little lacklustre and it's your typical instrumental score that although sets the mood is nothing too memorable. Add in the diverse sounds of battles, grunts and background ambience and this is the final touches on the game which does sound decent through surround sound and helps enhance the gameplay.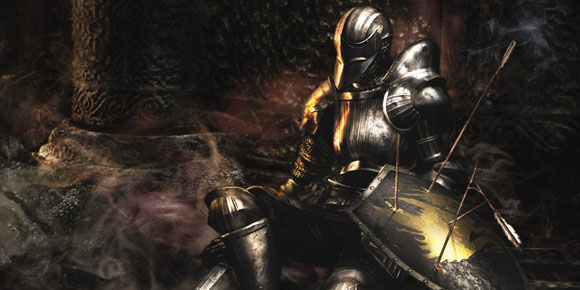 Final Level

For those that enjoy a real challenging action RPG, than Dark Souls is the game for you. However if you believe that over the top challenges make a game more annoying than rewarding, than I strongly recommend you that you run for the hills or maybe stick to something like Zelda. I think in just about every session I played with Dark Souls, I had controller rage but deep down, I wanted to conquer this game before it conquered me.
Through endurance, I persisted and as my statistics and skills increased, I soon had a slightly better advantage. Interestingly enough, the main gaming mechanics have all been done before but not on this difficulty level and with 60+ hours of just gameplay itself, not including countless deaths and restarts, you might be playing this game for a very... very long time.