Dance Central
You might be thinking "not another dance game on the XBox 360 Kinect"? I was actually in the same boat because this new gaming device has a plethora of dancing games available for it. But Dance Central is actually a head above the rest and I'm guessing that it's because the developers of Rock Band are behind this new title. The concept like most dance games is simple, follow the moves to bust a move but best of all, it uses the new controllerless technology of the Kinect. All you need to do is move your body and Kinect will do the rest. Why does this game work so well? It's because of the gameplay that is pretty much flawless.
Another standout feature of Dance Central is that the presentation of the game is quite slick. From its realistic dancers to a variety of dancing environments, everything has this tried and tested yet fun atmosphere to it. In terms of gameplay, all you need to do is follow the dance moves on the screen and pray that you have nailed it. The better you perform, the higher your score gets and thankfully this game can be played by gamers of all ages and dancers of ALL levels. At the higher levels, Dance Central really gives you a good workout but it can also be a little embarrassing. There's some great replay value here as well such as beating your score or moving to a higher difficultly.
I can really see this game becoming the next "party" hit as opposed to the games such as Singstar or Lips. Dance Central is a really fun game and we had a ball testing this title, even without alcohol. However, one issue with Kinect is that you need a considerable amount of room to play the game and Dance Central is no exception to that rule.
If you have a large living room, you'll be in dance heaven, however for crowded or smaller rooms, things can become a little tricky. Just be warned if you're thinking of purchasing this title. Another highlight of the game is that it is quite accurate unlike some other Kinect games so for the majority of play time, Kinect was pretty damn accurate in relaying our body movements to the game, hence our sometimes high scores. If you do make a mistake, the game will assist in correcting you by highlighting a certain part of the dancer in red which really assists in getting you back on track.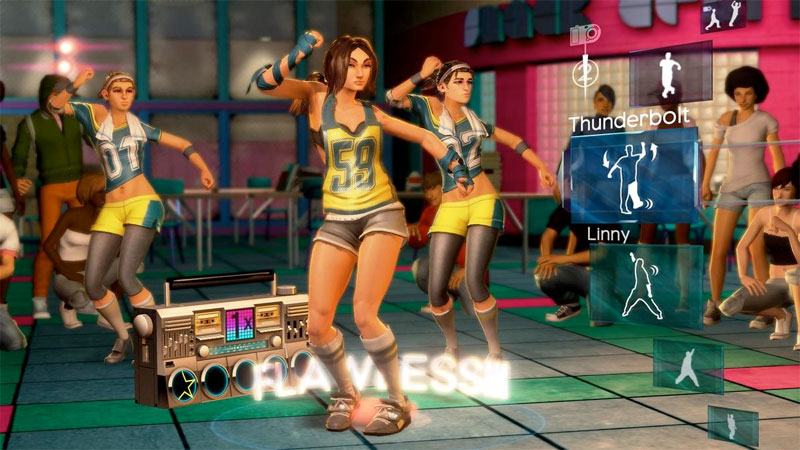 With a variety of gameplay modes (no career unfortunately), this game is definitely good for short or long gaming bouts. Just be warned that a long bout will really get you sweating. There is also an interesting "training" mode called Break it Down that allows you to master the basic moves one at a time. It's a good place for most players to start. As you do progress, there are a variety of unlockable content from new outfits, venues, challenges and even a cool online leaderboard. My favorite mode is the Dance Battle that is basically a very challenging dance of and with someone as competitive as me... I don't like losing. All in all, this is one cool dancing game.
To match the awesome dancing, you have an even "awesomer" track listing that contains 32 dance songs from a variety of eras. Thankfully these songs can be played on three different levels of difficulty and I must admit that some songs are extremely tricky to master. Graphically, Dance Central is a good looking title with detailed dancers and some great colourful special effects. The game also uses the Kinect camera to take photos of you dancing that are also quite embarrassing but what do you expect from a game like this?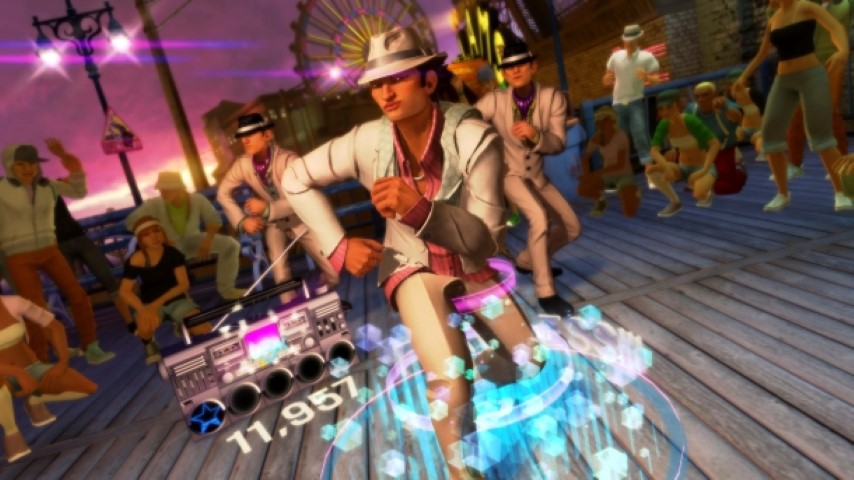 In the end, Dance Central is definitely the best dance game on the Kinect and really showcases the Kinect quite well. From sturdy gameplay, thanks to the variety of accessible dance moves, a great track listing with graphics to match, there's little to complain about this game. Whether you're a casual or hardcore gamer, Dance Central definitely has a spot for you. So what are you waiting for, go bust a move now!