Crossboard 7
Here we are again for the next Kinect instalment in Crossboard 7, a snowboarding game for this awesome new technology on the 360. Throwing away all controllers, Crossboard 7 requires the player to move their body in order to control their gaming avatar in a variety of impressively created "winter" wonderlands.
With six different gameplay modes, Crossboard 7 is still targeting the casual and younger gamer market but for some reason, I actually enjoyed playing this title as I moved side to side and backwards and forward to interact in this virtual environment.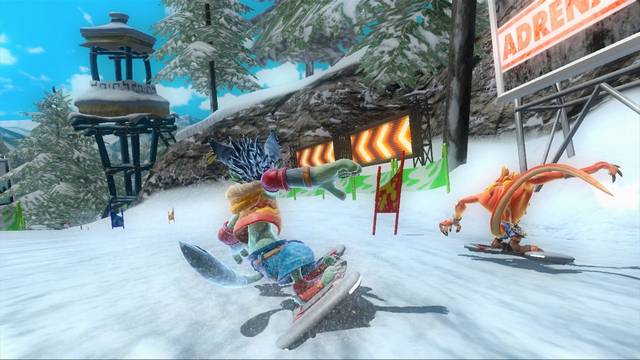 Interestingly enough, the menu system of this Kinect game is actually better than most out there but it still takes a little time getting use to. In order to play this game properly, you need to setup your Kinect to ensure that everything has been correctly configured because if you don't, the game will give you some grief.
The controls of the game which is your body is relatively quite easy to do. In order to speed up, you need to lean forward and by leaning back, it will slow your snow boarder down. By moving to the left or the right with your body, this will move your board in that direction. You are also required to do some tricks by jumping and spinning. All in all, it works with the Kinect system.
The most complicated aspect of Crossboard 7 are the tricks which are a little fiddle some to say the least. The accuracy of the trick system is a little lacking but with some persistence, you can work out the best way to do tricks as opposed to jumping around like an idiot. The game also features some local multiplayer which was quite fun and you can even use your XBox Avatar. It's also cool that in two player, you can unlock additional tricks and boards in this mode as well.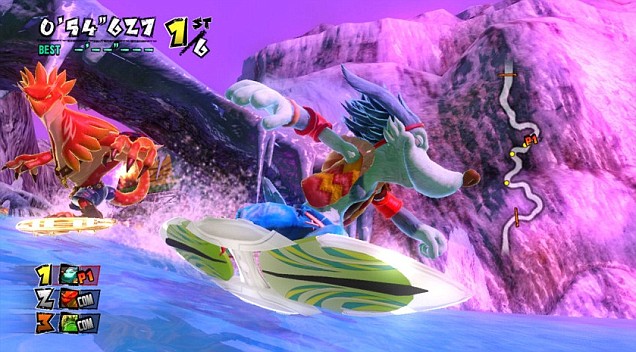 Graphically, Crossboard 7 is a good looking game on the 360 with cartoon inspired graphics that look good in FULL HD. The characters are well animated and the gaming backgrounds look quite decent and detailed. Add in some special effects, lighting and weather and Crossboard 7 is one of the better Kinect games. There's also a "cool" extreme sports soundtrack plus an over the top commentary which suits the title for all dudes and dudettes. After playing the game, it shows you a collection of photos from you playing the game... rather embarrassing but kind of cool.
Conclusion

In the end, Crossboard 7 is a relatively basic Kinect game but it does showcase this technology. At times, it showcases it well, at other times, it's a little lacking. I've been fortunate to play all the Kinect titles and this strange game that reminds me of Banjo Kazooie has grown on me and I can really see myself playing this in the future again. The gameplay is good enough for most gamers not to complain too much and the two player mode is a blast!