This may not be the Crazy Taxi of your dad but this "remake" on the XBox 360 is actually still an additively entertaining racing game. Although originally on the Dreamcast, Crazy Taxi required the gamer to drive a taxi around a fully interactive city in order to collect passengers and take them from point A to B. Unfortunately you had a timer and sometimes, the destinations were not that easy to reach. It was fun, it was addictive, it was Crazy Taxi.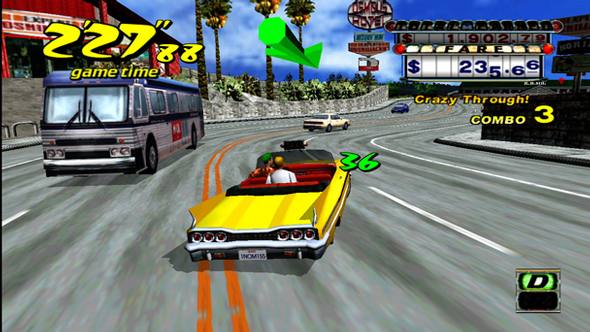 The most noticeable difference with Crazy Taxi on the 360 as compared to the Dreamcast is that all the cool music is gone. Crazy Taxi had one of the best gaming soundtracks of its time with some awesome bands (e.g. Offspring) lending their tracks to the title. This helped make the game quite fast paced and also frustrating to boot! This version contains two gameplay modes that include arcade and original with arcade being the more enjoyable of the two.
In terms of gameplay, it's basically a port of the Dreamcast as you race around this open world, collecting passengers and attempting to get them to their destination in record time to get paid lots of moolah. Unfortunately there are quite a few obstacles in the way but thankfully there are a few shortcuts as well.
The 360 version allows the player to select one of four drivers (no difference really among them) and the ability to race in two different cities. Thankfully you have a big fat green arrow to point you in the direction as you drive to Pizza Hut... err... Generic Pizza Store to drop off your passengers. All the real-world stores have also been replaced as well.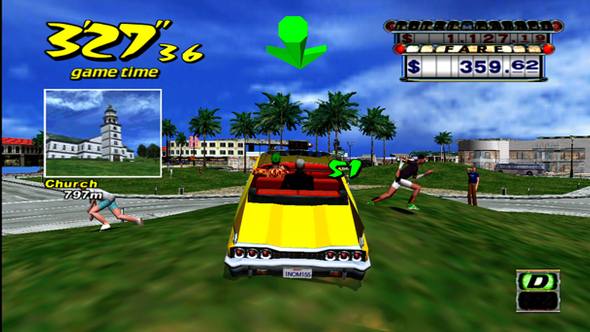 The cool thing about the 360 version is that it supports some online connectivity such as leader boards. Add in a variety of mini-games and a few different gameplay modes and Crazy Taxi definitely becomes value for money. In terms of music, it's a shame that all the licensed content has been replaced with generic music but if you want, you can rip your own soundtracks to the game. A much better idea!
Graphically, the title looks a little dated but still contains a high definition resolution. The models still look as does the city but it's very lacklustre in terms of detail. Thankfully the frame rate is just as smooth as the Dreamcast version as you drive around in this mad cartoon world.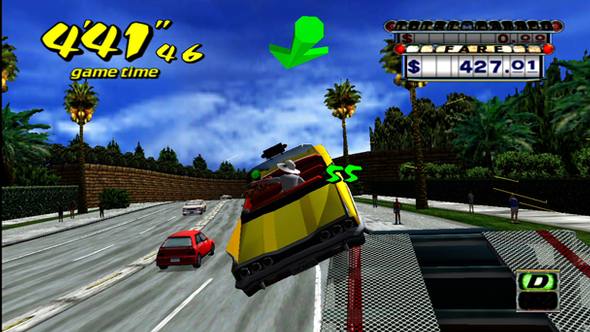 In conclusion, Crazy Taxi may not hold the attention of most gamers but for those wishing to walk down memory lane, it's definitely a great investment to play this classic game. The control system works perfect on the 360 and my only gripe with the title (besides it becoming too repetitive) is that the great tracklisting of the original is gone.