Call of Duty 2
ALL-NEW, UNPRECEDENTED ENHANCEMENTS FROM STUNNINGLY realistic graphics to seamless gameplay, groundbreaking A.I., and choice-based gameplay innovations. Beautifully rendered snow, rain, fog, and smoke, combined with dynamic lighting and shadows make this the most intense WWII shooter to date.
Activision have brought one of the most realistic and entertaining WWII first person shooters to the most powerful gaming console on the market at the moment... the XBox 360 and needless to say, this is probably the best damn first person shooter that I have ever played on the console world.
Features

New conflicts and enemies: Call of Duty 2 brings you bigger battles, with more tanks, troops, and explosions on-screen, and bigger scope, with a wide range of locales and environments across the European Theatre. Fight "The Desert Fox" across the scorching sands of North Africa as wave upon wave of tanks clash in the desert. Use rocket-propelled grappling hooks alongside your Army Ranger squad to storm and scale the cliffs of Pointe du Hoc against a relentless German counterassault, and slog through urban chaos as a tank hunter in war-torn Russia.

Enhanced squad support: The dozens of Allied soldiers surrounding you are fully aware of the changing situations around them, and will let you know using an all-new, context-sensitive battle chatter system. They will draw enemy fire, lay down cover for you, use foxholes and moving tanks for cover, and warn you of incoming enemy troops and hostile fire.

Choice-based gameplay: Play through missions in the order you see fit. Will you decide to play first as a sniper or as a tank commander? Itís your call. Open-ended battlefields allow you to individualize your tactics and choose the order in which you complete your objectives.

Multiplayer mayhem: Go online for intense Axis vs. Allies team-based multiplayer action, building on the hugely popular Call of Duty multiplayer modes.
One of the things about Call of Duty 2 is that like the first game in the series you are not just the one guy the whole way through. You get to experience different aspects of warfare and the machinery and weaponry that various units used during the Second World War. From the halls of Montezuma to the shores of Tripoli to the Battle of Normandy, this game will take you to just about every historical important setting of World War II.
Interestingly enough you get to play the part of a Russian serviceman holding off the German offensive. Itís an interesting viewpoint and one that I had not taken part in before. Itís after the Russian operation that you get to take part in the Western Offensive. Apart from the US and the Russian military, gamers will also experience the British Forces to truly make this title stand apart from its predecessors.
One of the new things in the game is that you need to really pay attention to is the screen at all times. Why? No more health bar thatís why. Your only hints to your health is the sounds that you make and your vision which ultimately greys the screen out. Clever stuff and you have been warned.
Weapons and control of them is easy in the game and there is probably a learning curve of about 10 minutes, 15 if you have never played a first person shooter before. It is simple to pick up and a heck of a lot of fun, albeit it quite intense fun. Apart from the easy to master gameplay, the developers have also added a variety of realistic settings to the game such as localized battle chatter that enhances the realism of this game. Match with realistic artificial intelligence and this is probably the closest many of us to get to a real war... without leaving the comforts of our homes.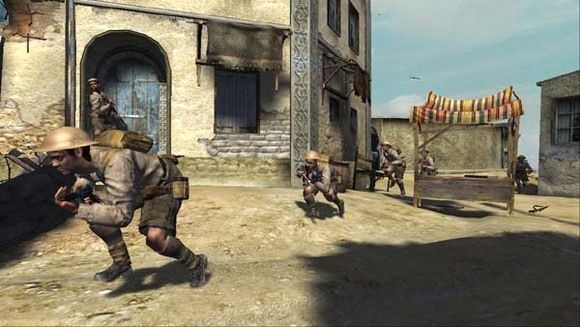 One of the first things that you will notice is just how good the game looks. Everything seems to be thought of, even to the point of actual damage occurring when being shot at to the environment around you. It is simply incredible and really makes you feel a true part of the action. Follow that up with some of the canniest AI that you can possibly hope for and you will feel like you are a part of some of the greatest campaigns of WWII. The XBox 360 version is on par with the PC version (graphically), however the beauty of the XBox 360 version is that you don't need the latest and greatest PC to play this title because not only does this title remain a steady frame rate but it's extremely enjoyable to play. With release games like this, Activision have truly set the benchmark of things to come. Highly Recommended!