The Burnout series was a phenomenal hit when originally launched on the PlayStation 2 and since then, the series has evolved into one of the most entertaining racing games to date. Unlike the previous version on other consoles, this incarnation of the game features new and exciting multi-level tracks that really tests your skills as a driver.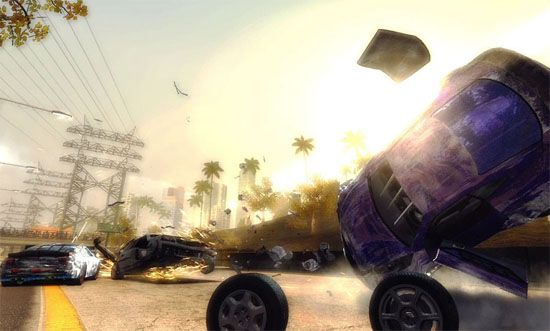 Apart from the highly improved gameplay (which I thought would be impossible), the 360 version features some of the nicest graphics that I've had the pleasure of seeing and apart from the awe-inspiring graphics, it also features an amazing soundtrack to really immerse you into the world of cut throat street racing.
Features
Live Revenge – It's not just about winning, it's about vengeance. A persistent Live Revenge mode tracks your relationships with online racers and rank leaders, calling them out in each race ... know your rivals and punish them!

Save and Share – Give back to the online community ... Save your greatest moments and upload them on Xbox Live for the world to see.

Check Traffic – Think hockey on the highway. Now every vehicle on the road is in play and a potential target – or weapon. Ram traffic into your rivals, slam cars into vicious combo-based pile-ups and lay waste to everything in sight. Don't fear traffic – fight it

Car Deformation – Experience the next generation of destruction made possible by the power of the Xbox 360 and literally rip cars to shreds in the most explosive crashes in the series' history

Traffic Attack – An all-new traffic attack mode pits gamers against the clock in a mad dash for destruction. It's not about dodging traffic, it's about leveling it by any means necessary

Crash Redefined – Show Hollywood how it's done with all-new open-ended crash junctions, now including 10 new junctions exclusive to Xbox 360. With multiple start points, complex, vertically-oriented tracks and hundreds of cars begging to be decimated, Burnout Revenge is the king of crash.

Built to Battle – Designed for maximum carnage, Burnout Revenge's tracks are loaded with massive jumps, multiple paths and nasty chokepoints to deliver the ultimate brutal car combat. Vertical takedowns and in-race crashbreakers open up new avenues for destruction. Watch out for shortcuts, highlighted by flashing blue lights...they're everywhere.

Car Classes – All-new cars in three classes (race, muscle and crash) accentuate different play styles. Choose your weapon!

Untouchable Speed – Burnout Revenge delivers unrivaled, irresponsible speed that can only possibly be topped by the real thing
Unlike the previous game Burnout 3, Revenge takes the pain and heartache out of crashing because it's now used as a tactical strategy that allows the gamer to push their opponents into oncoming traffic but the beauty of the game is that traffic no longer causes you to crash, unless you've been pushed into it. This is great news for gamers because not only does it improve the gameplay but also the longevity. With that said, Burnout Revenge also features a variety of different gameplay modes and also some great online content.

The new gameplay of Revenge starts all opponents with blue marks over them, indicating that they are neutral. If you continue to target a particular opponent during a race they will become increasingly more aggressive towards you, ultimately turning that blue marker into red, which means they're completely gunning for you. If you manage to take down any of the competition that is red marked for Revenge, you'll earn a Revenge Takedown which will crank up the points in your Revenge Meter and put you that much closer to taking the big prize.

As with previous titles, you'll play Burnout Revenge main event to unlock new tracks, cars and also new modes of play. New arrivals alongside the tried and true Road Rage and Crash challenges include Traffic Attack and the Crashbreaker mode. Traffic Attack is exactly what it sounds like, pile on the hurt while Crashbreaker is something entirely new.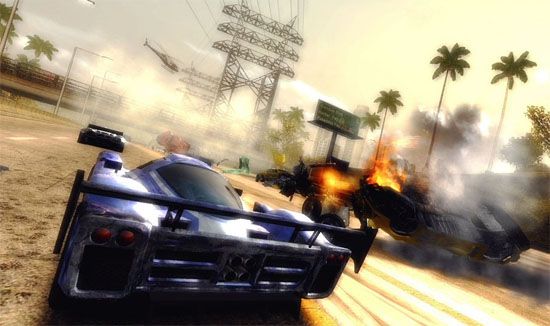 Graphically, Burnout Revenge on the 360 was like viewing your favourite movie for the first time and whatever racing games come out in the future, this will be one that will hard pressed to beat. The game moves so fast and looks so incredible at high speeds that other development teams really need to sit up and take notice. Revenge's car models return to Burnout 2's roster of cool Criterion based machines rather than caricatures of real world vehicles. It doesn't really make a lot of difference in the scheme of things and you'll either dig it, not dig it or not care one way or the other.
Adding multi-level maps helps to provide the gamer with more freedom to come up with crazier ways to take out opponents and gain length to that ever so precious boost meter. Not only do you have gaps, splits, and alternate paths, but they've added some ramps in the mix for some exhilarating jumps. Best of all, the title performs at a steady 60 frames per second which is silky smooth.
As with the amazing graphics, the title features a hardcore soundtrack with realistic sound effects from cars crashing against each other at ridiculous speeds to the sounds of breaks, traffic and background noise to draw you into the amazing world of Burnout Revenge.

In conclusion, Burnout Revenge is a must have for the XBox and is easily the most entertaining racing game out on any system, however for those that want realism, you might want to stick to Gotham Project Racing 3 because this title is pure arcade realism with amazing graphics and gameplay. A must have!
XBox 360 Features
1-6 Players

80KB to save game

HDTV 480p/720p/1080i

Supports Family Settings

* Online Multiplayer 2-6 Players

* Leaderboards

* Voice
* [XBOX Live features require Broadband Internet Service, Microsoft Passport Account and paid membership for online play. Some services and downloads require additional hardware (eg headset and camera) and fees.]