Starring Jack Black as Eddie Riggs, the world's greatest roadie, Brutal Legend is a homage to the world of Heavy Metal from yesterday that is oozing with metal references and actually a great story along the way.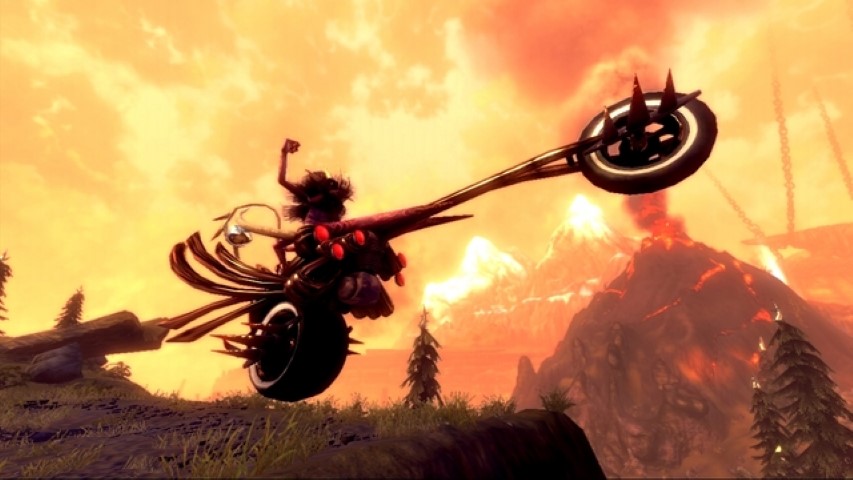 Strap on your guitar and gather your head bangers because hell is about to get a rude awakening thanks to the powers of Eddie Riggs. It may sound like a bad 80's animated movie but Brutal Legend is actually a fun title that is quite reminiscent of those classic fantasy album covers by Frank Frazetta and Joe Petagno.
The story of Brutal Legend doesn't try to take itself too seriously and with the voice of Jack Black behind Eddie Riggs, you're pretty much guaranteed some great laughs along the way. Apart from Black, the game contains some brilliant voice acting by Ozzy Osbourne, Tim Curry and Rob Halford to name a few of the greats who also grace this title. To assist with the story, the game uses some brilliant cutscenes to progress the tale of Eddie and I must admit that this story is quite endearing in a world of seriousness, especially games of late.

At its dark heart, Brutal Legend is a third person action game that uses the clichéd old school world of Rock as its destination. Mixing together guitar riffs that allows you to in turn create spells and head bangers that can be summoned to help Eddie, Brutal Legend is best at what it does right, not taking itself too seriously as you attempt to save the world. Apart from using your guitar to take on the foes of Hell and rock, Eddie can also give basic commands to his followers that assist in the gameplay mechanics. It's almost like squad based mechanics as you order your fellow head bangers to attack, defend or gather.

As opposed to fighting the minions of hell and those against rock, you also need to complete a variety of missions in the game and you even get to drive vehicles along the way, all in the name of ROCK! Certain parts in the game, you need to use your guitar to play short rifts such as summoning your car or other more powerful spells and this is a little like guitar hero... cool again.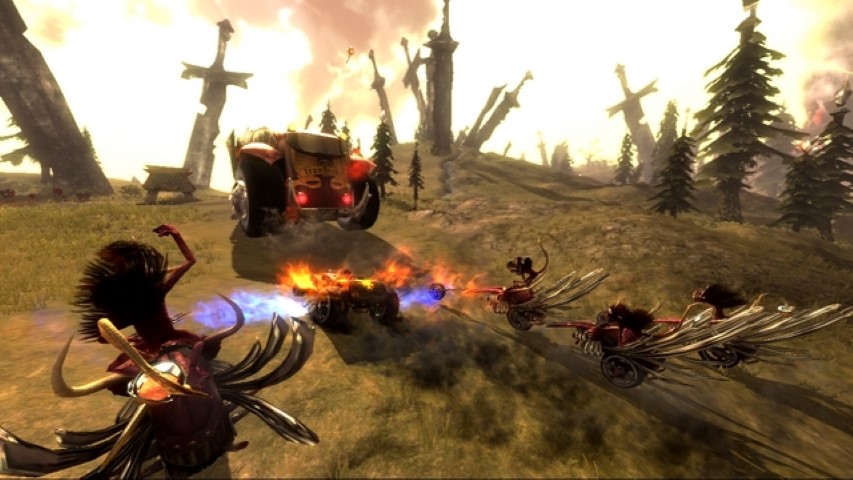 Thankfully the game uses checkpoints to assist in the missions and there are a few that became quite frustrating, however wanting to see the next cutscene or hear the next song is definitely incentive enough to continue.
The control system works in most circumstances in Brutal Legend, especially on the 360 controller with just the right amount of force feedback. Selecting units in a crowded area can sometimes be a chore and at times the targeting system was a little fiddly as was the camera. None the less, it works most of the time.

Apart from a humourous and exciting single-player journey, Brutal Legend even features a multiplayer aspect that is almost RTS in ways as gamers can pick one of three armies to control. The game also contains some interesting weapons and guitars at your disposal such as the battle axe that assists you in decimating your enemies. Of course, by playing your mystical guitars, this assists your followers or hinder the enemies. Very cool indeed!

Graphically, the game is oozing with eye candy moments and some of the gaming environments are extremely well designed and seem to be taken straight out of those classic record covers. The characters are well animated and there are some very cool special effects and lighting in the game, making this a true next generation title.

Apart from the slick graphics, the soundtrack of Brutal Legend really kicks some serious ass that actually uses some classic old school metal such as Judas Priest and even Motley Crue. Just check out the following list;

Apart from the great tracks included in the game, there's also some ambient must by Tim Schafer, the creator of this extraordinary game. As you can see, the various types of metal that graces this game is quite impressive and compliments the story quite nicely. The voice acting of the game is top notch, especially the one-liners from Black and Osbourne, classic stuff!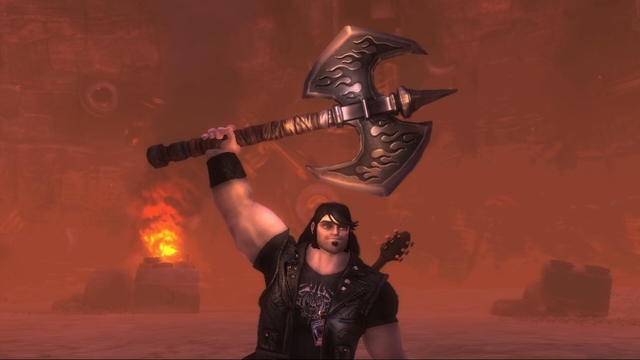 In conclusion, this game rocked and was a great walk or drive down memory lane with all the great bands who have lent their music to this game. The voice acting is pure class and the gameplay actually works quite well in a bizarre way that makes this quite an original game. As the game does not take itself too seriously, it's easy to get immersed and lost in the title and if you're looking for something on the light side than Brutal Legend is definitely for you!