Boulder Dash-XL Review
It's been almost a lifetime since Rockford first appeared on the gaming scene, 27 years to be precise and the original Boulder Dash is still held dearly in the hearts of many gamers. The series also spawned a variety of clones but Boulder Dash was still the best and I still remember playing this game as a kid on my PC with CGA graphics. That's right, unlike the Commodore 64, CGA only had four colours but I still fondly remember playing level after level of this awesome game.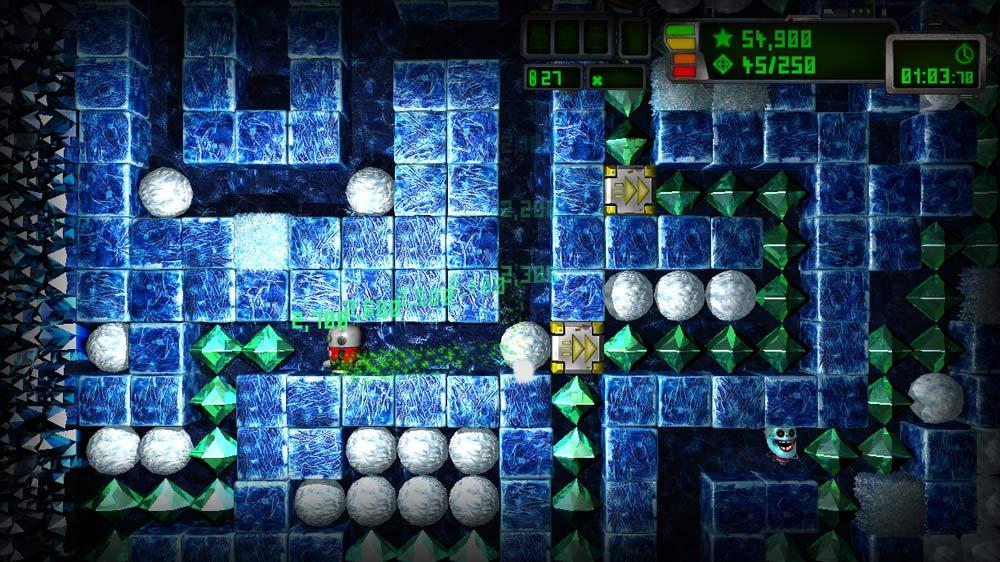 As opposed to a remake, Boulder Dash-XL is more an advancement of the series which features similar gameplay but the loveable Rockford has been replaced by a BD25 mining robot called "Rockford" which is a shame because the original character was definitely more relatable with his pick. Even so, when you first start playing Boulder Dash-XL, it definitely has a retro feel to it, even with the tweaked gameplay. BD25 is more like Inspector Gadget, another throwback reference to this time with all his new gadgets and access to power-ups.

This game features over 150 levels that definitely sits in the casual gaming area and does share similar traits to the more popular titles of this genre such as Bejewelled as you need to collect a set number of diamonds per level, avoid the enemies and prevent rocks from falling on your head all in the allocated time. Like the original, Rockford can move in four directions that include left, right, up and down. By moving in these directions, you basically start tunnelling in order to make your way to the diamonds. Although gravity does not affect you, if you walk under a diamond or a rock, it will fall. Rocks can also squash Rockford but they can also be used to crush enemies and trap them.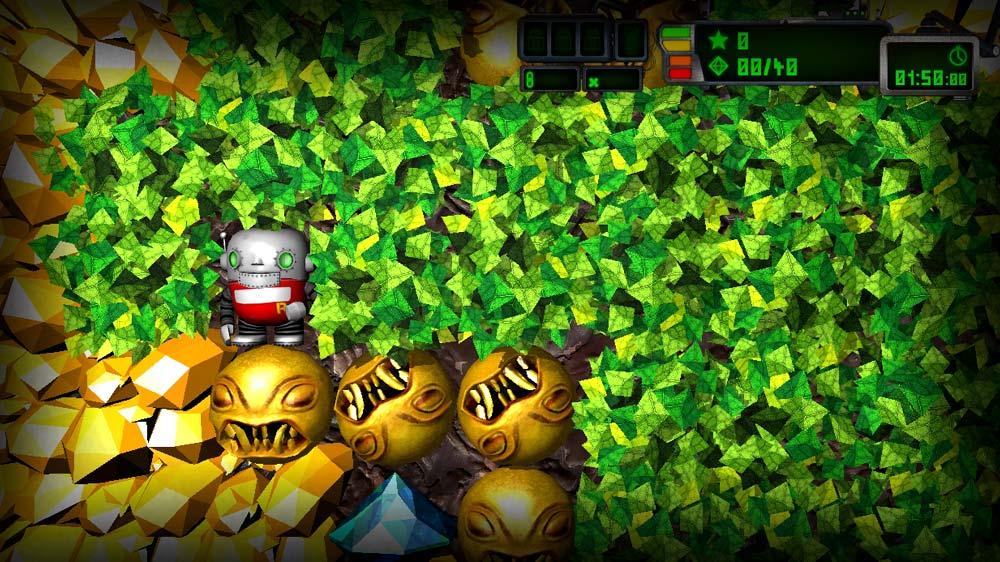 With a handful of gameplay modes that include "arcade", a revamped version of the original, a retro mode and a puzzle mode, there's definitely some great value for money here. The arcade mode adds quite a few twists and turns to the game mechanics from power-ups to Rockford's new telescopic arm that extends to grab diamonds or push rocks. From coloured portal-like doors that can only be accessed with the correct coloured key to teleporters and even a health bar for Rockford that never existed in the original, it definitely spices up the original gameplay.
Arcade mode also contains several new enemies that add a spanner to the gameplay as all the enemies have a strategy on defeating them. The last mode is the puzzle mode that is basically a tower of cards just waiting to fall. The diamonds in the puzzle mode have been carefully placed to start a chain reaction should you take the wrong turn and it's actually quite frustrating yet rewarding to solve these puzzles. With 100 levels in arcade mode, 25 in puzzle and 25 in retro, Boulder Dash-XL is definitely some great value for money here.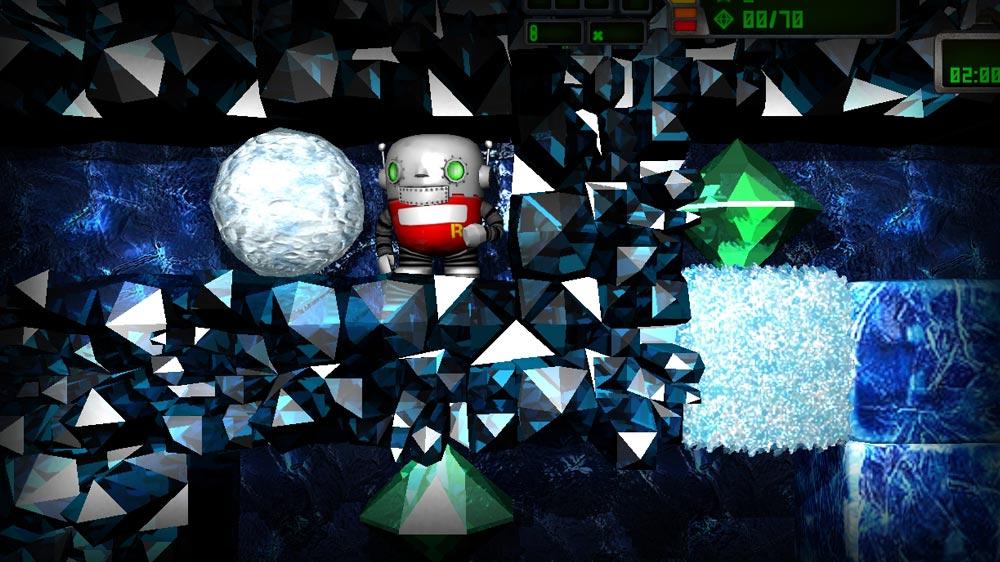 As mentioned, Boulder Dash-XL contains a retro mode which is basically the original game and is a great walk down memory lane as you play this classic game again but on the XBox 360. However for me, the challenge of the Boulder Dash series are the enemies that you encounter. Enemies generally chase Rockford through the tunnels that you have created but there are also some amoeba type creatures which continue to multiple unless you stop them. If you fail to stop them, the entire map will turn into rocks which is basically game over for our little robot. It's a trick in knowing how to defeat them!
Final Thoughts?

With access to online leaderboards and some great puzzles thrown into the mix, Boulder Dash-XL makes a welcome return to the XBox 360. The only issue with the game is that the new graphics seem a little complex as opposed to the original game. Even so, it's a fun and challenging experience and if you enjoy casual games, than you should definitely check out Boulder Dash-XL.