BlazBlue: Continuum Shift
I loved BlazBlue: Calamity Trigger and even though it was the weirdest most absurd fighter, it had charm, gameplay and a story to die for... in terms of anime. Yes my dear gamers, fighters didn't have to revolve around the Tekken or Street Fighter universes and other developers could create equally engaging games. And with that, so here we again, with another BlazBlue release that promises to be as strange and as entertaining as the previous game with BlazBlue: Continuum Shift.
For the purists, this game continues from the previous game and once again, the sanctity of the universe is at threat. Thankfully, the characters from Calamity Trigger are here to save everything that we hold dear and like all good sequels, there are a few new characters as well. There are a total of six new characters to BlazBlue which allows the gamer to play 18 playable characters. It should be noted that three of the characters must be downloaded via DLC.
In terms of gameplay, Continuum Shift is more refined then the previous game and features a couple of cool gaming addons. Although it's a stock standard fighter with lots of strange and bizarre characters, the controls have been mapped well onto the 360 controller, especially when you attempt to pull off the new manoeuvres that include guard and burst.
The new guard system is definitely aimed at those harder battles and although it does take some time getting use to, it's well worth the learning curve. The basics of attacks include weak, medium, strong and drive. Each character also has a special attack and different fighting styles that helps in the replay value. Thankfully it all comes together rather well.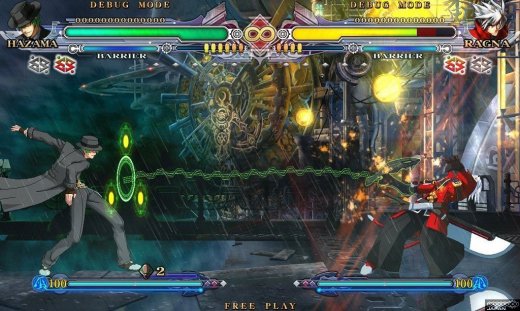 There are a variety of gameplay modes from short one-off battles to something more meaty like the Legion Mode which allows you to fight the BlazBlue characters against an evil army. This is like a survival of the fitness mode.
For new comers, there is a great tutorial mode that teaches you the basics of BlazBlue and even though I was familiar with the previous game, it did teach me a few new tactics. And finally we have the story mode which is similar to Street Fighter but takes the BlazBlue characters through the story of this game until you fight the epic battle with Hazama.
The game does allow for a local 2-player match as well but the online mode is definitely for the hardcore fans that allows them match their skills against other people from around the world. Unfortunately this option was not available to us on this review code. But as you can see, Continuum Shift has something for everyone and if you're after something a little left out of centre and you love fighters, you should definitely check this game out.
In terms of graphics, it's a good looking game with some amazing 3D inspired backgrounds. Even though the game has this 2D feel to it, especially with the characters, it definitely boasts some eye candy. Add in the overtop and almost Capon-esq voice acting plus the ridiculous sound effects and you have everything you need in a fighter for the XBox 360.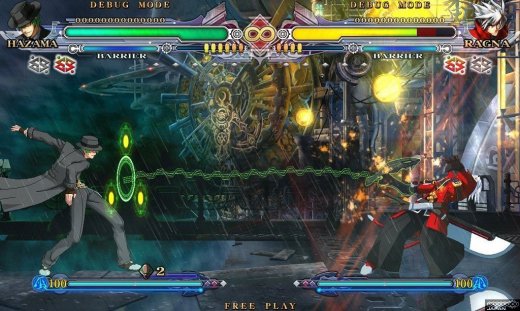 At the end of the day, BlazBlue: Continuum Shift is a great fighter that goes beyond the clichés of the Tekken's and Street Fighter games. It supports great graphics, a very sturdy gaming engine and more importantly, it's quite enjoyable. With the options of DLC, this game is definitely going in the right direction for a 2D fighter with next generation graphics. Recommended!