Battle Fantasia
I love fighting games and in my 15 years of being a gamer, I've seen my fair share of winners and losers and when I was given the change of reviewing Battle Fantasia, I jumped at the idea. Not because it was another fighting game but rather because it was a Japanese fighting game.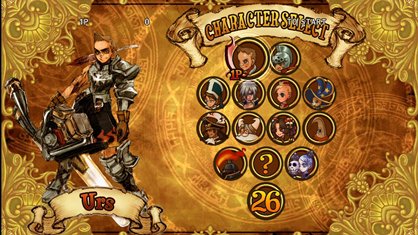 Unlike traditional "Western" fighting games, Battle Fantasia makes this more than just a button smasher and does require some skill and finesse to really make the most of the game with a touch of RPG.
Apart from the sturdy gameplay, Battle Fantasia features some great character designs that is oozing with Japanese madness that many Western gamers might be thinking... what on Earth!?! There are 16 characters available that look like they have been taken out of a classic Chinese mythology book.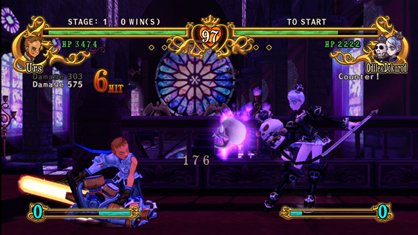 Even so, the graphics of the game work hand in hand with the gameplay and the developers pay homage to those arcade games of yesterday with the 2D inspired characters that have received a 21st century facelift. At times the graphics look cell-shaded and add in a variety of anime inspired special effects and this game actually stands out from the crowd at the moment.
The game contains a variety of gameplay modes from your traditional fighting "story mode" to quick battles and the like, ensuring that all gamers are catered for. The story mode is fun, however I was a little disappointed with the lack of cutscenes for the characters (ala Tekken), you actually have to read in this one.
Of course, you're not playing the game just for story and after playing this game for a considerable amount of time, I came to the conclusion that the controls work quite well on the 360 controller with an average level learning curve.
And for those button smasher fans, the game can be played as a button smasher, however as you progress, you will need to incorporate some more maneuvers. The special combos in the game are classics and without spoiling it too much, some of the "assistance" you get is quite magic inspired.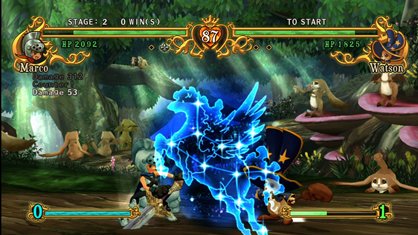 Each character plays differently and add in a variety of different attacks and Battle Fantasia boasts an impressive moves list. The combinations range from easy to sometimes impossible to manage, however with some practice, fighting those enemies will become an interesting experience.

At the end of the day, Battle Fantasia will definitely be not everyone's cup of tea, however if you're looking for a game from yesteryear with a twist that includes 21st century gameplay mechanics, than I would urge you to investigate this title.
It's pure fighting from the get go that gives the gamer a ton of variety.