Amored Core 4
Armored Core 4 is the latest blockbuster Mech game to arrive on the XBox 360 and the PlayStation 3 which allows gamers to control these huge mechanical beasts in order to engage in a variety of missions and opponents in order to ensure peace and prosperity in this interesting and diverse 3D gaming environment. The beauty of Armored Core 4 is that the gamer can fully customise their own Mechs to create their own unique creations with their own personalities.
Features
Multiplayer functionality allows up to eight players to battle online simultaneously.

30 Missions played out in detailed futuristic environments.

Join one of six factions specializing in different aspects of battle.

Fly through canyons and rip through cites battling multiple enemies.

Deploy "Quick Boost" and "Over Boost" features for precise explosive movement and precision control of AC units.

Engage "Primal Armor", the all new defense shield that adjusts its strength according to specific battle conditions.
Before embarking on the main game, the player is given a thorough tutorial of all the ins and outs of Armored Core 4 and once you have successfully completed the tutorial, you are ready to engage in the main mission of this title. From the moment you are thrust into this futuristic 3D city, you feel that you are in for a treat as you hunt down the enemy using any means available to you.
Although the game is quite easy at the start, the difficulty slowly starts to increase which means you cannot just rely on the grunt force of your Mechs. With that said, the game can become quite intense, especially when you have a large group of enemies converging around your Mech. This calls for a combination of skill and luck as you dodge missiles in attempt to destroy your opponents.
Apart from your stock standard enemy Mech's, the player must also engage the enemy Armored Cores which are the top dogs in this gaming universe. Needless to say, these enemy Armored Cores are extremely deadly but fortunately you have the equipment to take them on.
The missions in Armored Core 4 are quite diverse and interesting, however when it comes to the crunch of things, the title is basically a kill everything game... not that there's anything wrong with that. Whether it's destroying an enemy base or escorting, Armored Core 4 is one of those games that you will endeavour to finish due to the variety of the missions which keeps the title interesting. Control wise, Armored Core 4 uses the official XBox 360 controller quite well and gamers of all experience levels will have no problem in mastering this title.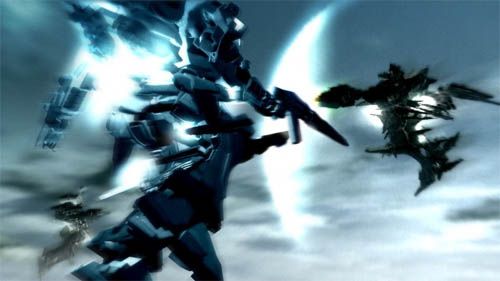 Graphically, Armored Core 4 is a visual treat on the XBox 360, however some of the background environments are a little sparse. The Mech's themselves are highly detailed and move with a realistic grace as they stomp their way through the gaming environment.
The title also contains some great lighting effects and match that with some amazing looking weapon effects and you have one good looking Mech title. The only drawback with the graphics is the sometimes slow camera angle that does hamper the gameplay at certain stages in the game, fortunately this does not always happen. Of course, the explosions should get a sentence and they look quite spectacular.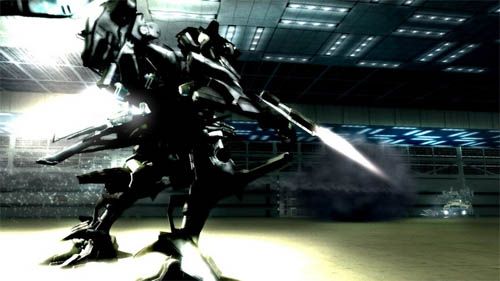 In conclusion, Armored Core 4 does the franchise justice, especially considering it's the 10th Anniversary of this amazing universe. Great graphics, sturdy gameplay and one hell of a ride that we could easily recommend to fans of the series or for those looking for something a little different!