Alien Breed : Evolution EPISODE 1
Everyone remembers Worms right? Well remember that big Team 17 logo that always flashed up before the game started? Those guys are back, and they are on Xbox Live, with their latest title Alien Breed. You may recall the title, and thatís because it was originally released in the early nineties for the Amiga and DOS, but now itís been beefed up for Next Gen.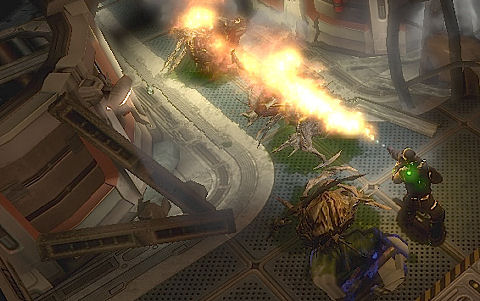 Expanding more on the original story line, the game presents itself in a comic book style with cut scene framed, and the entire game spliced into five chapters, with three episodes planned to complete the story. The first follows space engineer Theo Conrad on the spaceship Leopold with collides with a strange ghost ship. From the ghost ship a mass of Alien predators leaping ship to the Leopold and decimating the crew, leaving Conrad to fight of the hoards himself armed with a few weapons and a android named Mia.
Keeping its originality of a top down shooter, it has also kept the simplistic button mappings to ensure a simple pick up and play style that most XBLA games should have. Left stick moves, Right stick aims, and right trigger shoots, with the rest of the buttons being occupied by various secondary tasks such as melee or activating equipment. The game play is staggered, you can spend a good deal of time fighting off impossible odds of alien numbers, and then you can have what feels like an eternity performing a stock Ďpuzzle taskí of searching a body or finding a door way, these tasks are unavoidable and have to be performed before moving on to the next level.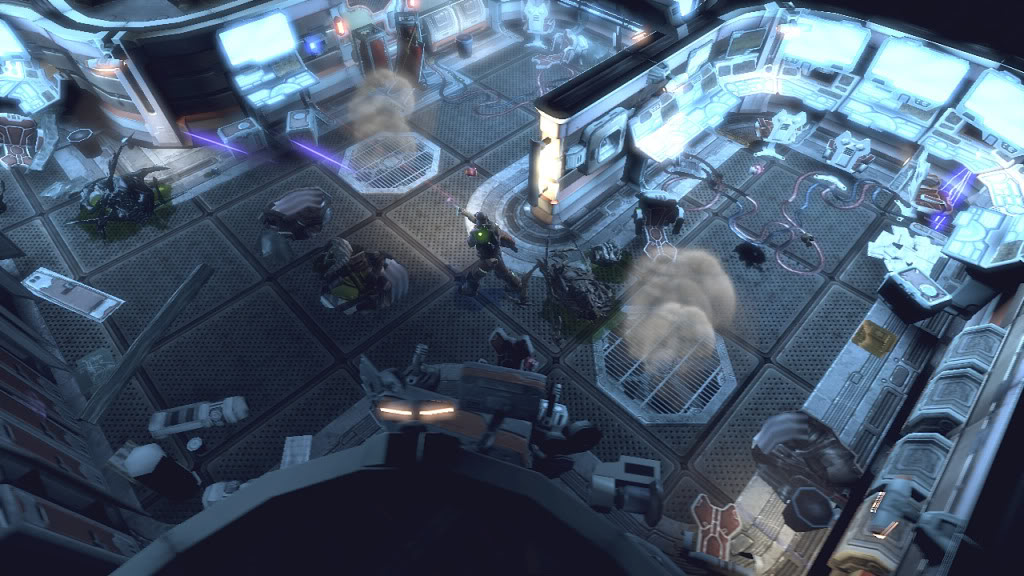 This can be bypassed though by loading the Assault game as opposed to the Story mode. The real juice in the game though is the multiplayer aspect with 2 player Co-op available as well as Xbox Live Co-op, guaranteeing plenty of headset shouting and epilepsy inducing screen flashing as you rifle of blinding round after round. There is plenty of interactivity in the environment as explosions, electric belts and fiery surges can all dwindle your health as one of the many onslaughts of enemy feast upon you. The AI of the enemy isnít fantastic and they will tend to repeat the same moves based on what Ďlevelí enemy they are, but the sheer number of them and they speed of the surge is enough to keep anyone on their toes.
There is certainly a lot more polish on this reincarnation than its original, with rich environments and fluid motion provided by Epics Unreal 3 engine and a perfect spine tingling soundtrack to immerse you in the spaceship, and dread the inevitable Alien hoard. Overall, there is a great title here, at 800 points, itís pretty cheap too. The major disappointment is its length, there isnít a great deal of replay ability in the episode, with just five levels and a boss, the decision to split into three episodes has obviously kept the cost down but at the expense of satisfaction. But at around the price of a large pizza, I guess there isnít much to complain about there.