Active has sure come a long way since its release on the Nintendo Wii and although that game was quite professional, this current instalment is definitely far superior. But with that said, this is not a game, it's a virtual personal trainer for those who wish to train at home and targets the casual gaming market as opposed to the hardcore gamers.
However, the most noticeable difference between this version of Active and the previous version is that on the XBox 360, there are no controls and even better, the game comes with a wireless heart rate sensor plus online fitness tracking. With over 70 exercises and a plethora of customisation options, this is the future of console sports.
FEATURES
Built-in Heart Rate Monitor – Track your heart rate on screen in real-time with the innovative EA SPORTS Active heart rate monitor to capture intensity and optimize performance over time. The heart rate monitor sits comfortably on your left forearm and does not require a chest-strap.

Wireless Full Body Motion Tracking – EA SPORTS Active 2 with the Kinect for Xbox 360 motion sensor tracks full body movement with true 1:1 motion that will register exercises never before possible and create seamless workout experiences, no controller required. Exercise hands-free and customize your workout with your own fitness equipment!

Take Your Workout Online – Track your progress on the web via the EA SPORTS Active online global community. EA SPORTS Active 2 tracks your fitness data online via automatic uploads to your online profile and allows you to share your data and connect with other users through workout groups - all while reaching your own personal fitness goals.

70+ Exercises and Activities – Create unlimited customizable workouts with over 70 exercises and activities to choose from, including foundational exercises like squats, lunges, and bicep curls and fun fitness activities such as mountain biking, dodge ball and boxing.

Enroll in the 9-Week Program – Designed by certified personal trainers, the EA SPORTS Active 2 9-week program provides total body conditioning using progressive exercise. It provides a fitness roadmap to help keep users motivated and on track of their fitness goals. Additional mini-programs will also be available to add on, keeping workouts fresh and inspiring.

Built-in Personal Trainer – Your personal trainer will be there by your side every step of the way to guide you, motivate you, and create the most effective custom workouts based on your needs.

Downloadable Content – Download new workouts and exercises via Xbox Live to keep workouts fresh and maintain motivation.
With a slick sporting interface, Active 2 is a stylised fitness program that truly makes use of the controlless capabilities of the XBox Kinect. The only issue with Active 2 is the menu system which is a little tricky to use and at times frustrating. Even though the Kinect was configured properly which is a must do process for Kinect titles, the menu wasn't that responsive to my actions and the menus/graphic buttons are a little too small. One solution is to use the XBox 360 controller to navigate which did make things more accessible as opposed to swinging my arms and hands around like a twit. Nonetheless, once you do get involved, things do definitely change for the best and I'm still sore from my workout from two days ago.
Depending on your fitness level, Active 2 has a program for beginners to advanced sporting professionals. You can also target different parts of your body and fitness, whether its cardio, endurance or flexibility for example. I am currently involved in the three week cardio program in Active 2 that not only monitors my performance but gradually increases its difficultly as my fitness improves.
It's these small things that make Active such a treat to use. Some more advice is to make sure you have at least 2 metres, preferably 3 metres away from TV which is a shortfall of the Kinect system. Anything less, this program will be useless which is a drawback of the Kinect system.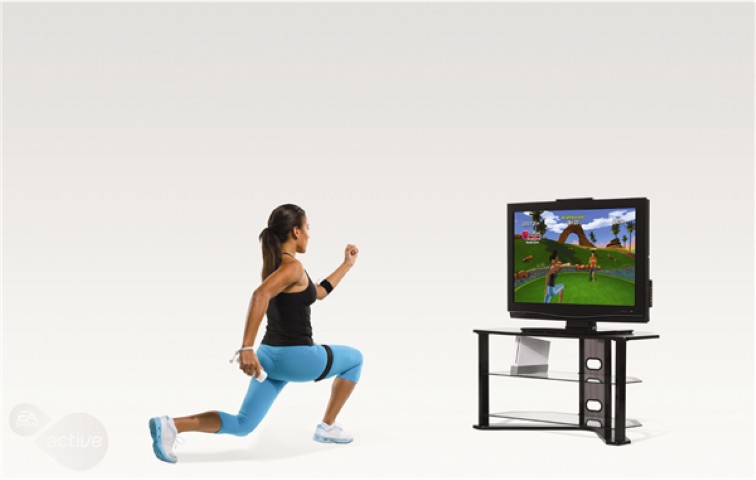 My favourite aspect of Active 2 is the heart rate sensor which monitors your heart rate and relays this information in real-time back to your XBox. This device is built quite well and looks rather sporty as you attach it to your left arm. You should also be pleased to know that it also comes with 2 batteries so you can start exercising straight away without additional trips to the store.
The XBox 360 records these statistics as well which is great to compare at the end of a 3-weekly workout session. Lastly and the like the original title, it comes with a resistance band to help you with your exercises such as stretching and flexibility. The game has a great scheduler which recommends certain days and times for training (all can be changed) and displays how many calories you have lost. There is even a dietary supplement section as well which recommends healthy eating and also suggestions.

If you have your XBox 360 connected online, it records your statistics to the EA server which is easportsactive.com and you can regularly log on and check you progress. Another cool option is that you can join workout groups which basically shares your stats with other users and it's a great little motivational tool. You can even work out with another person locally that is perfect for those who like a challenge.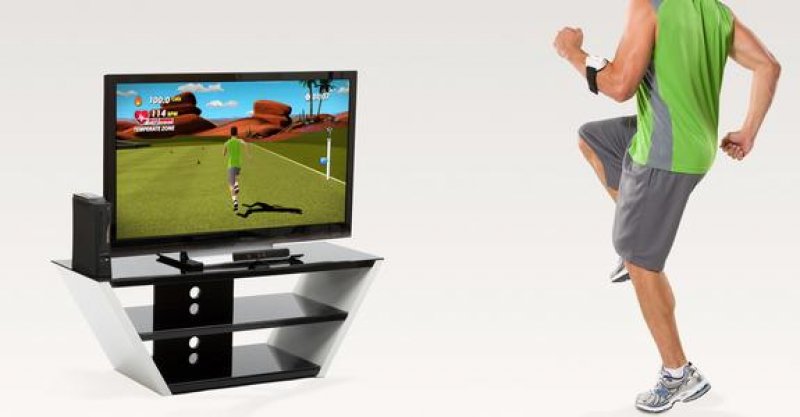 When you do start Working out, there are several exercises that you can engage in from stretches to running and even bike racing. A virtual trainer is involved who assists with how you should be exercising and what stances etc you need to engage in. This works quite well and my favourite exercises is the running and dogeball. There is even an option to customise your workouts where the user can pick and choose what they wish to get involved in. In terms of the Kinect, I'm really surprised at how accurate it is and it really knows what you're up to while your exercising. It's a brilliant tracking system. Shame about the menu system!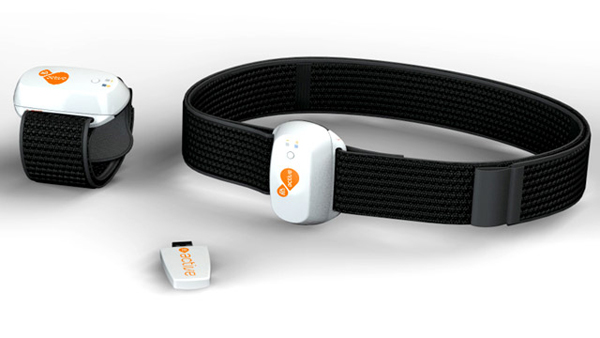 Graphically, the game is a little lacklustre but still supports high resolution graphics, although a little cartoony. The menu system looks great and the musical score and voice acting is first class. The game has this very clean feel to it that will impress most casually gamers.

In the end, EA Sports Active 2 for Xbox 360 Kinect is a very professional exercise title for this console which contains some great options for the user and more importantly, no controls needed. It's perfect for those who don't want to visit a sweaty gym or prefers to train alone. With regular exercises options and great customisation features, Active 2 is definitely one of the better exercise programs for the Kinect. The only issue is the menu system which is a little fiddle some and of course the calibration of the Kinect. But then you have something cool like the detailed statistics of the program which definitely keeps you on your toes. Recommended!