Despite the cheese factor, the latest Ace Combat game to arrive on the XBox 360 is actually quite a decent arcade flight simulator that not only just includes jets but also helicopters! Bring on the gunships! With that said, Ace Combat: Assault Horizon contains over 30 licensed military aircrafts such as the F22 Raptor and Apache with some sturdy gameplay, slick visuals and some thumping sound effects that will turn your lounge room into a battlefield, provided you have surround sound. At its core, Ace Combat: Assault Horizon is an arcade flight simulator and although most of these games are on the realm of the PC, it's great that Namco have continued this genre in the console world.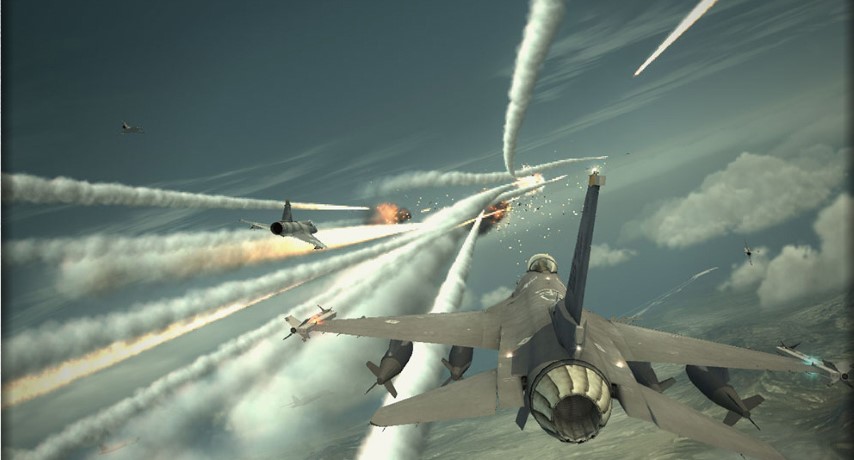 The first thing that you will notice about Ace Combat: Assault Horizon are the stunning visuals that really make it appear like you are flying one of these airplanes. From detailed countryside environment to city areas and some gorgeous cloud and lighting effects, Ace Combat: Assault Horizon is as close as you can get to flying a real plane.
The only downside to the graphics is when you go too close to the ground and just like most flight simulators, everything looks a tad too flat but thankfully you'll spend most of your time in the high skies, unless your on a helicopter mission. But there is some detail... just look at the following screenshot. Another cool effect in the game is the bullet-time explosions that are sometimes used in the game and gives the title a very slick Hollywood feel to it.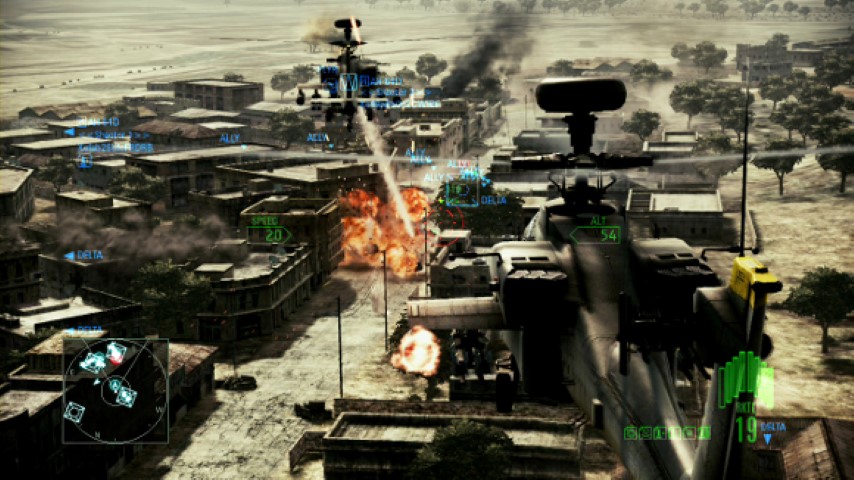 Story wise, Assault Horizon is Mr. Cliché as once again, the West, more particularly the good old United States of America have been called to action in order to save the free world. Ugh! Even though the story sounds like a bad Tom Clancy rip-off, it's actually quite amusing and does help enhance the story, except for some the stereotypical banter between your wingman.
That's probably the only annoying downside to the game is the voice acting which seems to repeat and repeat. However repetitive voice acting and flat graphics when you fly too close to the Earth are the only two problems with the game. Everything else works and it works very well, especially with the controls.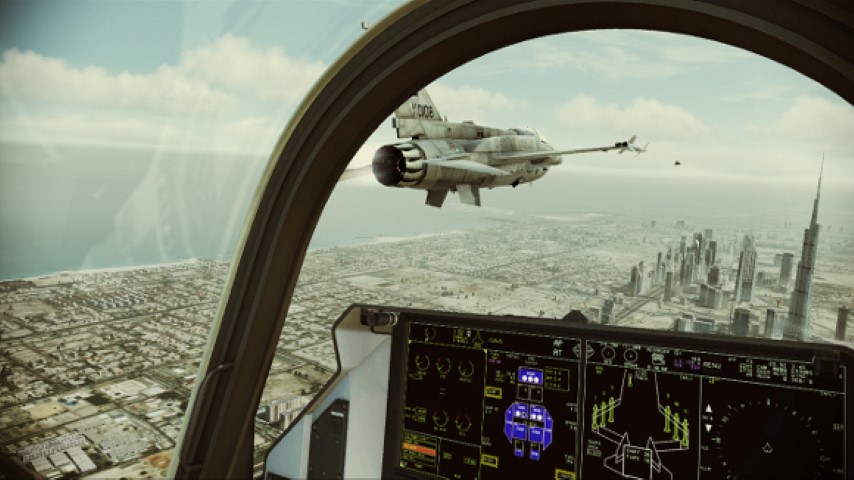 As soon as you pick up the controls on the XBox 360, it's like coming home again, especially if you enjoy this genre. The controls work perfectly on the XBox 360 and whether you are strafing, engaging in dog fights or firing your missiles, even the most novice of gamers should have no difficulties in mastering these controls.
Add in some careful use of force feedback and this is enough to immerse you into the realism of this game, specifically if you have a big screen TV. 50 inches of Sony goodness is more than enough for me. Missions are quite varied, especially with the inclusion of helicopters as it really changes the dynamics of the game and you do need to think.
I did enjoy the dogfight mode employed into this game by the developers which basically assists in "dog fights" when you are close to the enemy. This essentially removes the need to control your jet as the game takes over as pilot and you can concentrate on shooting down your enemies. Even with this mode, it's still not easy but definitely works and enhances the gameplay.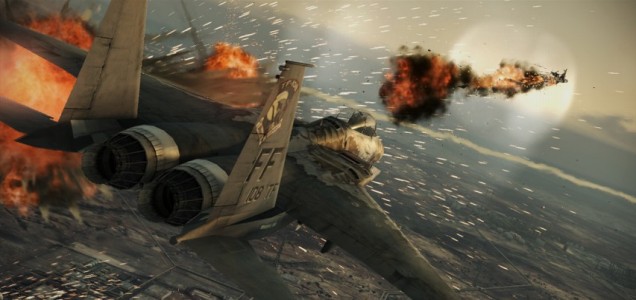 With over 30 aircrafts in this game and besides the high speed jets, my second favourite was the helicopter which is so much fun to control, especially when you are helping your buddies on the ground. It feels like you are in some war movie. But just like a Hollywood action movie, your jet can take a healthy amount of damage before it is destroyed and sometimes you need this on harder levels. Given that, the AI is no pushover either and you do need to practice before you become a Top Gun, principally when you have a lock on your tail.
The game even supports a multiplayer for a break during the campaign or you can jump straight into this mode from the get go. Although dog fights are quite enjoyable, it's also fun to join in team-based matches and you can really get some great strategies going here. I think this is why I enjoyed multiplayer so much because it was quite unpredictable as opposed to the rather lengthy and sometimes repetitive campaign missions. Needless to say, the whole game came together rather well.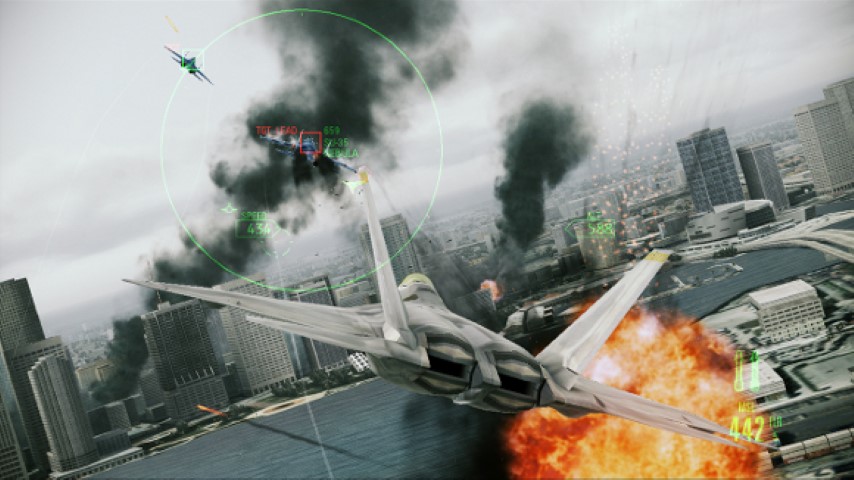 Final Level
In the end, Ace Combat: Assault Horizon is one of the most enjoyable games of the last few months because it's a totally different console game with some amazing graphics, especially of the aircrafts and sturdy gameplay. My only regret with the title is the close-ups but as mentioned, you spend more time in the air than on the ground. This is a must have game for arcade flight simulation fans and if you want to burn that jet fuel on your XBox 360, than look no further Ace Combat: Assault Horizon has landed!