THE MLG 2012 SPRING CHAMPIONSHIPS EXPERIENCE THROUGH VISUALS AND COMMENTARY BY TARA BABCOCK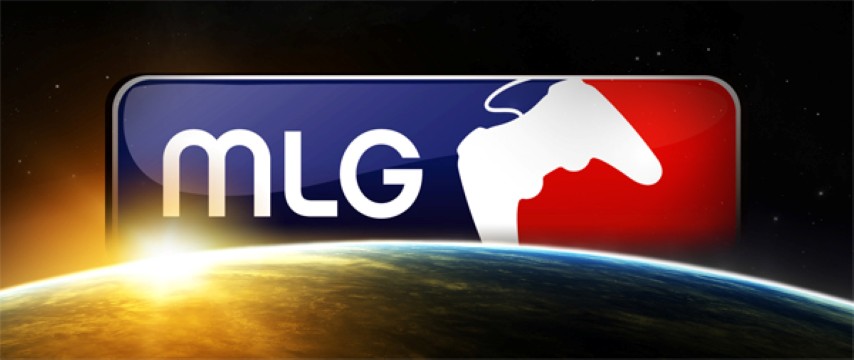 After attending and experiencing the MLG Anaheim Spring Championships this year, I have completely re-thought my ideas for how I would cover this event. I have been writing gaming articles here at Impulse Gamer for over a year now, but no event or topic has inspired me as my first true taste of an eSports-fueled event like MLG has.
Not a topic you can capture simply through the beauty of well-expressed wordplay; eSports is also not something one should read a book about. It is a series of images, each delivering a punch to the senses. I decided that, instead of writing about what I saw, I would try to convey that intensity as best I could through the photographs I was able to capture. I hope that these images imprint upon you a little bit of my first personal experience in this world, and that it inspires you to delve deeper. I created this article in order to portray eSports exactly as it is meant to be: through visual stimulation... and with some commentary in between!
I hope you enjoy seeing this year's MLG Anaheim through my eyes almost as much as I enjoyed gathering it for you all. If each image is worth a thousand words, and I captured over one-hundred-and-fifty images, then that is... a ton of math if you include the word count of the supporting commentary! Whatever you do, don't stop scrolling!
CHECK OUT THE RESULT BRACKETS:
Of course, aside from the emotions, the rollercoaster of excitement, and the overwhelming sights and sounds that encompass an MLG event, there are also the cold, hard results. The following are bracket and event results for all games featured at this year's MLG Anaheim!
StarCraft II Championship Bracket
StarCraft II USA Nationals Bracket
StarCraft II KeSPA Invitational Bracket
MEET THE PROGAMERS:
I was fortunate enough to be able to get inside the StarCraft II progamer and VIP-only section on day one with my cameraman, for some up-close and personal images of the MLG heroes in the open bracket and from the USA Nationals bracket as well. Such an exhilarating experience!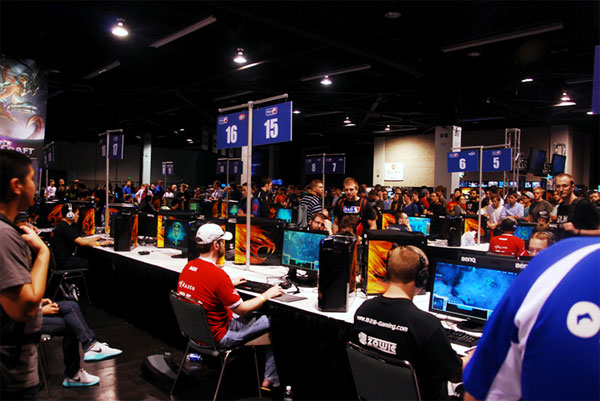 The MLG progamer bracket area from a more big-picture perspective. You can see the players seated at numbered stations, fans in the back watching and gossiping, as announcers let players know who they will be battling next, and at which stations.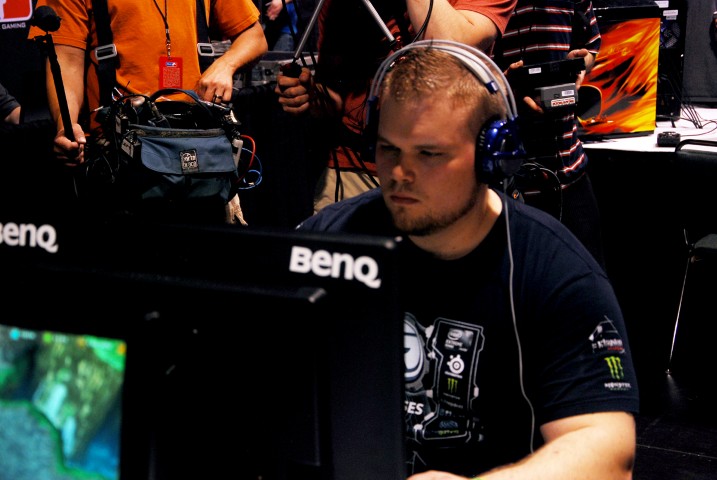 EGiNcontroL focusing intently while enamored fans watch from behind the velvet ropes.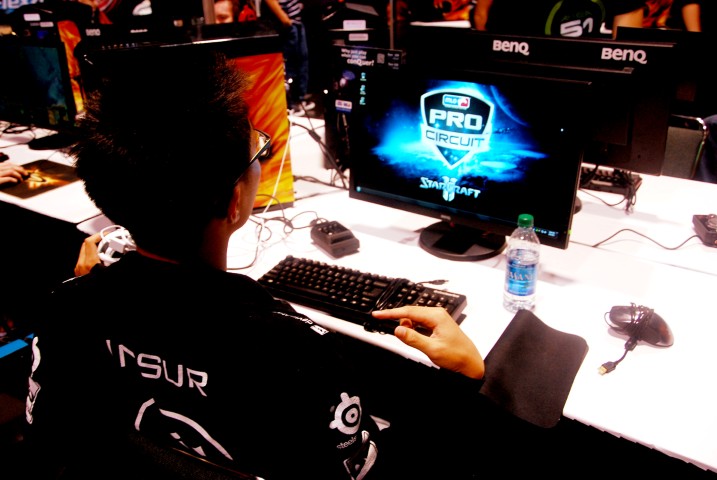 Insur getting ready to fight his way through the bracket.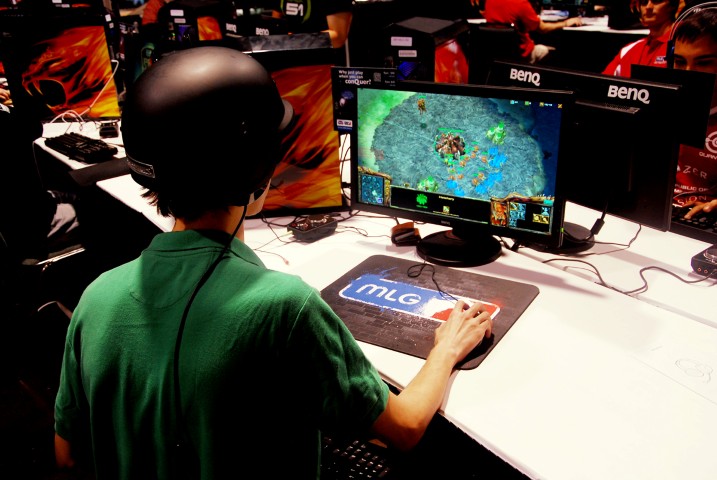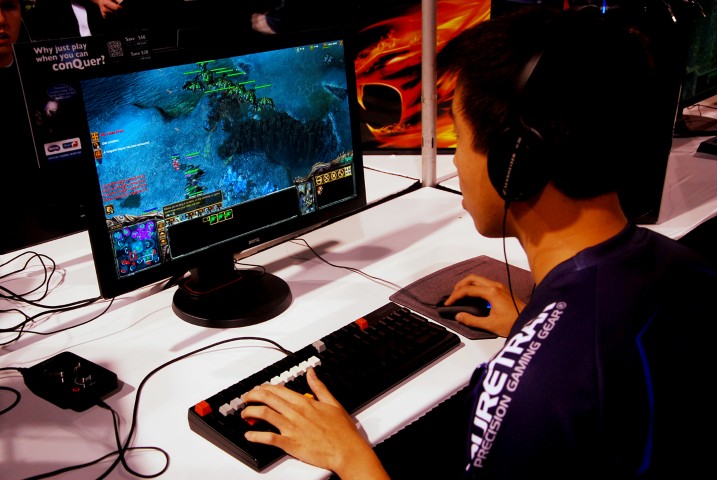 Focused and calculated xSixSuppy!
ROOTViBE, winner of the USA Nationals competition, playing games!!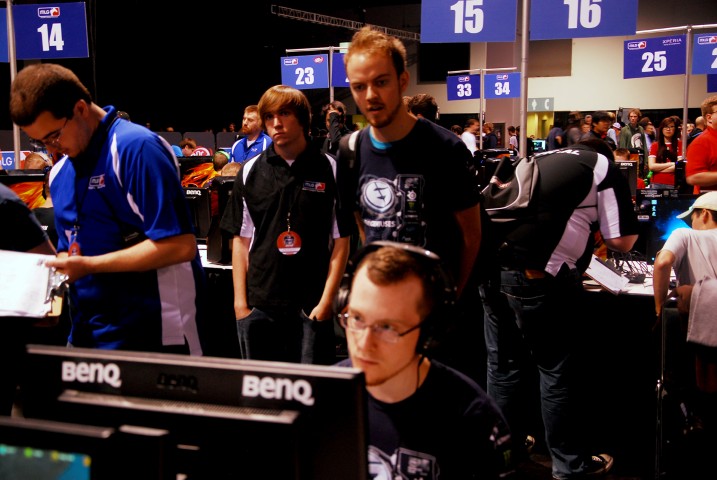 One of my favorite images from the event! DeMusliM looking comically shocked at IdrA's gameplay. This one is seriously meme and Reddit worthy!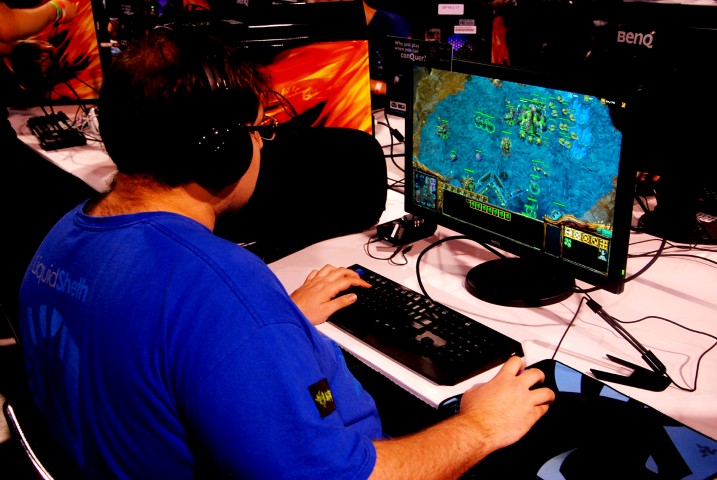 Sheth the manner Zerg battling in Team Liquid blue!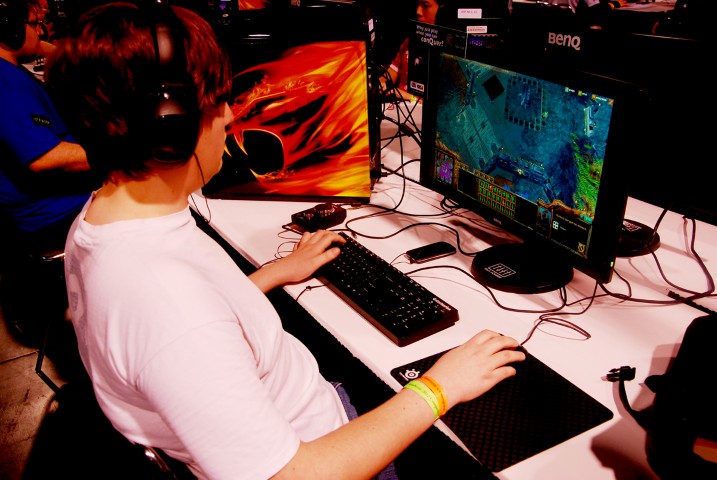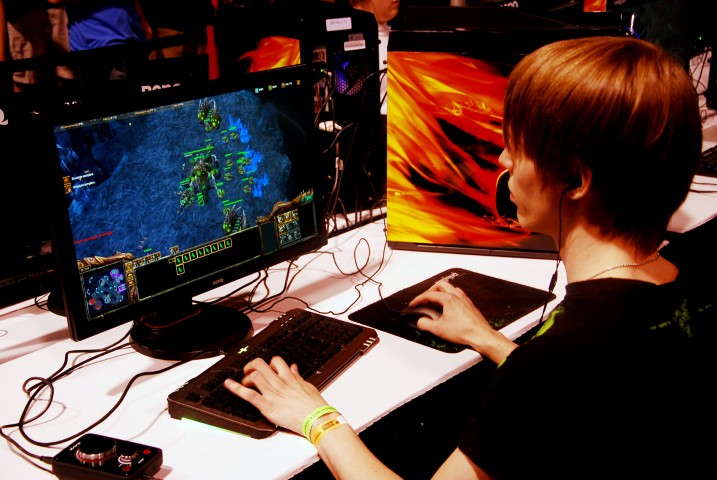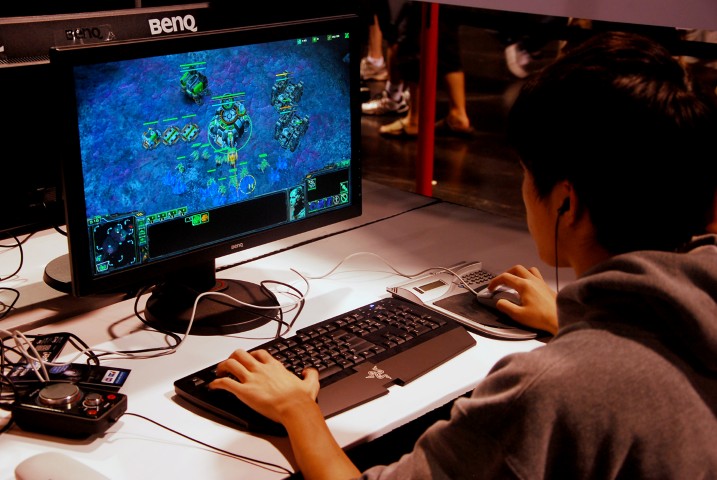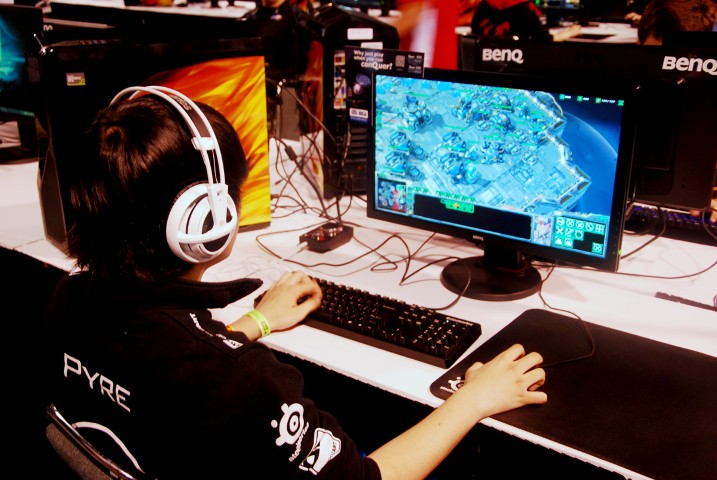 Pyre duking it out while supporting his sponsor, SteelSeries!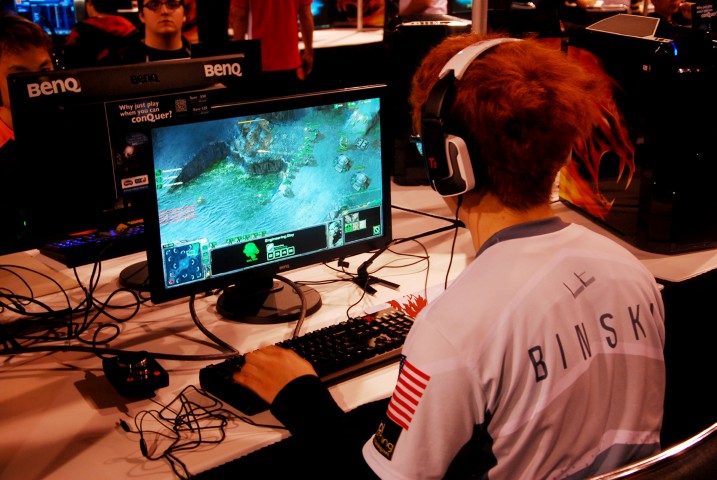 Binski of Team LighT and his epic Tt eSPORTS gear! I have a soft spot for team LighT, as most of the members reside in my city, and I see them at monthly LAN tournaments in the area! Go, LighT!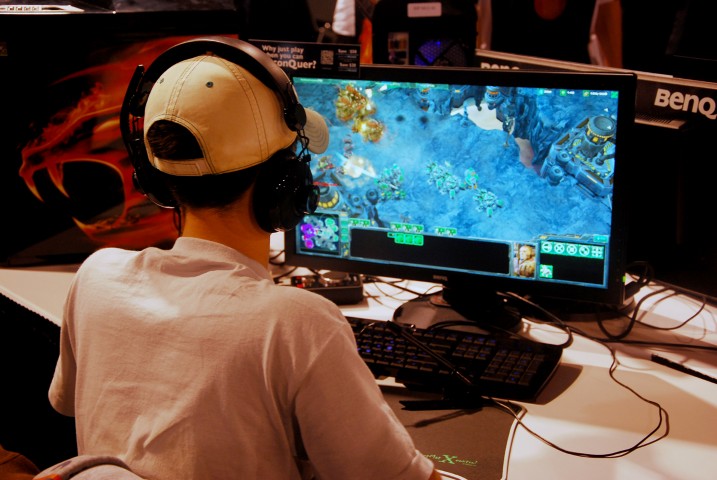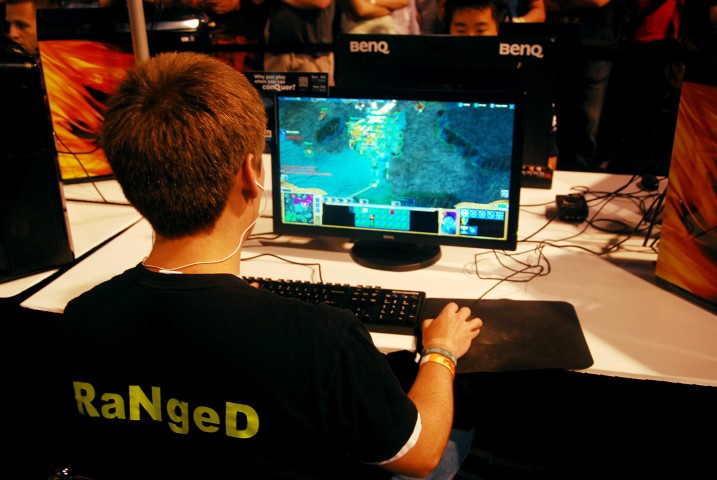 NrSRaNgeD and his "jersey" that he's expressed distaste for numerous times in my presence. This guy is another epic Seattleite!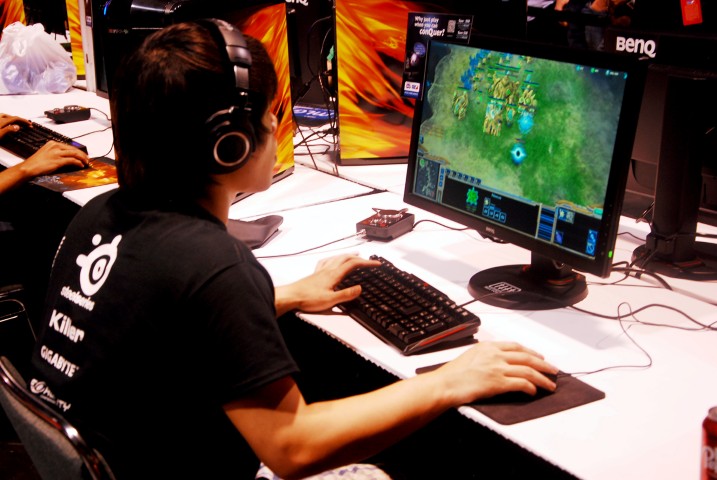 Killer killing everything...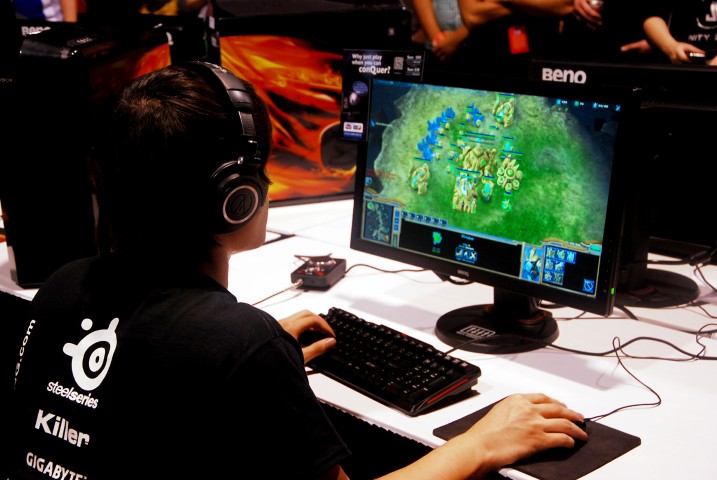 ...Or just staring at his base for extended periods of time!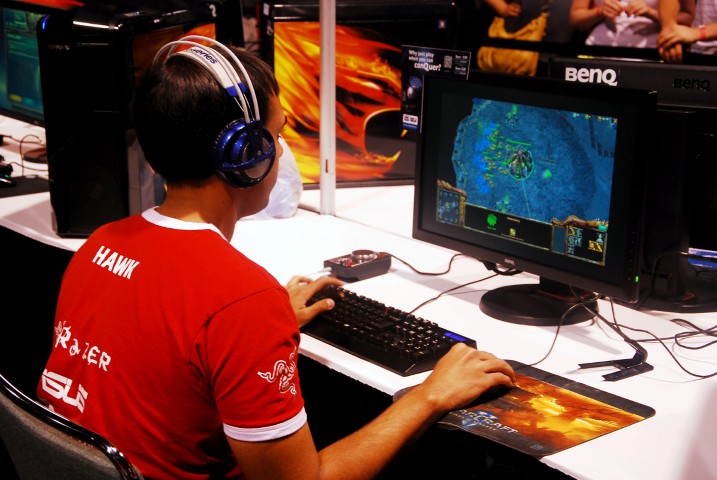 Hawk in the early stages of an open bracket game!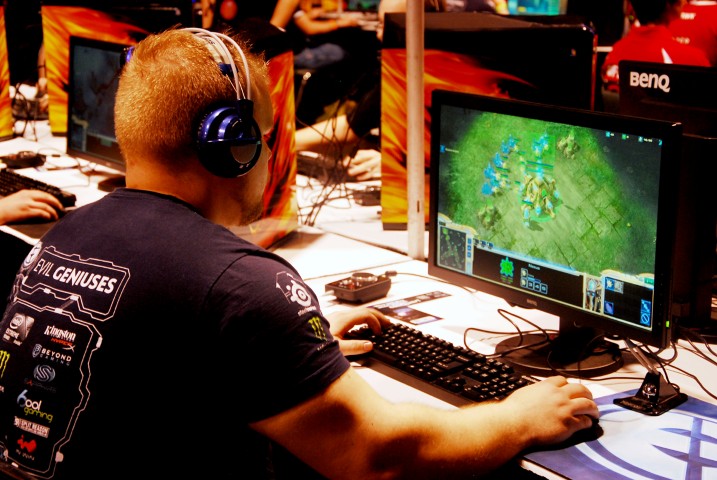 iNcontroL from a different perspective as he plays his 'Toss like a boss, surrounded by EG team gear.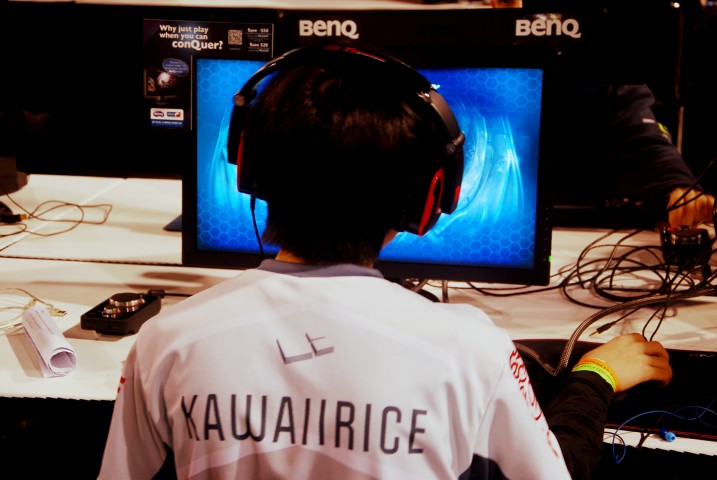 One of my personal favorite Terrans from my hometown of Seattle, KawaiiRice as he logs in for battle. You can't beat him at StarCraft, or osu!!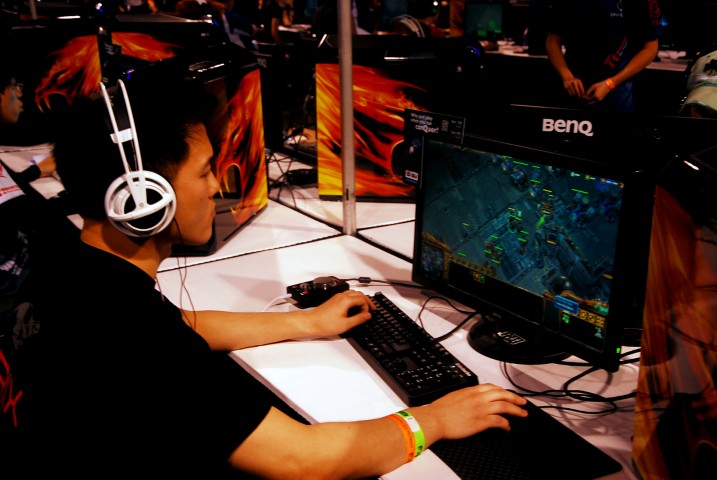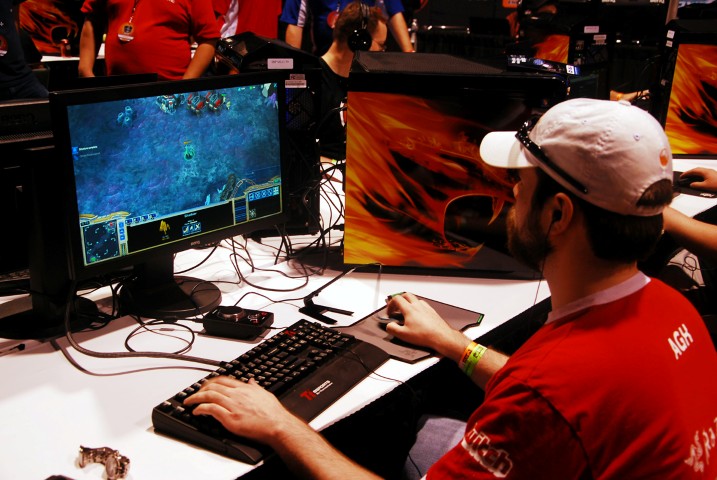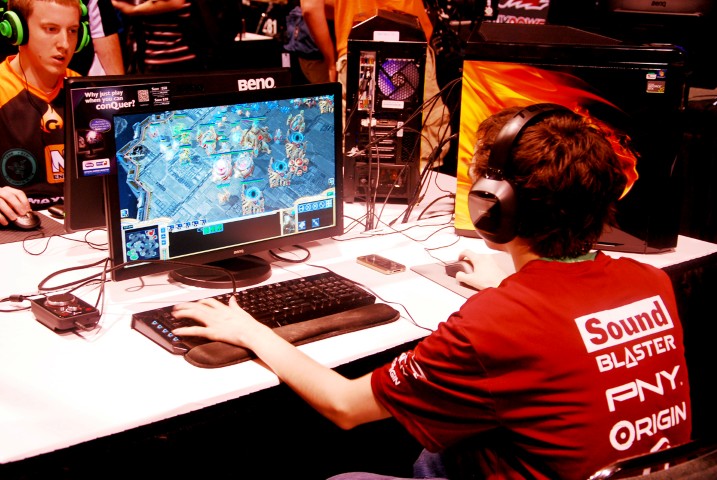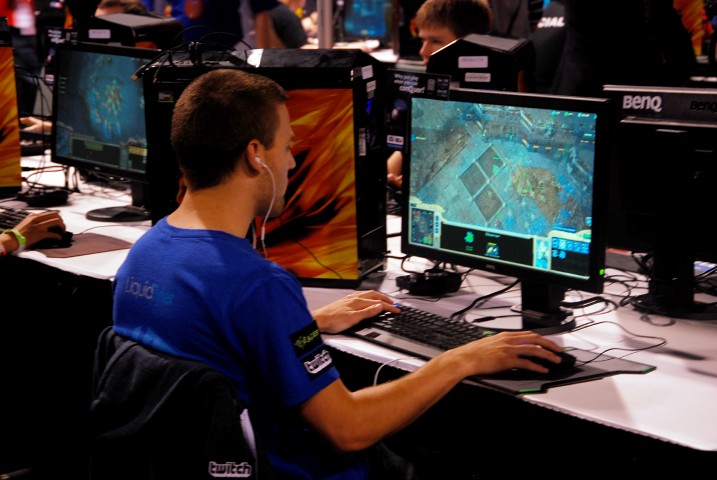 Liquid Tyler, or NonY, as he is more commonly known in the pro circuit, choosing ear buds over a headset for this tournament.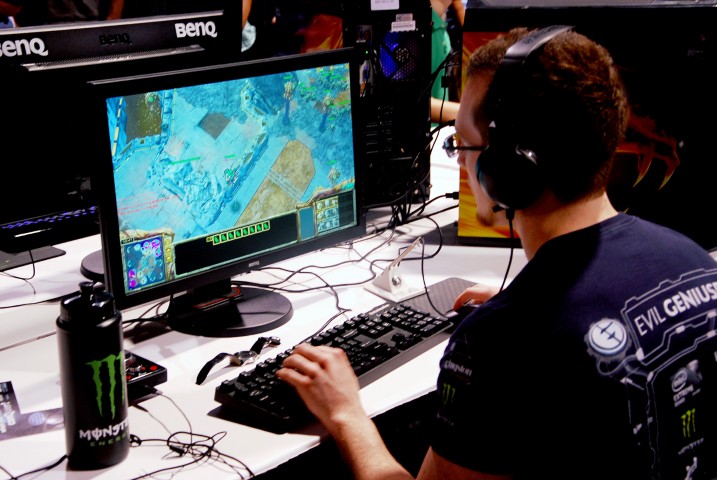 Another worthy IdrA snapshot as he crushes while showing off his Monster Energy Drink sponsor gear. Now, that's what I call product placement!
MLG SPRING CHAMPIONSHIP IN ANAHEIM, CA - DAY ONE:
Day one of my MLG experience was a bit nerve-wracking. I spend it, mostly, taking in the sights, and examining my surroundings... Had I entered a safe nerd-haven where we could all gather and enjoy the finer things in the gaming universe? Hell yes, I had!
Combine geek chic JINX gear with girly Abercrombie floral and I am ready for my first MLG ever!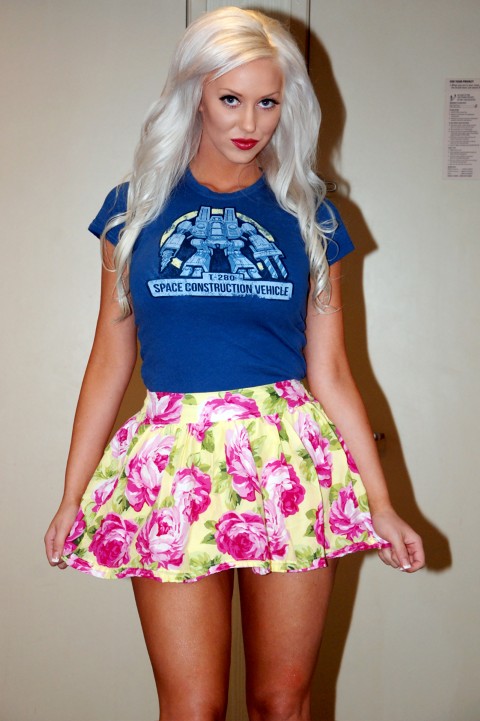 Somehow I managed to look like I had wind in my hair walking down a runway. Is it my profession ingrained in me, or my awesome event photographer?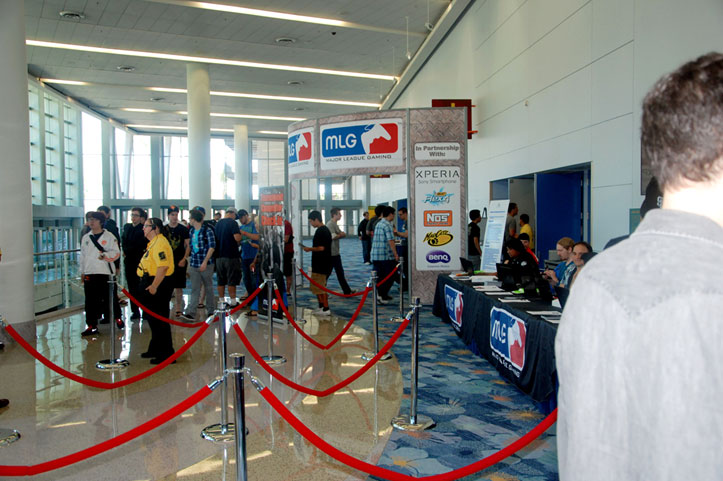 After walking down a long corridor and passing many other rooms, you finally reach the entrance. You can pick up your passes or wristbands at the door, and then promptly head into the venue!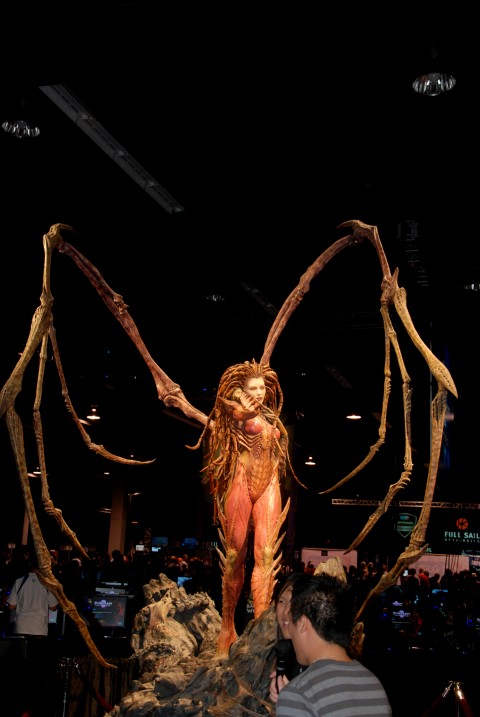 Kerrigan's life-sized statue greets you at the door with its both haunting and sexy demeanor.
A close-up shot of the Queen of Blades mounting a Zerg-infested pedestal.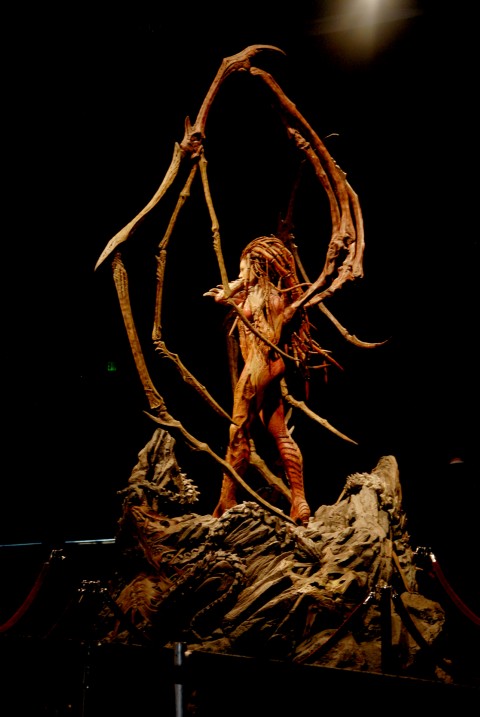 Kerrigan definitely keeps up with her squats in the gym... maybe she uses larva as barbells!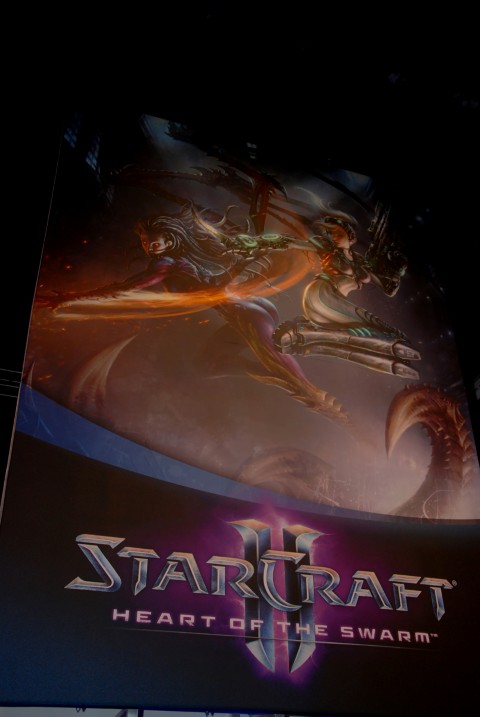 An extra-large Heart of the Swarm poster hung from the ceiling in the middle of the venue. I could not be more excited for ghost versus ghost battle! Or is it Terran versus Zerg? I think we can all just come to an agreement with "girl on girl" battle!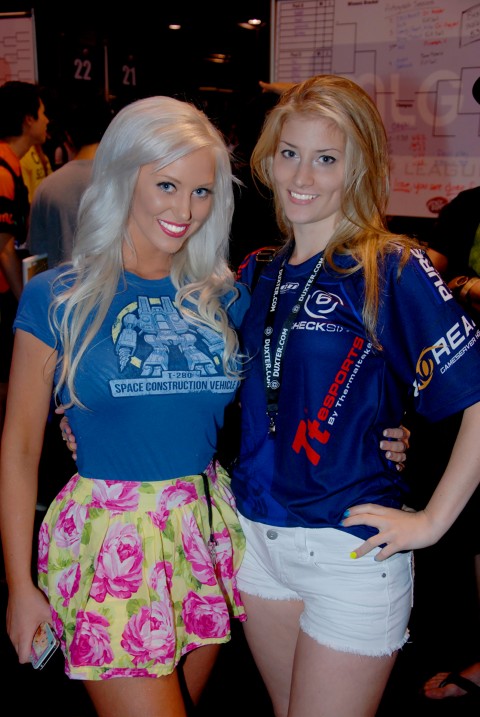 Gorgeous StarCraft streamer and CheckSix progamer, Ailuj and I! It is always a pleasure to see this power-'Toss beauty!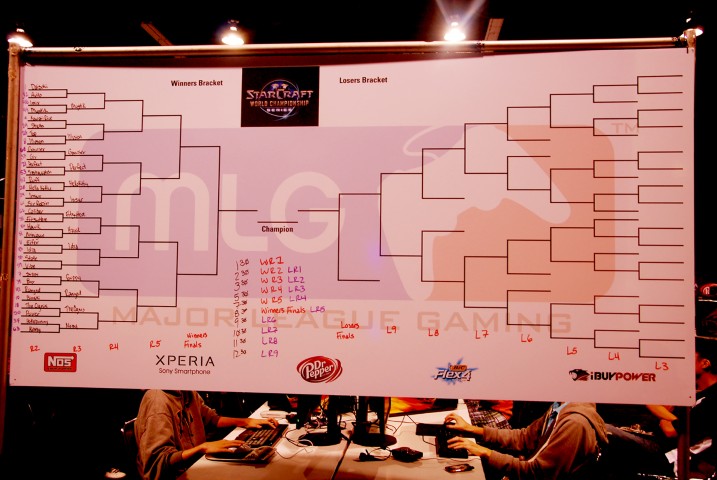 The bracket before it really progressed anywhere. Handsome nerds and progamers surrounded this very spot throughout the event. It became a meeting ground of sorts for fans to converse with their favorite players, take pictures, and banter with friends.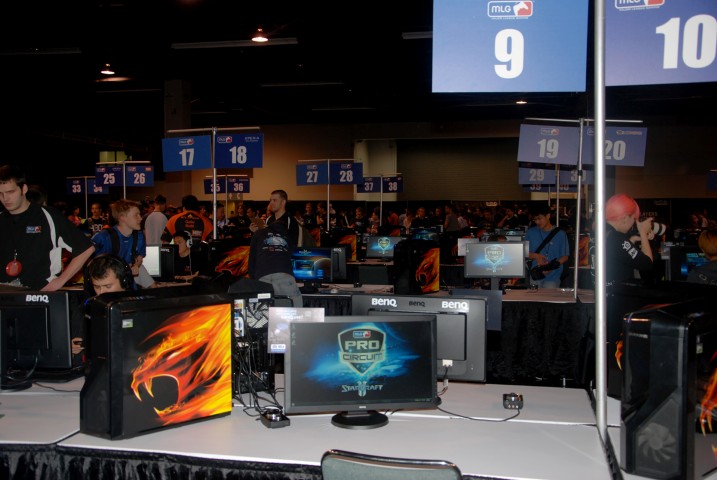 Rows and rows of these wicked-cased computers lined the open bracket and Nationals pro area.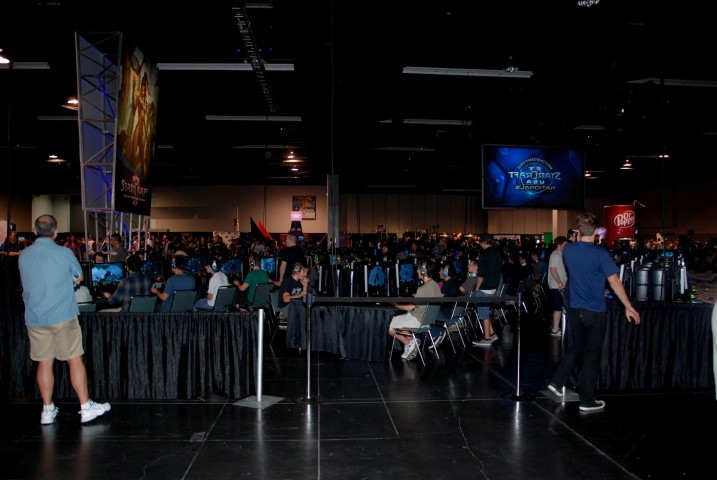 One of the most exciting features of this MLG event was the privilege to try out a portion of Heart of the Swarm, complete with all of the new units, and the choice to play against a friend, or against the computer!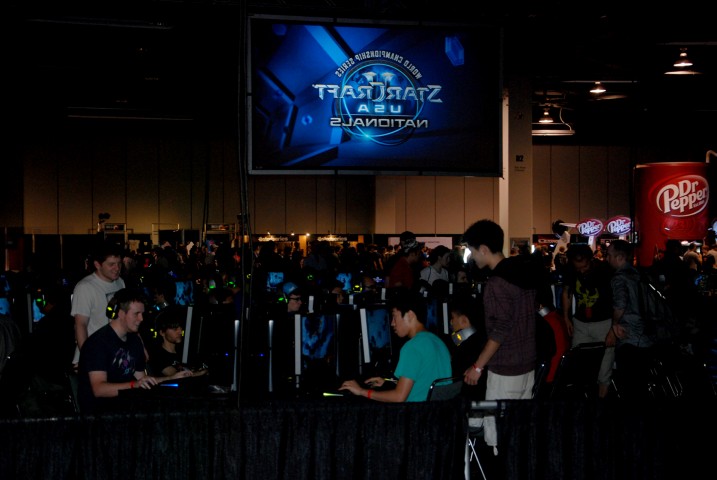 Crowds of StarCraft enthusiasts lined up to play HotS at the game stations, all of which were sporting Razer StarCraft peripherals for the abusing!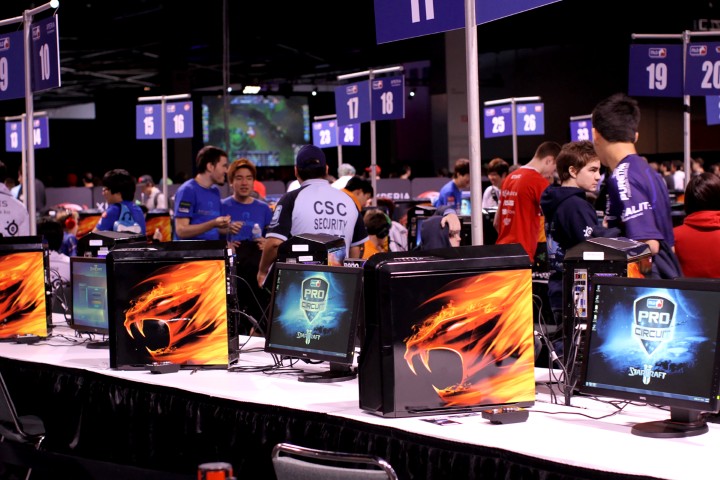 Progamers mingling in between games to let off some steam.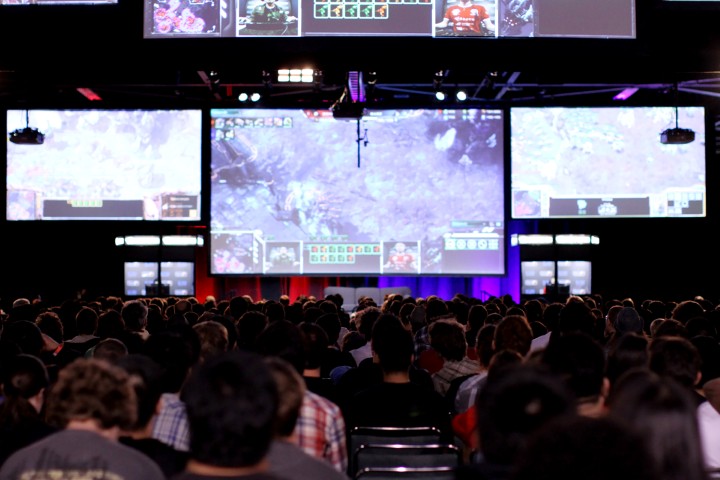 There was nary an empty seat when something StarCraft-related was playing on the main stage. I have never seen the same concentration and interest from fans during an epic interaction like I did at MLG Anaheim.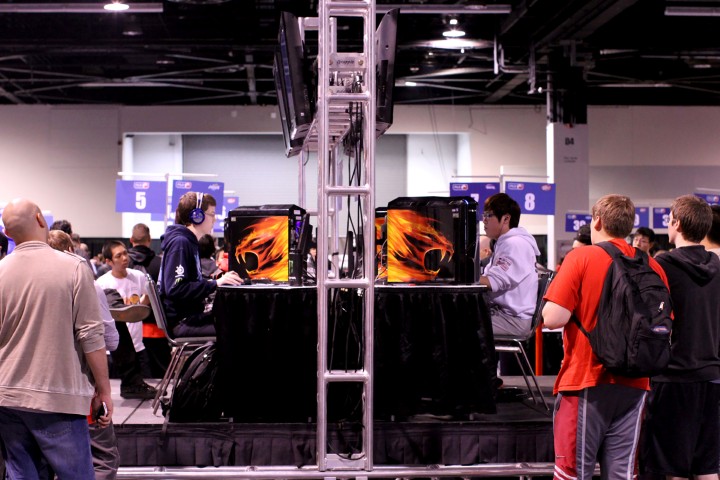 In addition to the roped-off area, there were elevated "cross-position" (heh!) battle-kiosks where fans could gather and watch their favorite featured players fight through the brackets.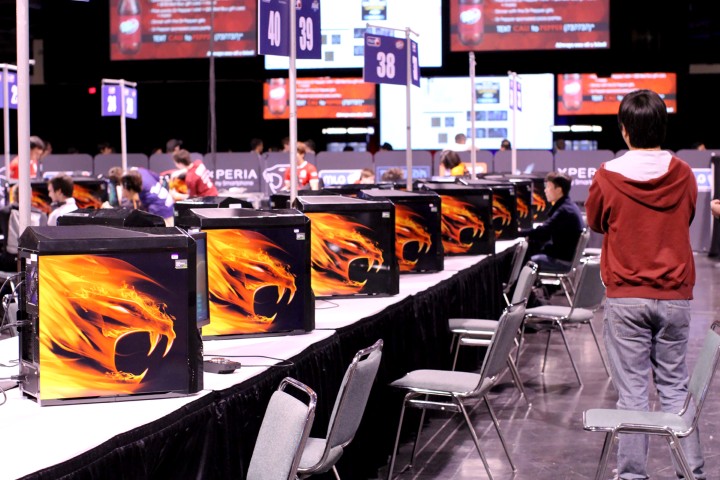 A very cool perspective shot of the towers lined for gameplay when void of gamers.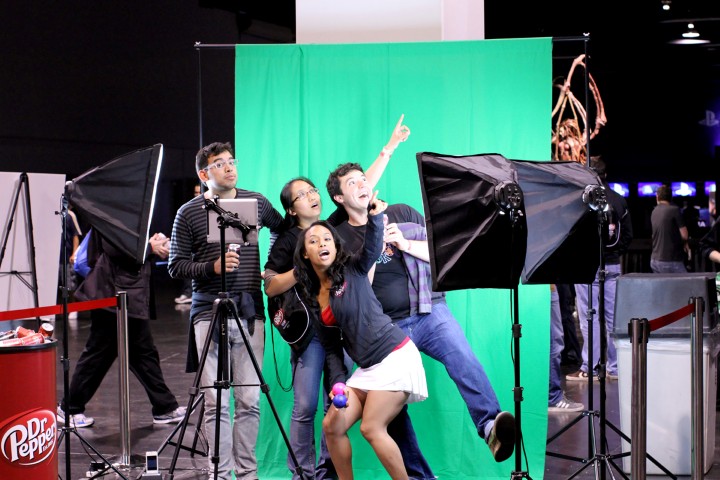 The booths that lined the venue also had some fun things you could do while you stretch your legs between games... like this cool green screen nonsense!
Sponsors like Bic Flex4 held smaller fun events for Counter-Strike players and FPS fans.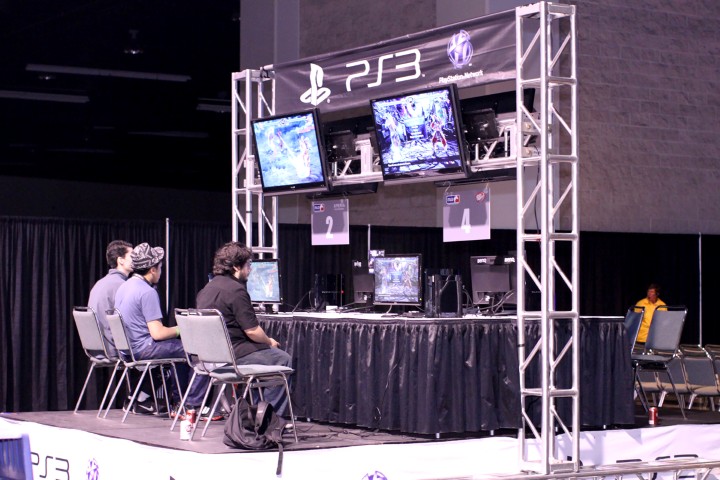 PlayStation also supported fighting games and their prestigious progamers during the event.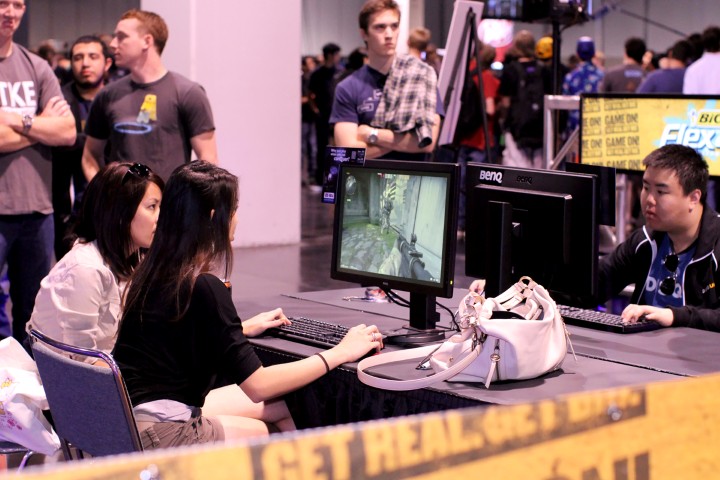 Who ever said cute girls don't play games!?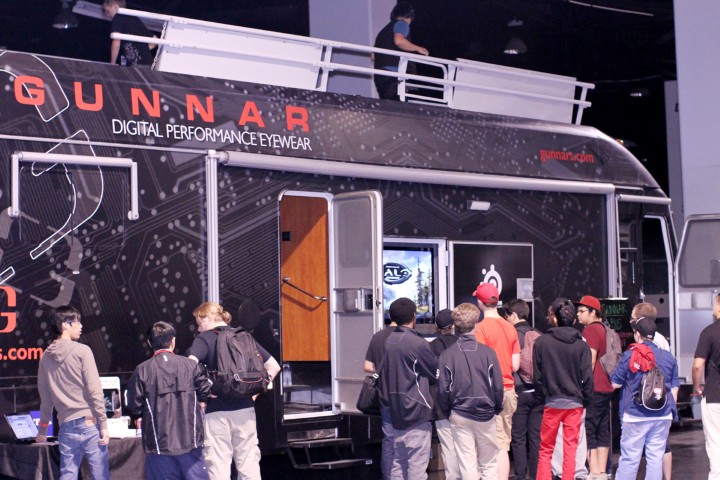 Gamers gathered to get their protective gaming eyewear from Gunnar, another important MLG feature for this Spring Championship!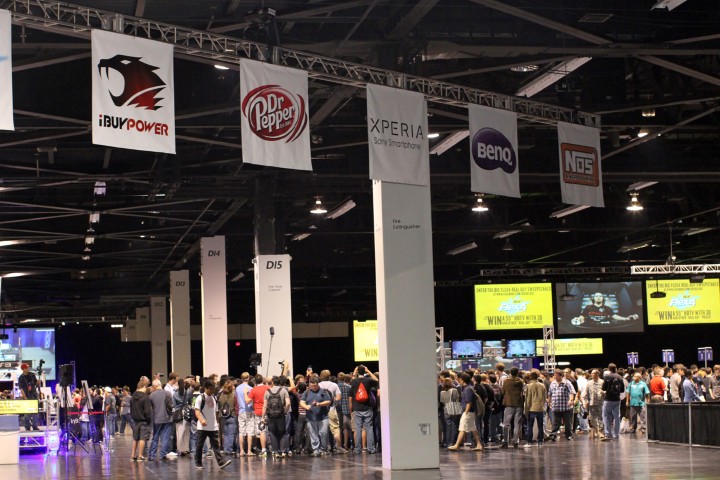 You feel pretty small in a venue like this! Sponsor banners made fans look miniscule as they draped from ceiling girders.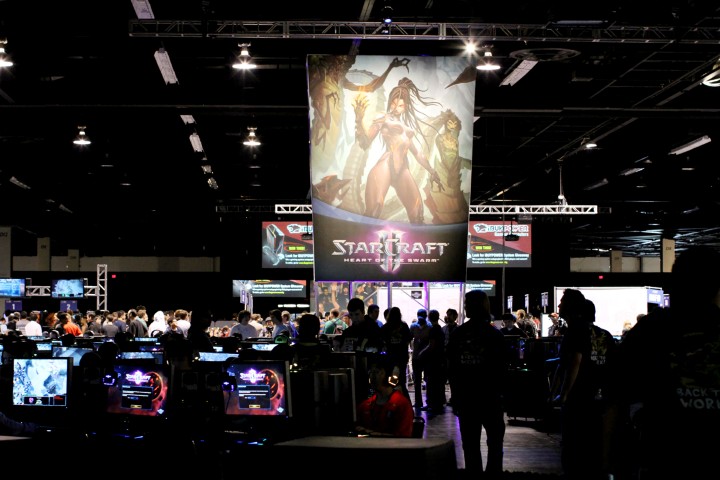 This is the breathtaking nerd-gasming view from your first step into the venue. A poster of Kerrigan hangs over the HotS stations with screens to watch the main stage action all throughout different locations in the building. You can enjoy chatting with friends and pros while you watch the game!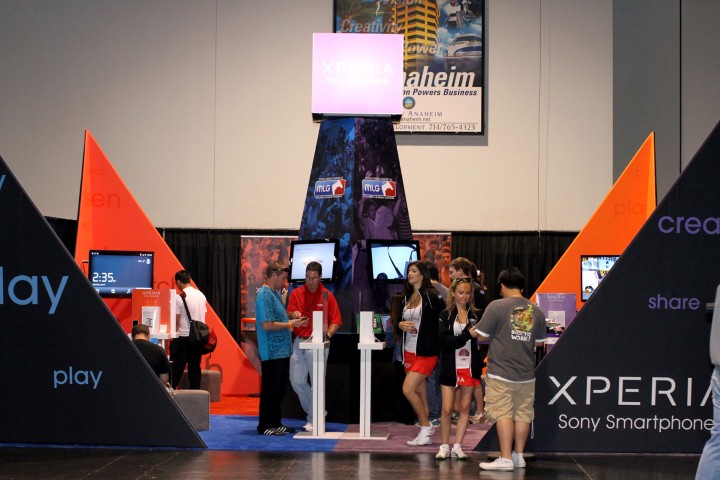 More sponsor booths lined the venue with interesting giveaways to explore.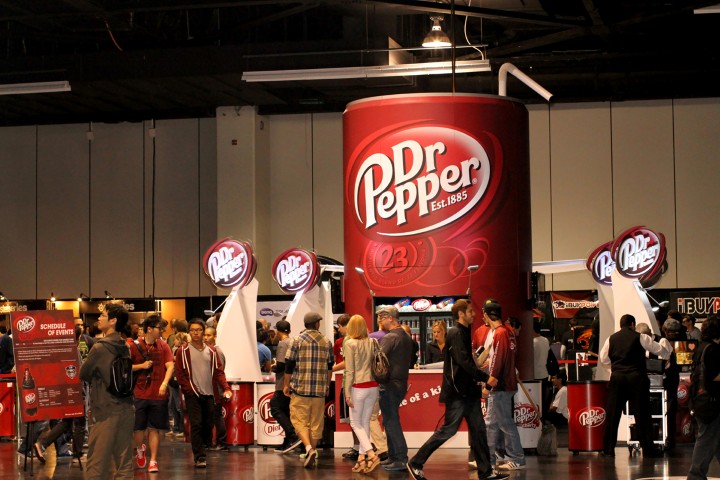 You may have wanted a NOS Energy Drink, but Dr. Pepper was able to intervene for the save, giving out free cans of all flavors each day of the event.
MLG SPRING CHAMPIONSHIP IN ANAHEIM, CA - DAY TWO:
Day two went by quickly as match after match of open bracket excitement occured. KeSPA invitationals brought some of Broodwar's many heroes to the event to play StarCraft II for the first time, and if that was not enough, Nationals finals were held until the early hours of the morning. The later it got, the louder the crowd was, showing just how inspired the fans are--no matter the hour.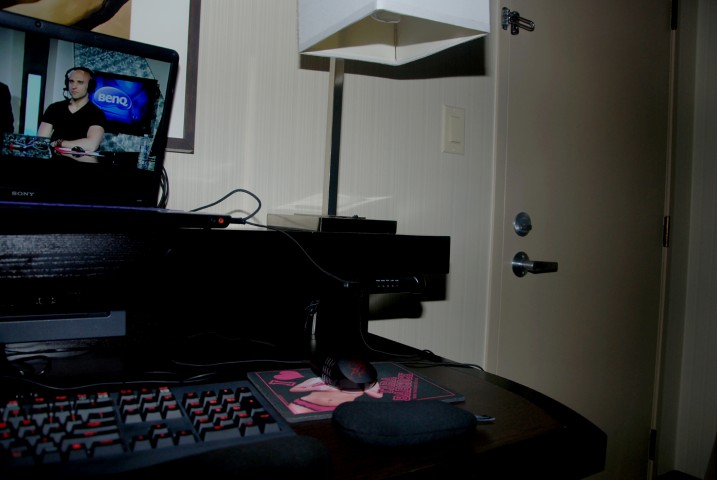 Wake up late after a long night of eSports? It's okay, you can watch in your hotel room while you get ready with MLG's various streams and online passes! Don't forget the Tara Babcock mouse pad!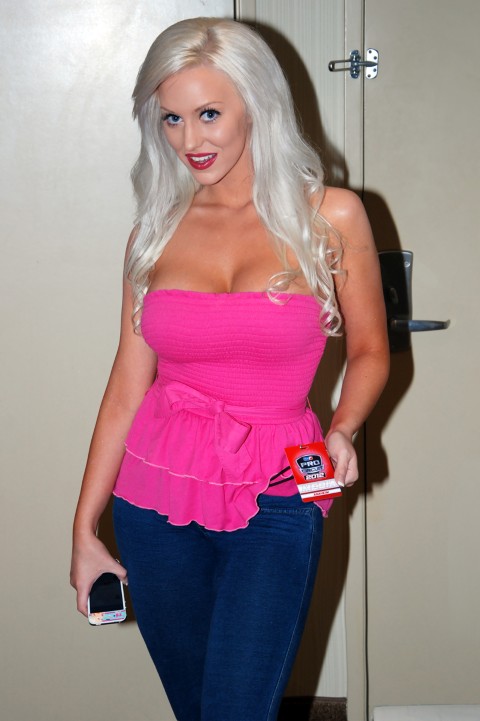 Now that I am used to the MLG excitement, day two I was even more pumped to cover the event and watch the games!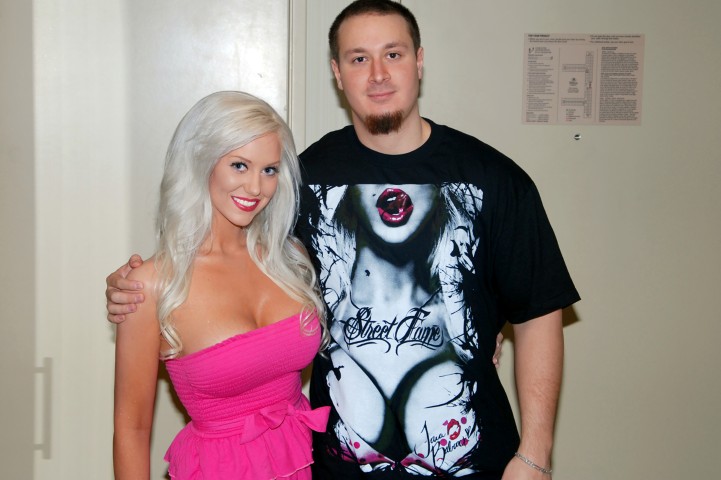 My camera man and I! He decided to sport a Tara shirt to the event for day two! Such a great guy!
It's always nice seeing familiar StarCraft fans from the local Seattle BarCrafts and tournaments!
If Zerglings had hair, this would be the style they would ask for at the Swarm barber shop!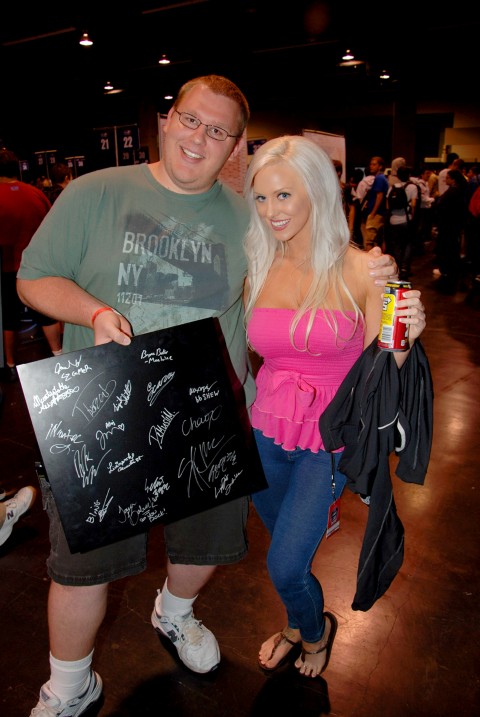 MLG events are the perfect place to gather signatures from your favorite eSports celebrities. Brian decided to decorate the panel of his computer case! Even I was asked to sign it!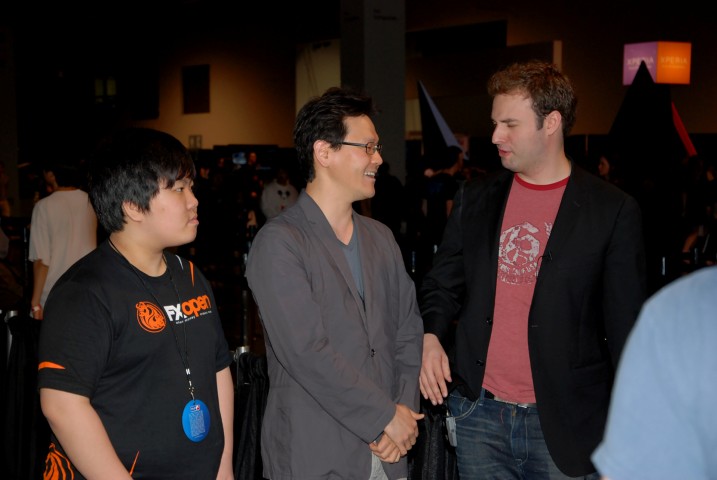 It's not hard to capture a silly-looking image of the illustrious Sean "Day[9]" Plott! Sean was at the event doing interviews for Blizzard!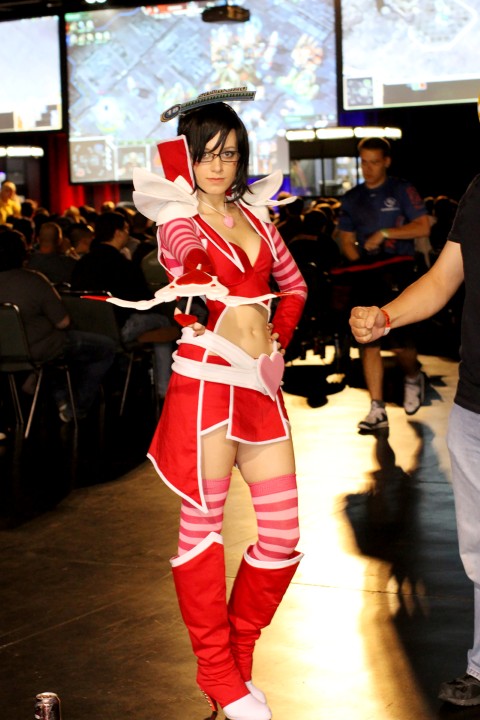 Like any epic gaming event, there is even a bit of cosplay to ogle!
Alternate viewing locations existed around the venue in the form of large flat-panel screens.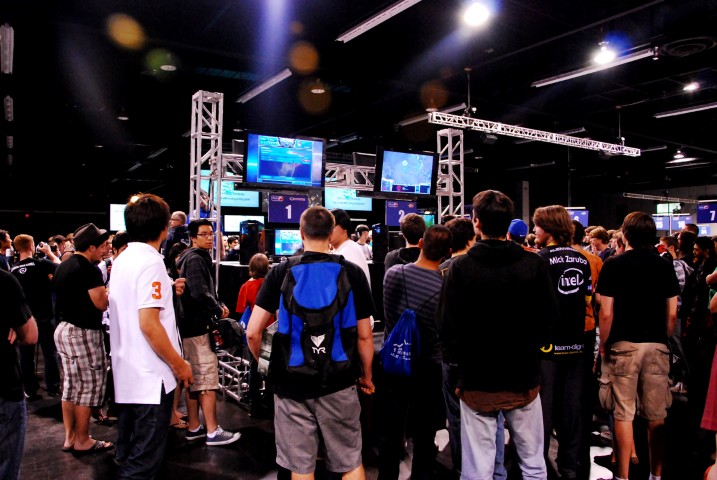 Fans watch on as their favorite players battle it out.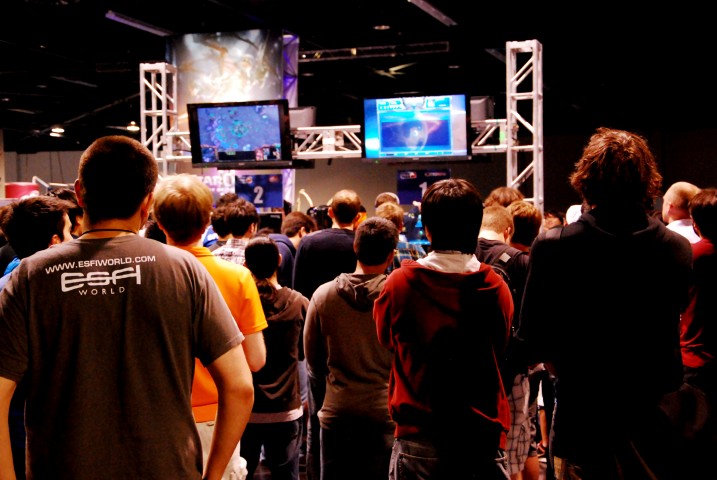 Spectators silent, intensely taking in the action at station two.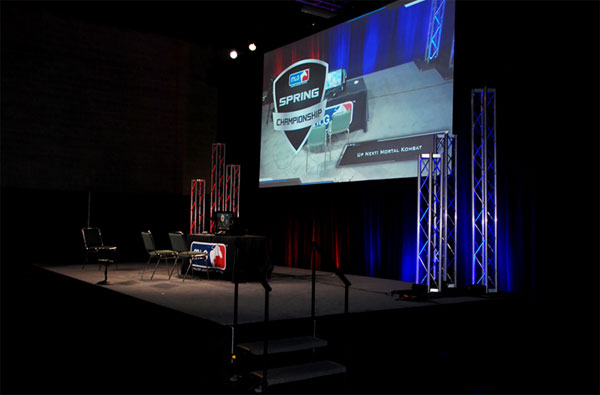 The superior lighting set up of the fighting games stage made it interesting to photograph, even when nothing was happening at the moment!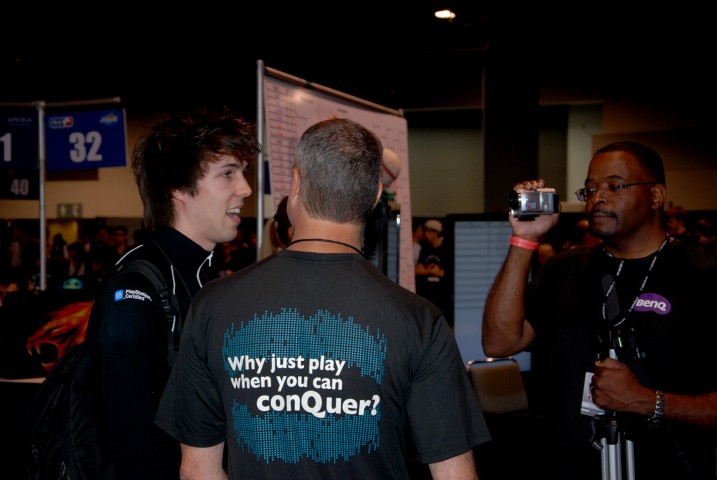 Grubby doing a video interview during the event.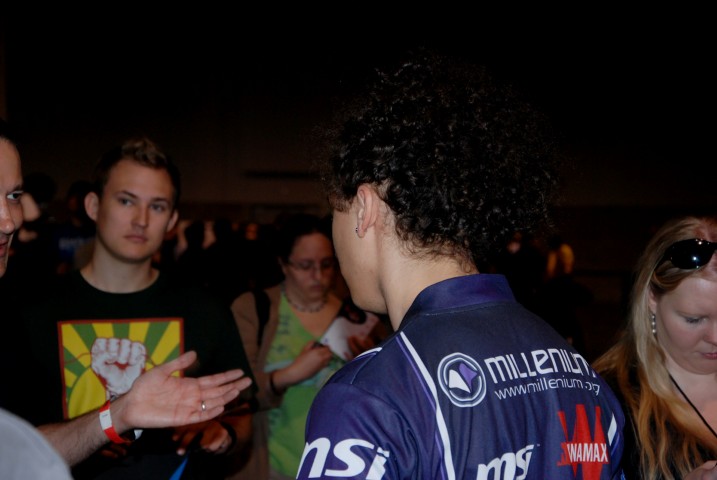 Stephano interacting with a group of fans.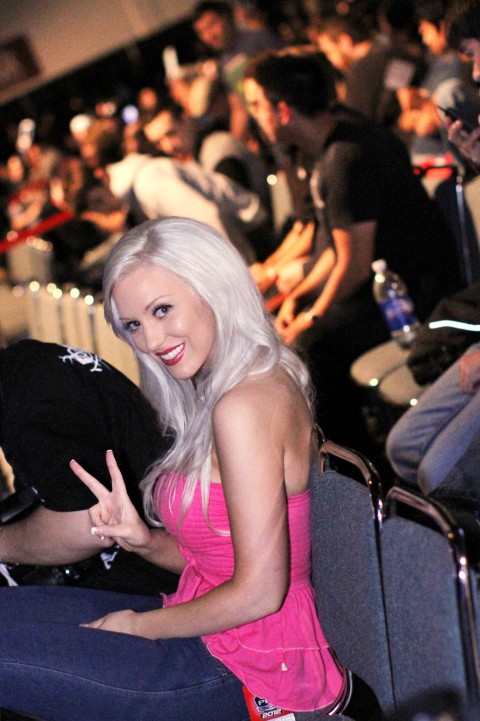 Fan girl alert as I spectate from afar. Well, not that far, more like the third row, media section!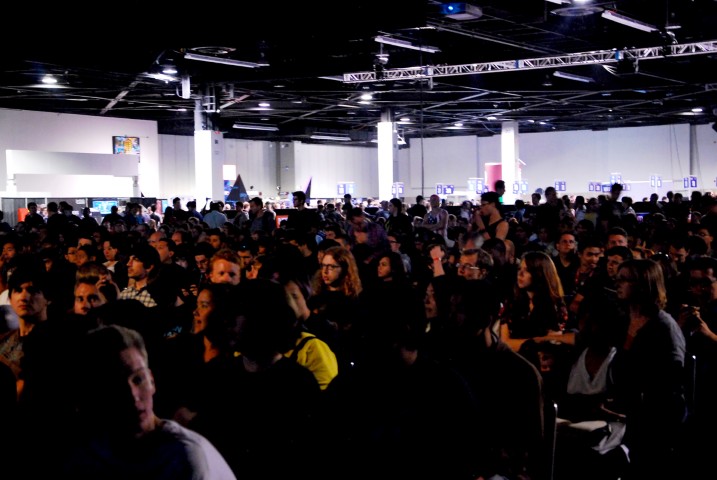 Even before the finals night there was not a chair in the house unoccupied by a dedicated eSports fan.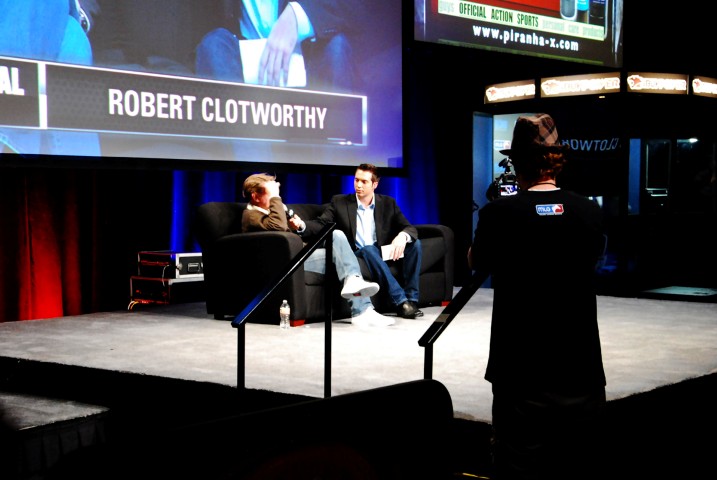 Host, Clutch, talking to legendary voice of Jim Raynor, Robert Clotworthy, as he presents an inspirational eSports anecdote.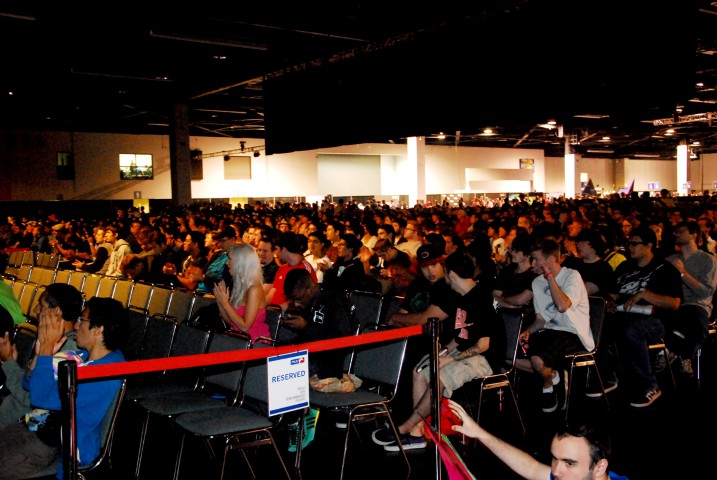 Can you spot the lone Tara in the crowd, cheering on the main stage happenings?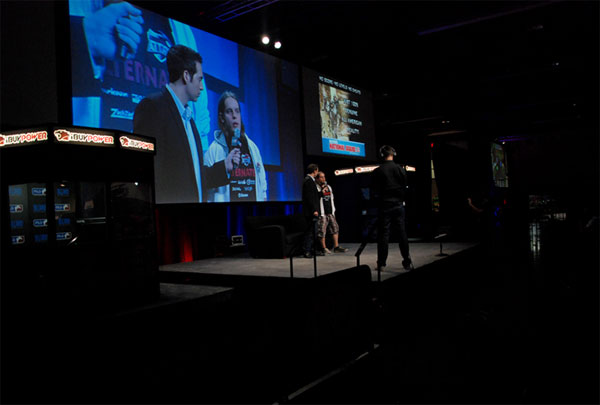 Having beaten the un-crushable DRG in pool play, German player Socke was one of the foreign hopes of the event before being knocked out later that night.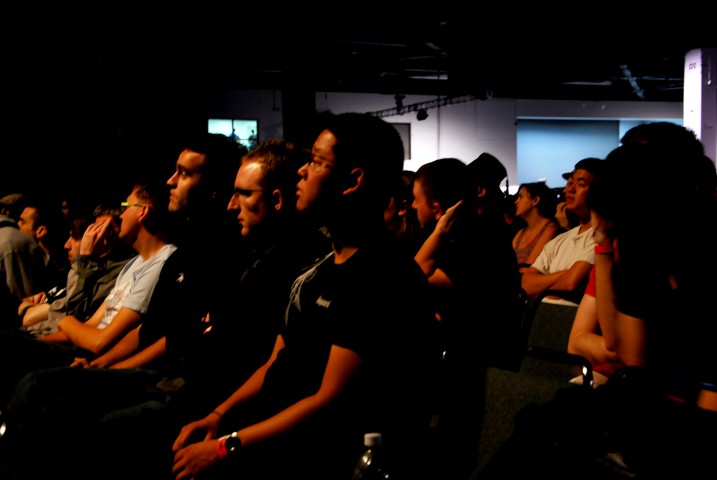 After looking behind me at the crowd, I was inspired to have this image taken of them. Everyone is so captivated by the game on screen.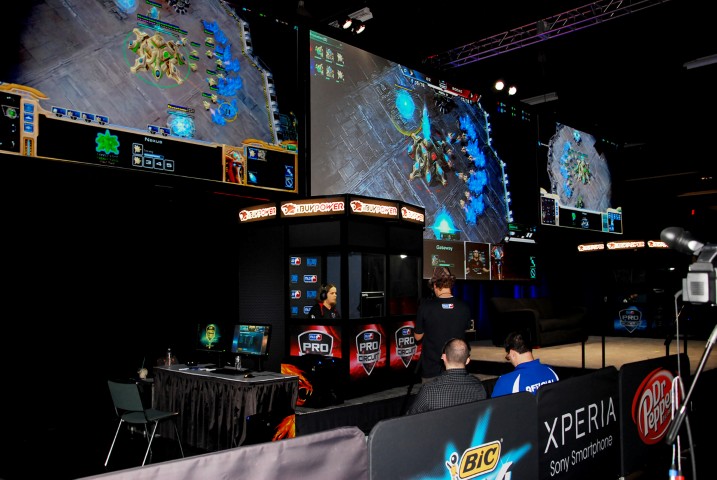 Socke in the booth, playing an epic PvP match on the main stage.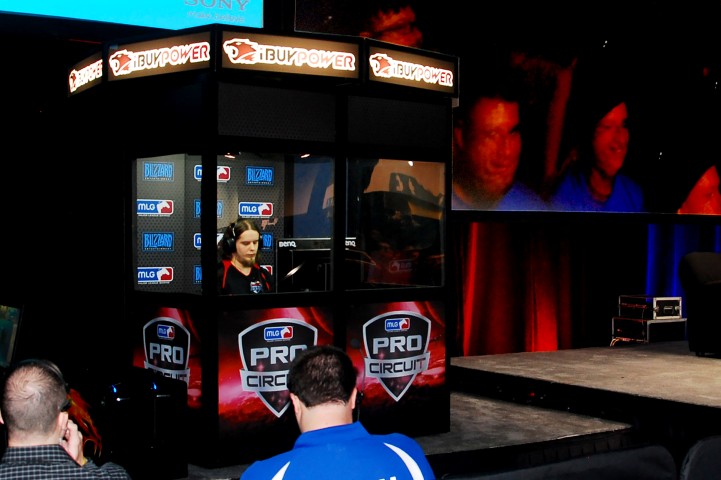 Socke in the booth, calculated and focused.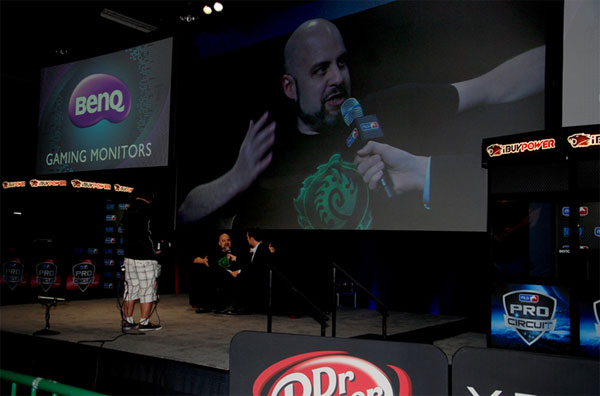 Dustin Browder, lead designer for StarCraft II, doing an interview on the main stage couch.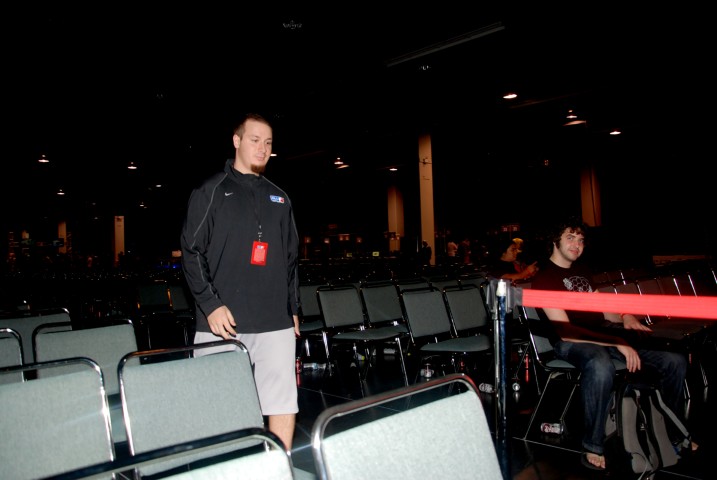 Fans, like my camera man J, can walk around, stretch their legs, and get a drink while they wait for the next round of games!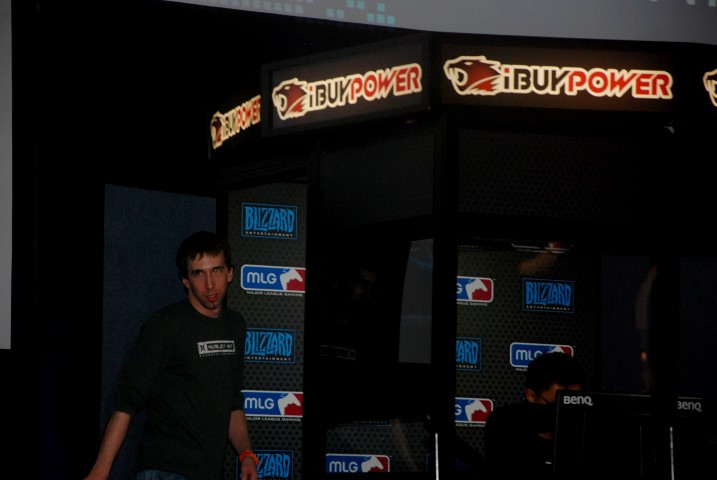 Nationals winner, ViBE, going to shake the hand of his opponent after his win. StarCraft players are so manner!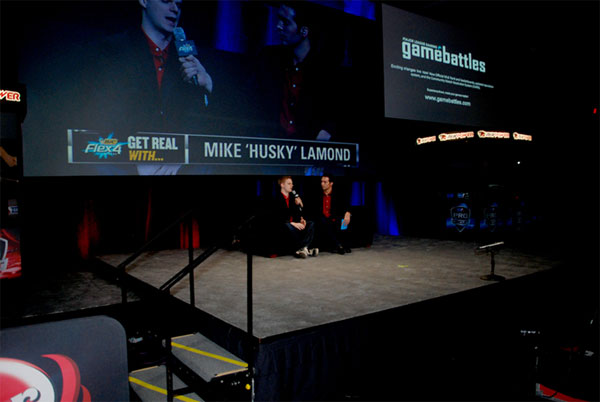 Husky StarCraft gets on stage for an interview in between casts, with Clutch.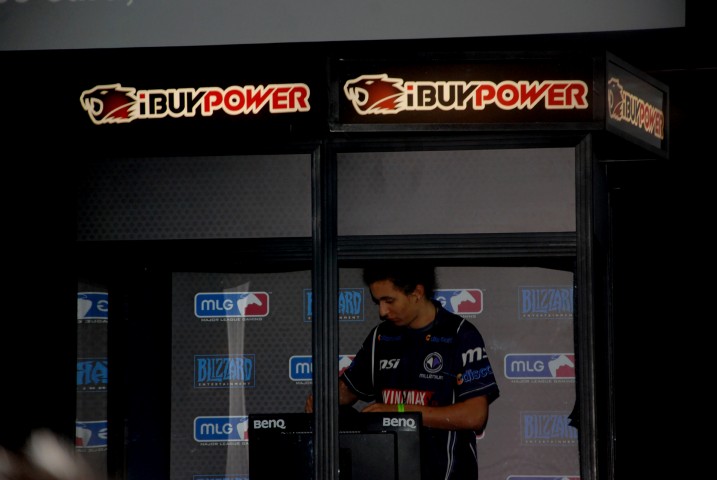 Stephano unpacks his gear in preparation for an epic match!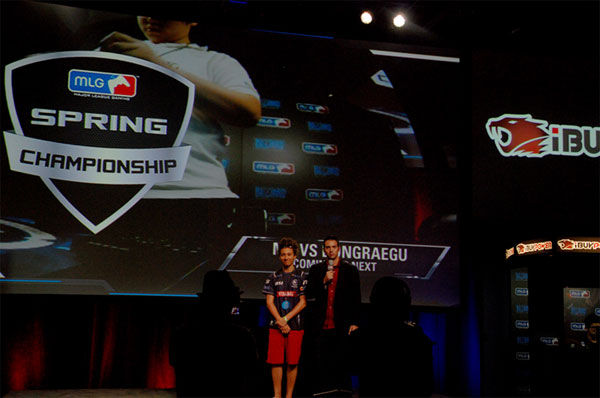 Clutch interviews a humble Stephano between match sets as onlookers cheer for the collective awesome that is MLG events!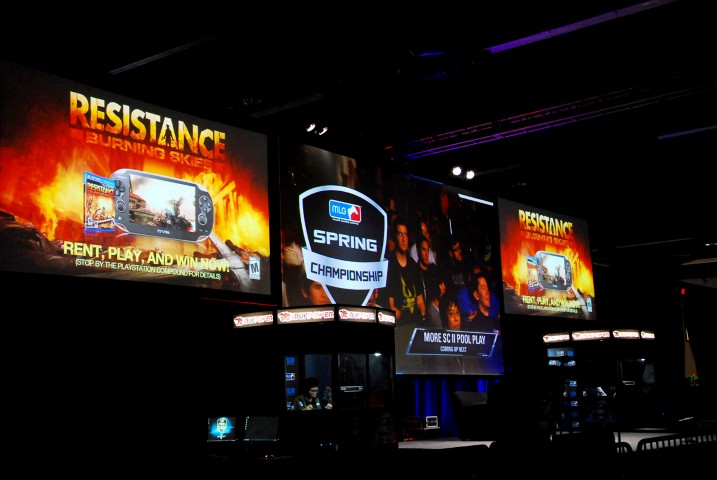 DRG in the player's booth preparing, unaware of the commotion outside of his soundproof sanctuary.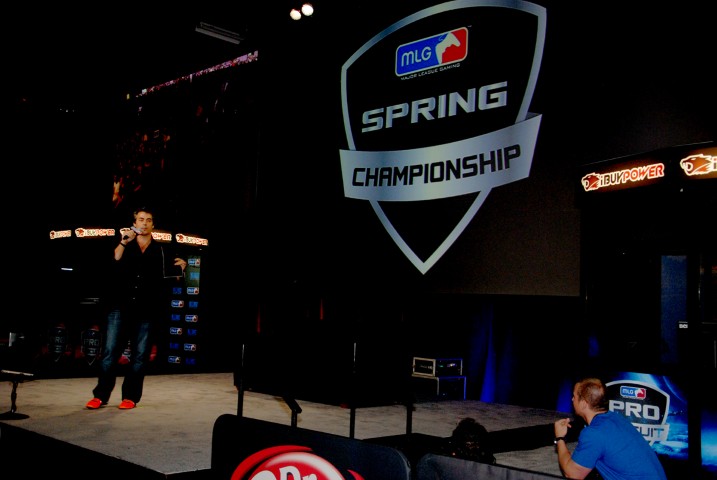 Sundance Giovanni speaks on stage with his attention-grabbing footwear.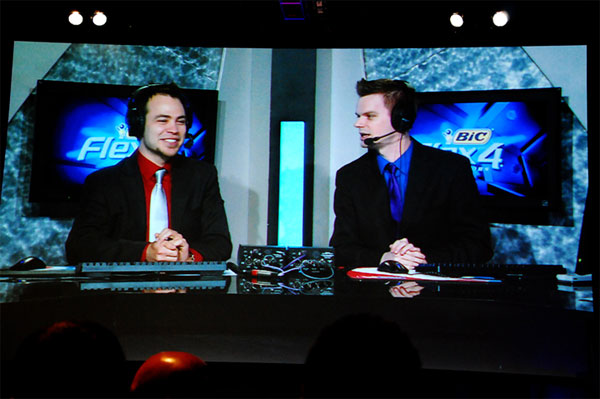 Caster duo Mr. Bitter and Husky StarCraft being themselves.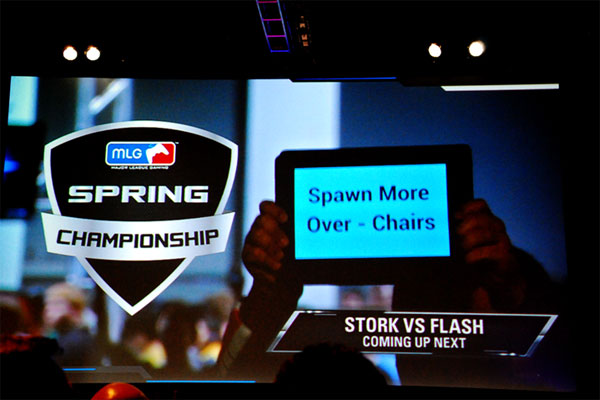 By the time Saturday evening was wrapping up KeSPA, there were rows of fans sitting on the floor around the venue. This event could have filled twice as many seats for the big show!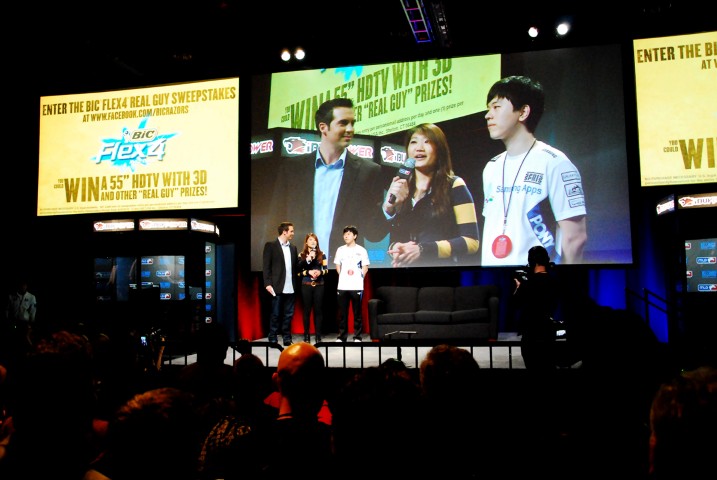 Clutch hosting as the translator gets a statement from the KeSPA invitational contestant, Stork.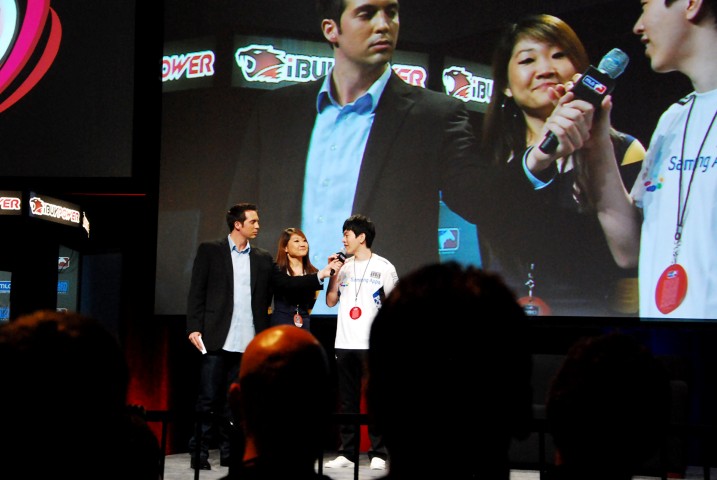 Taking the statements from a legend on stage as fans look on with genuine interest.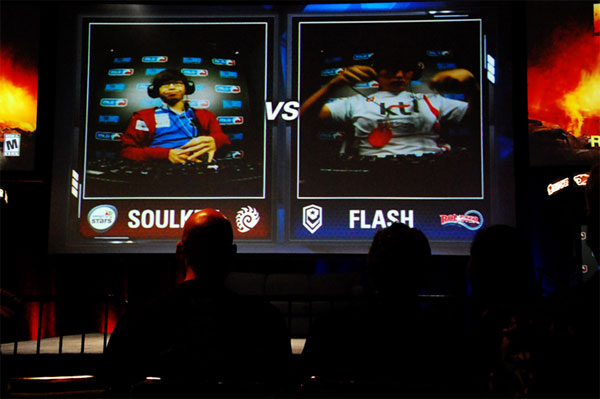 KeSPA in progress with Dustin Browder and his epic bald head blocking the screen!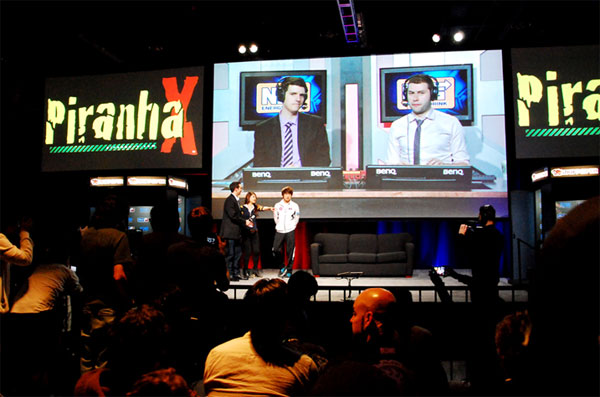 The legendary Broodwar pro, Flash, takes the win in the KeSPA Invitational. Clutch gets an interview while Tastosis provides entertaining post-game banter on the main screen.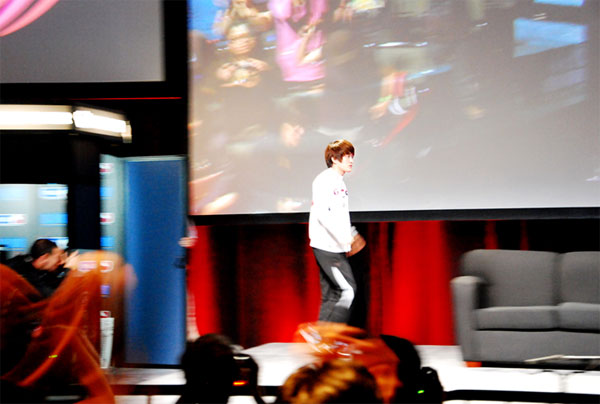 A high speed lens was needed to capture the sheer speed that is Flash! Now you know where he got his name, and why his APM quadruples yours!
KeSPA king, Flash, getting some interview time in on the main stage after his first epic StarCraft II win!
MLG SPRING CHAMPIONSHIP IN ANAHEIM, CA - DAY THREE:
The final day of MLG Anaheim was all about the championships that started in the early afternoon. The suspense filled the room as time passed, all three stages and the rest of the venue packed with eager faces intent on supporting the crowning of this year's Spring king!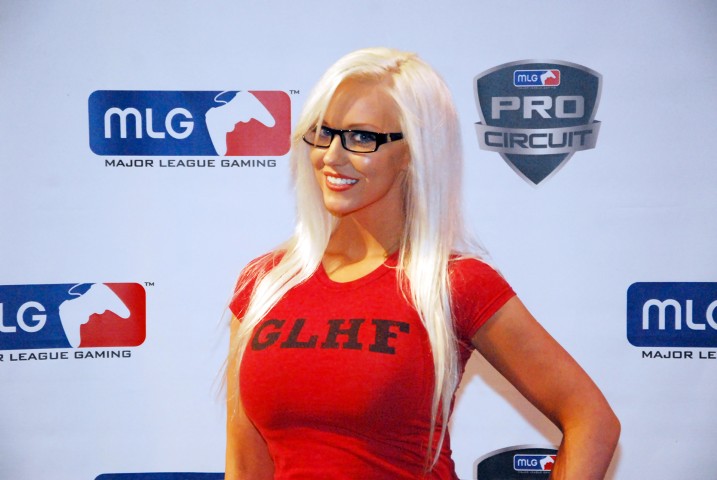 My GLHF GGWP League of Legends shirt and I on championship day three!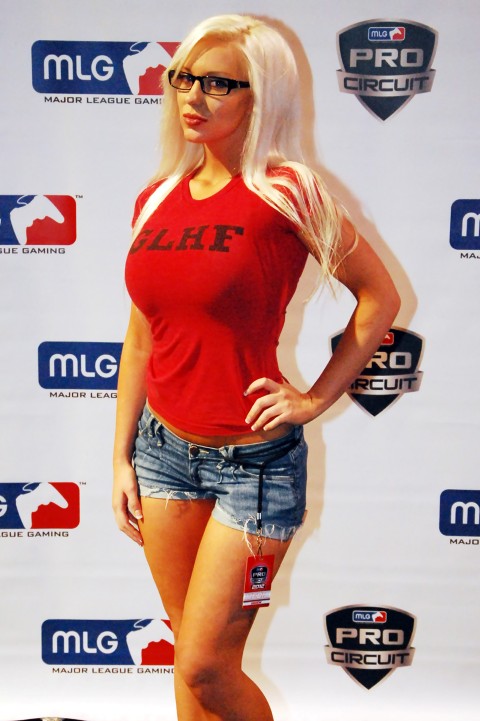 I have a rule about making sure I do a little pseudo-modeling in front of the repeat banner for every event I attend! This one was extra fun, because it was eSports and gaming-related!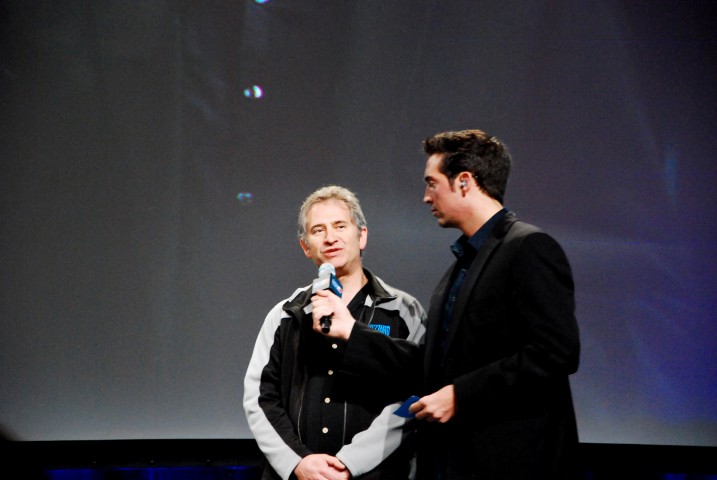 MLG super-host, Clutch, interviews Blizzard co-founder, Michael "Mike" Morhaime.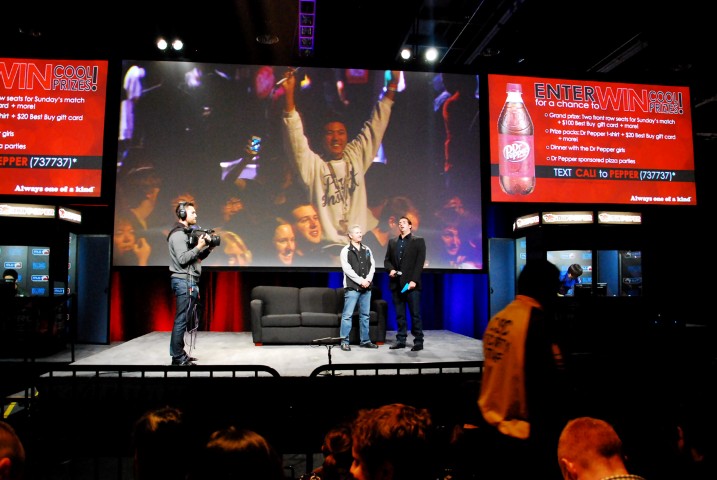 Fans cheer for the man, the legend, and one of the main reasons they (and all Blizzard games) are there, Mike Morhaime!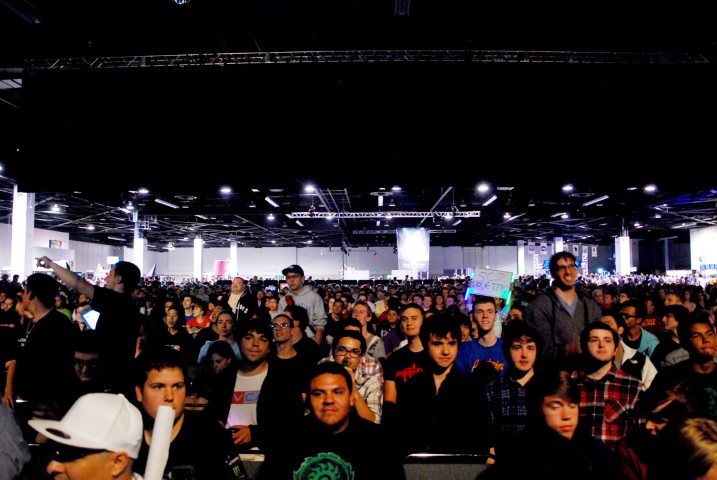 I call this, "Turn Around and Take a Picture of the Enthusiastic and Vast Crowd"!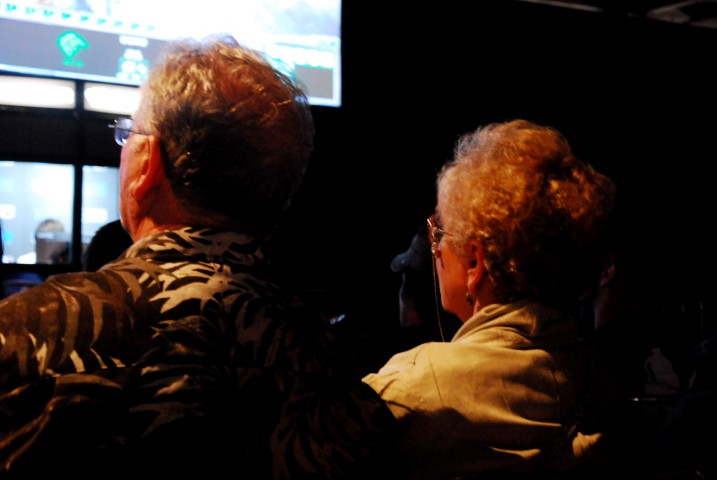 This was an intensely powerful photo for me. It doesn't matter what your age, you can enjoy eSports and gaming.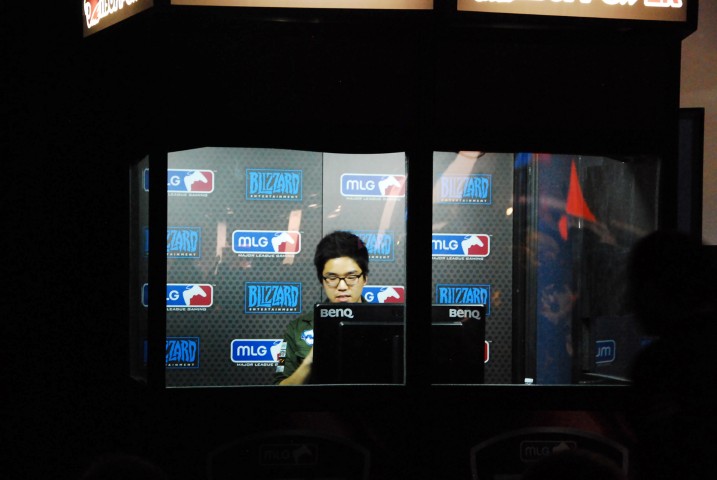 Dong Rae Gu preparing in the booth once again, focused on nothing but victory over Alicia in the finals!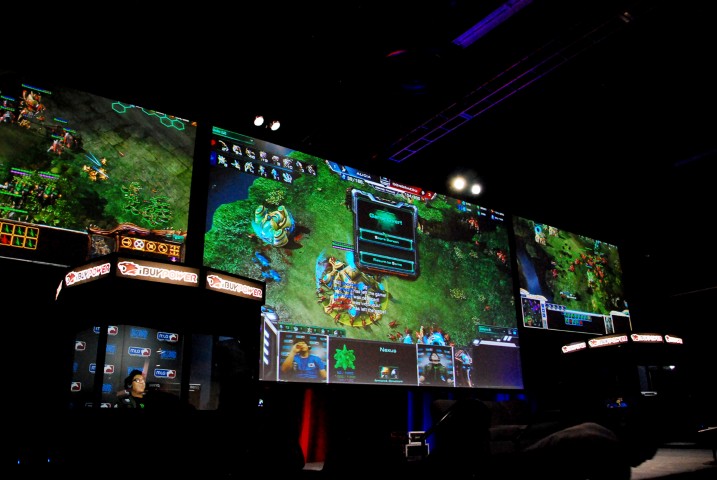 The exact moment of the final "GG" by Alicia. Notice DRG's expression of relief and happiness at such an epic, suspenseful win!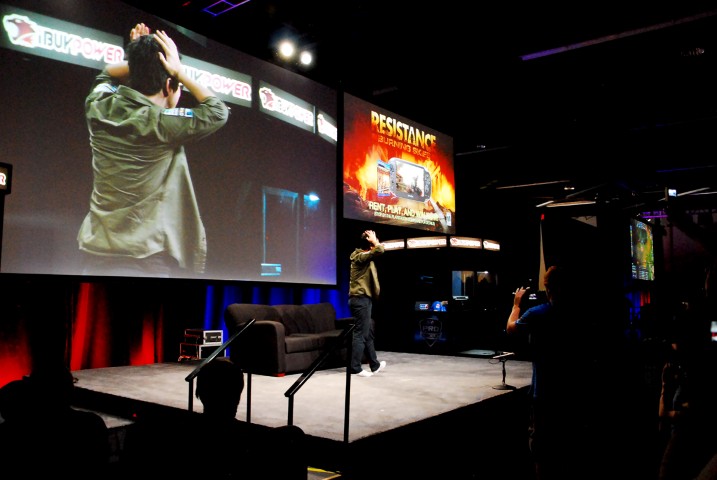 The champion holding his hands to his head in overwhelmed disbelief at his victory.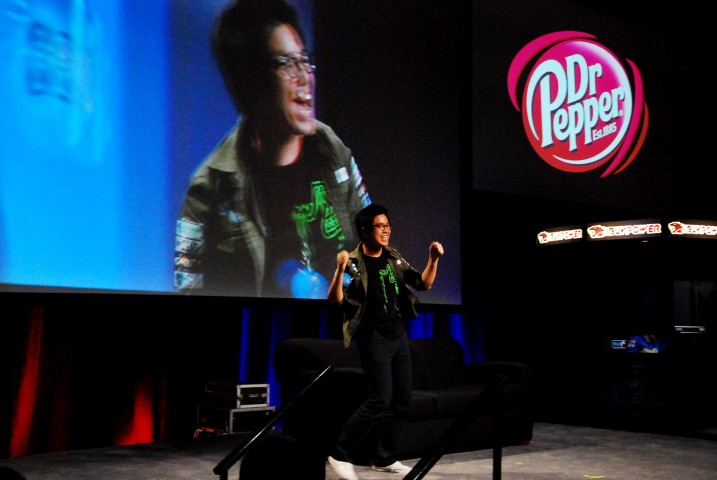 An entertaining victory dance for the fans by DRG!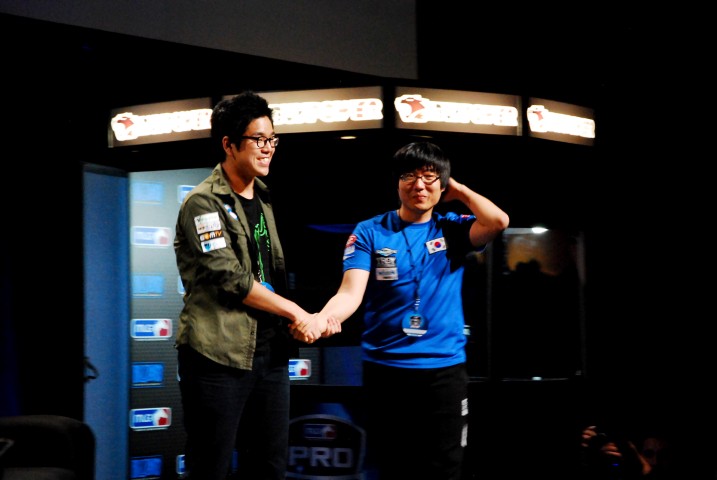 An ecstatic DRG shakes the hand of his more-than-worthy opponent, Alicia, moments after his final win.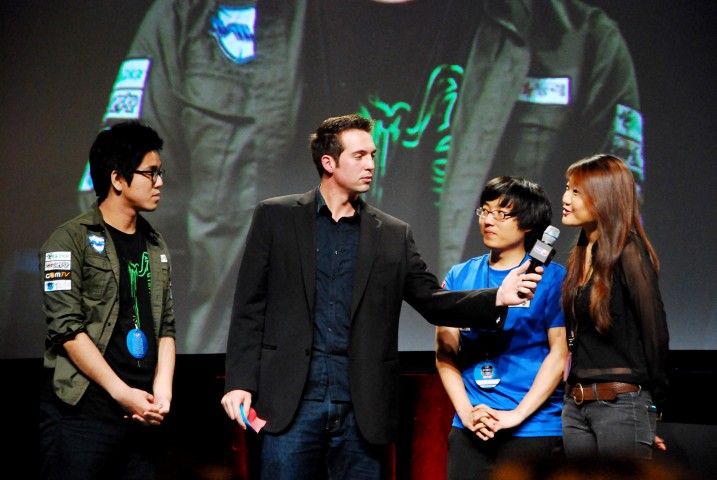 The long sought-after interview of the two finalists, how they felt about the last games, and how they performed.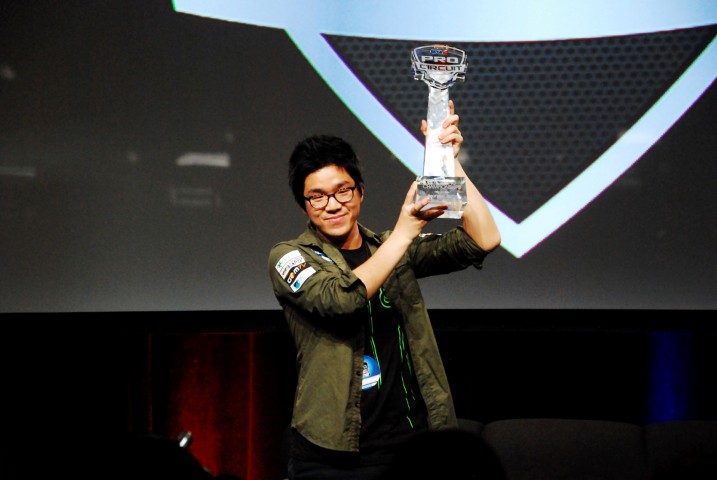 DRG and his well-deserved winner award, posing for the many event photographers.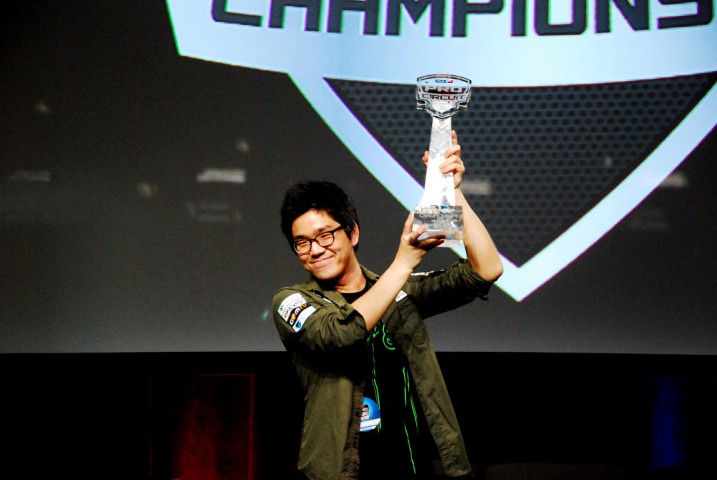 Another shot of the Zerg-playing conqueror, DRG, smiling with pride from his win moments before!
DJ Wheat giving his ceremony-closing speech with the other eSports personalities on stage.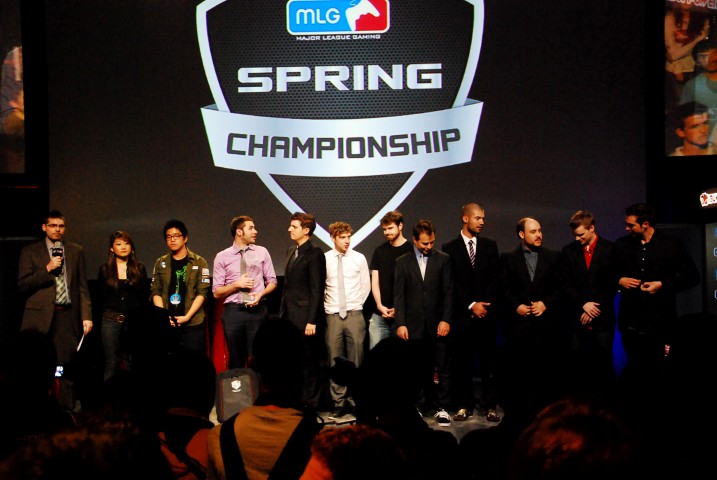 All of the casters, commentators, and hosts that make MLG as interesting and thought-provoking as it is... all on one stage together! "Power overwhelming!"
BEHIND THE SCENES - TARA'S PHONE CANDIDS:
Now that I've shown you what the event looked like through my eyes with crystal-clear professional photography, I thought I would let you guys in on my personal stash of images I took personally with my camera phone. This is where you will see the things I felt were personally important for me to capture in still-frame, forever.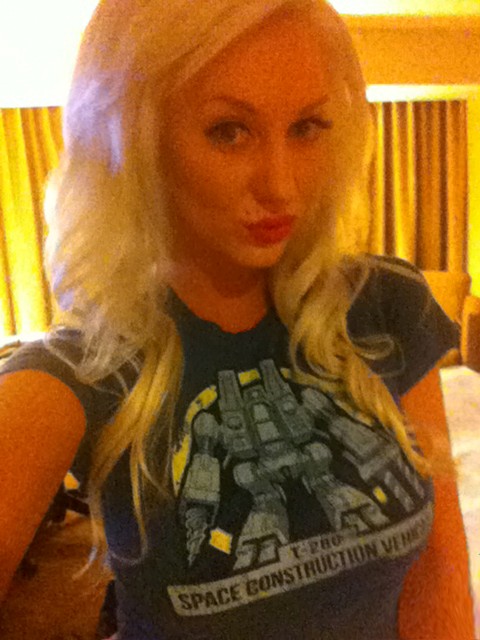 The most important travel pictures are those that remind you of the hotel room you stayed in, don't ask me why!
Contrary to popular belief, it is not the boys that wait for me to get ready! This is what I do to drown the boredom of the wait... I take pictures of myself to Tweet to fans on my Twitter!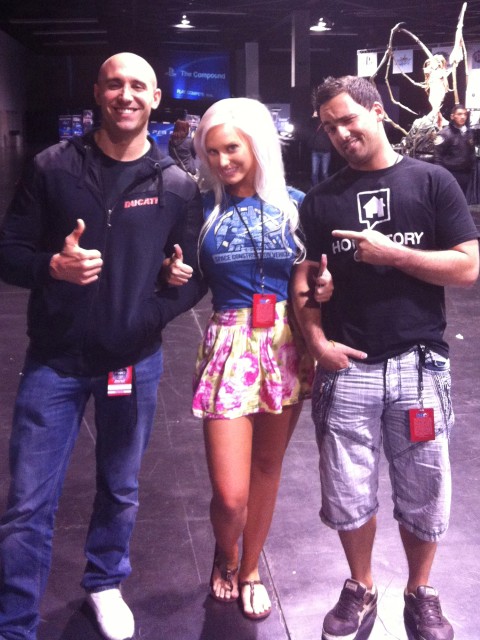 Myself with two of my favorite people from the event, Khaldor and TaKe. No, it's not because they are German, but... it does help quite a bit!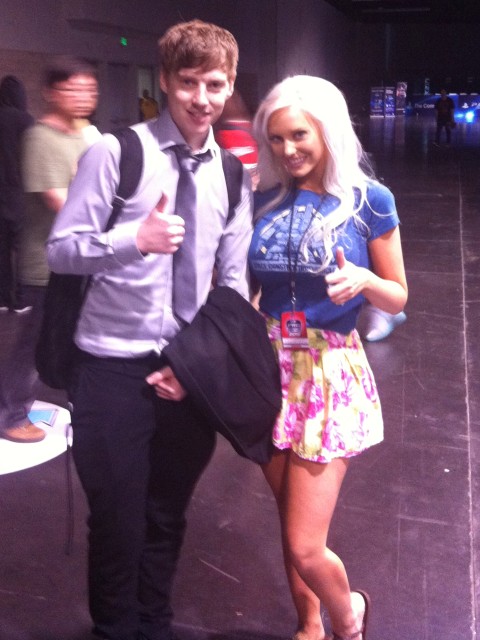 Myself with the Dignitas Apollo. I don't think he appreciated my fan girl-ing too much!
Trying my hand at photography for a bit. I ended up not using any of my images, sad story short! I guess I only flourish in front of the camera and in front of the computer when it comes to imagery!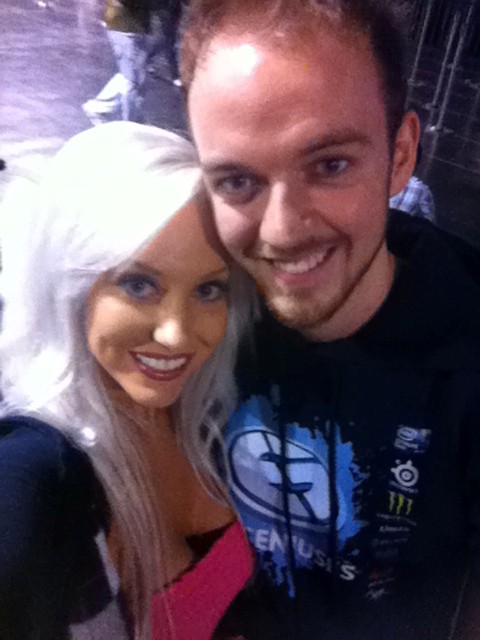 The epic DeMusliM and I. One of the best pictures of myself I've taken candidly to date! What a kick-ass British accent to match that gameplay! Go, Ben!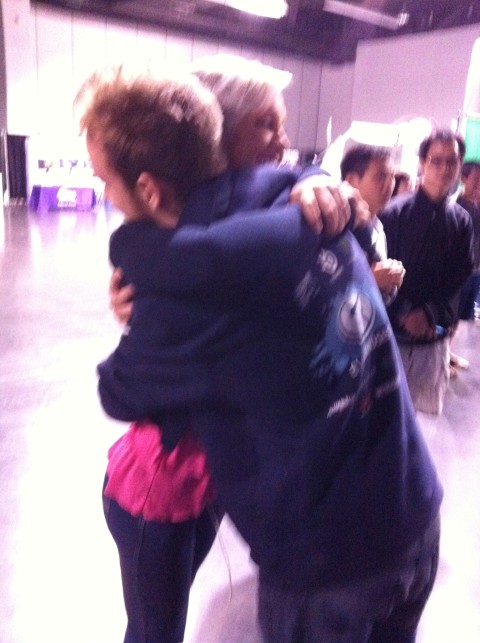 An epic eSports hug that was so awesome, it blurred the picture!
I stole my camera man's MLG warm-up! They need to make more MLG gear that is Tara-sized!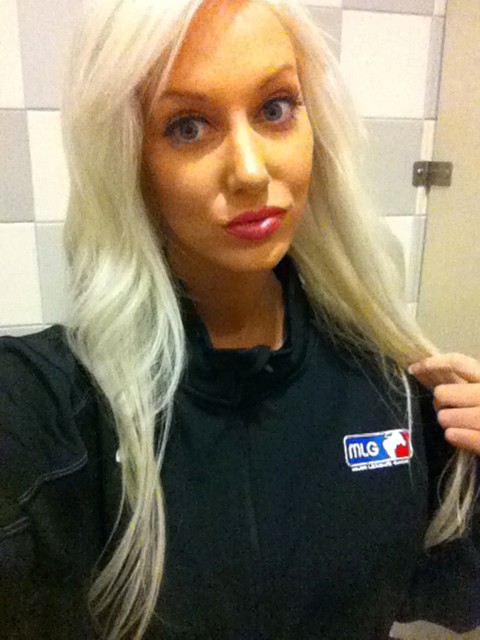 ...And yes, I was in the girls' bathroom!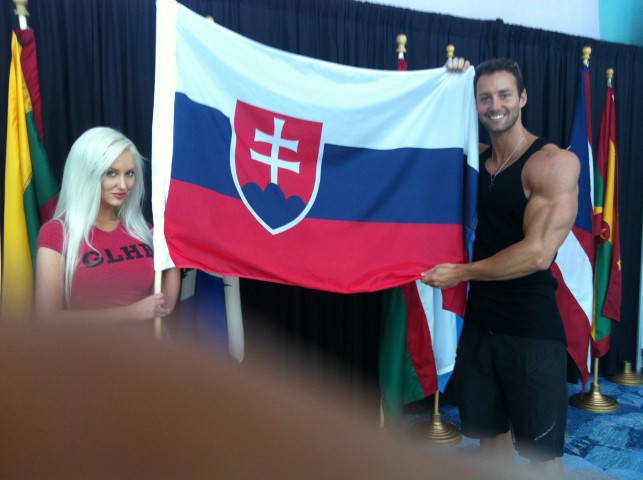 I wasn't the only supermodel at MLG! My favorite male model buddy, Matus Valent, and I outside of the venue. Yes, that is the Shake Weight guy!
I was able to show Matus around and tell him a little about why I love eSports. This was a really important moment for me--I just love bringing non-gamers into the gaming world. The last video game he played was Zelda on the Gameboy!
CONCLUSION:
Whether you continued scrolling through my gallery for my personal thoughts and commentary, because you missed the event and wanted to be filled in, or because you were looking for more images of me in a mini-skirt, does not matter. I just hope that I was able to show my audience a little bit of the magic that is eSports, and intrigue you all to search for more to quench your thirst for high-intensity gaming action. Millions of people enjoy sporting events because of the community, the fandom, and the excitement; and I find electronic sporting events to deliver this to the senses in even bigger fashion. The passion of a gamer goes beyond regional patriotism, the interests in spectator sports, or the ability to interact with friends in a party-esque setting--we gamers live and breathe this, daily. It's more than just a hobby, it is a rewarding lifestyle! Thanks to events like MLG, games like StarCraft, League of Legends, etc., and people like those in the eSports community, I am proud to be a nerd!
Meanwhile, In Tara Land...
I know I am a bit late at bringing you the compiled coverage, images, and articles from my E3 and MLG trip, and I have no real good excuse other than that I have been swamped with my modeling and streaming and have been incredibly bad. Bad enough to deserve spankings, yes! To repent, I will answer two Ask Tara questions for you guys this article! Enjoy the following brain pick-age:
Question one is, "Yearly gaming sequels, good or bad for the industry? We've had a new AC and MW every year, but there has been very little innovation year to year." Well, I am not as sure about this with Modern Warfare as I am about Assassin's Creed, but I have been quite impressed with Ubisoft's ability to make AC ten times better with each respective sequel, so I guess we don't really agree on the quality front. As far as whether or not it is good for the industry, I do feel that it can be a little overwhelming for developers and fans alike to have to pay attention to so many games so often. If every single franchise produced games this often I feel that there would be a lot of crappier-than-they-should be sequels and great un-played games because there is simply not enough time! I absolutely love that some of our favorites produce yearly, though! It really is a mixed bag.
Have you watched my interview with Ubisoft on the upcoming AC title at E3 this year!?
For question two, "I want to pick up PC gaming. I don't know what hardware to buy for sub $900. Also good competitive games exist? Thanks." You can easily build a quality gaming PC for around a grand. Check out all of the parts I bought for my top-of-the-line system here (scroll for computer specs). I spent a little more than a thousand, but my machine handles a lot more than just gameplay, it's also built for streaming, encoding, photo retouching, and pr0n, all rolled into one! As far as competitive games, Halo, StarCraft II and Broodwar, many fighting games, racing games, and League are all viable eSports nowadays. The competitive gaming scene is getting bigger and more mainstream every day, with thousands to millions of dollars in prize pool. If being a progamer is your dream, no matter where you are living, it is definitely something you should follow!

Follow Tara at her official website, www.tarababcock.com