EVENT SPECIAL: E3 2012 EPIC RECAP
BY TARA BABCOCK
My view of the whole E3 event in a short video. I hope you all enjoy the unique view of E3 I brought to the table. Lots of epic and sexy content, but not too serious and boring!
Most people think that paradise is but a figment of their overactive imaginations, something that is absolutely unattainable in their lifetimes. Well, my friends, as a fellow nerd, gamer, and geek culture enthusiast, I can attest to having been there and back... and boy, do I have a story to tell! Walking in the doors of E3 for the first time was a bit overwhelming, to say the least. It was loud, and the visual stimulation was set to "max". The lights flashed, and music blared. All of the booths in sight were tall and extravagant. PlayStation, Nintendo, and green Xbox lights strobed brightly. I spent the whole first day roaming this paradise, and by the end my back hurt, and I was ready to collapse. Little did I know, this was only one of the halls--the smaller one.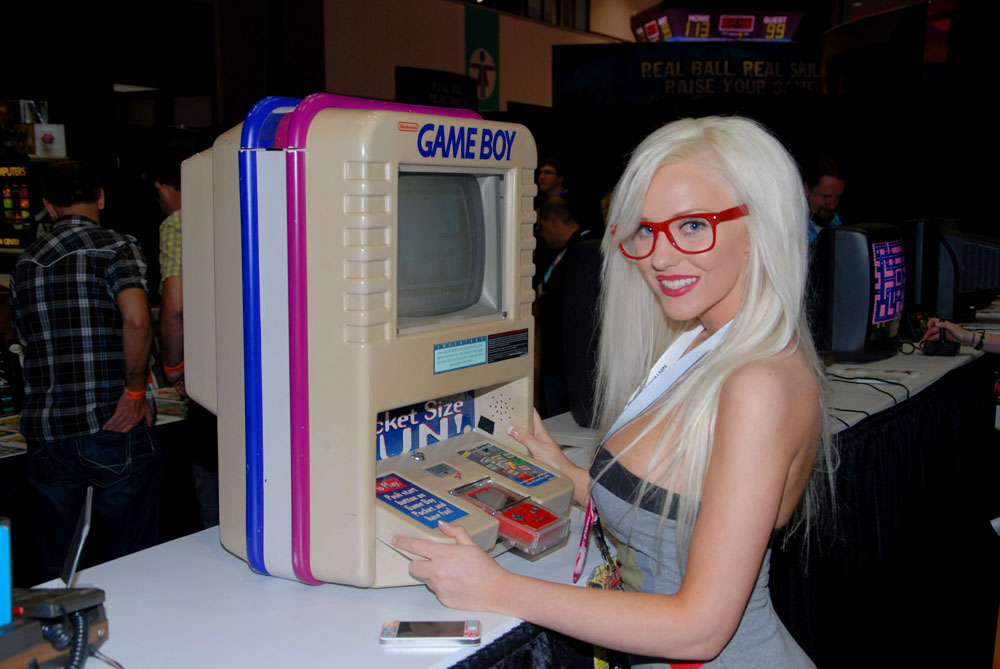 Myself wasting time at the video game history museum! Vintage Nintendo, Atari, and Sega nerdery galore!
I traversed, poked, prodded, and interviewed everyone in sight for three full days. I gathered a plethora of information deemed of highest value to the gaming and tech community, along with a vast gallery of imagery featuring cosplay, booth babes, and sights only the VIP can see, I also bring video content and inside sneak peaks on my favorite announcements just for the readers here at Impulse Gamer! I survived, and I brought back goodies to share!
CONSOLE EXCITEMENT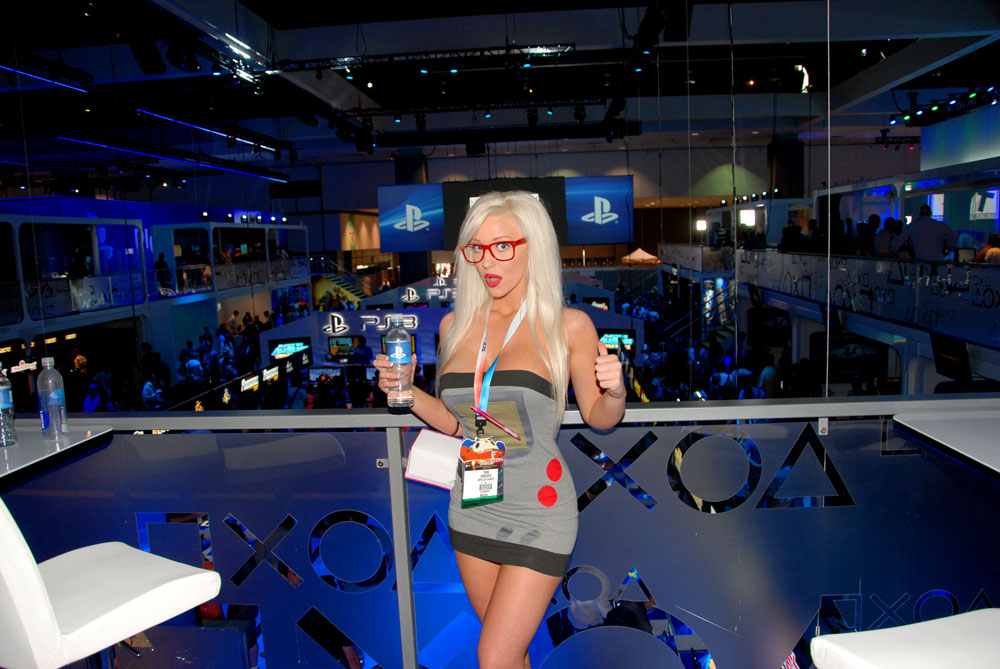 Overwhelming was the sight of the PlayStation play-land at E3 this year! I'd say it was even better from the VIP center with a Sony PS bottle of water in hand and a complimentary cookie digesting in stomach!
PlayStation Connects with Vita!
One of the most exciting things I saw at this year's E3 expo was the brilliant Vita-to-PlayStation 3 "cross controller" connectivity. Not only can Vita owners be able to play with their Vita-toting friends, they can also bring the device over to their PlayStation 3 consoles and connect for a richer, more interesting gaming experience.
I was able to see this up close when I was given a short playable demo of the new Rayman Origins on the Vita. My PS3-playing partner was able to control Rayman, while I played his tiny, yet helpful back-up character buddy, doing unique tasks built for the portable style and range of the Vita. I was tilting, tapping, and dual-sticking in rhythm with Rayman!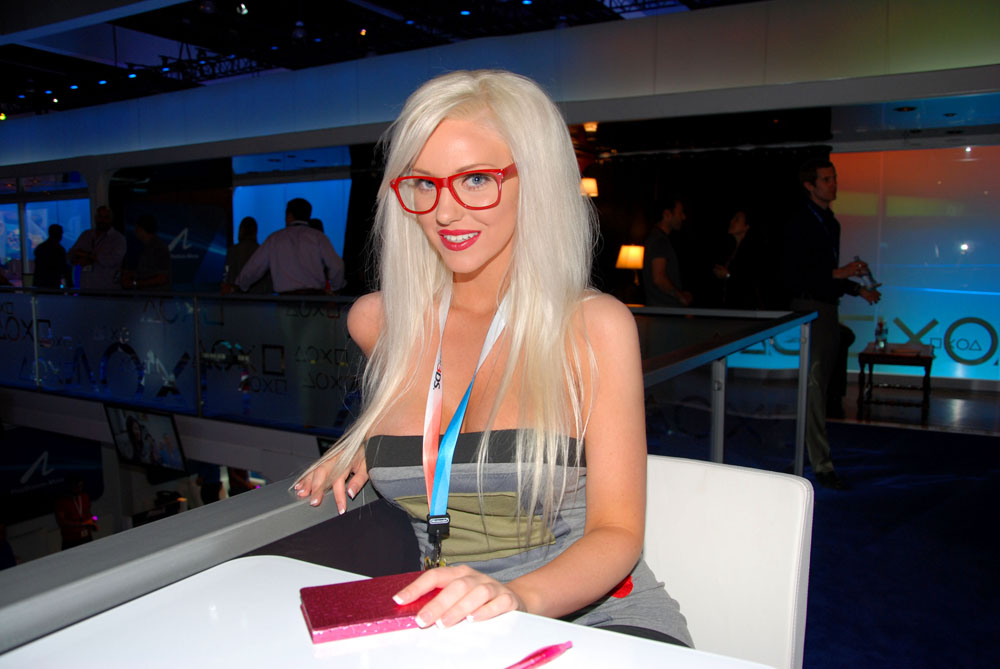 Taking notes while taking a break! So much to absorb in so little time!
PlayStation 3 and Assassin's Creed 3 Bundle Up!
Not only is PlaySation teaming up with Ubisoft once again to bring us the newest installment of Assassin's Creed, they are also offering an AC3 PS3 bundle in the coming months! PlayStation also announced a few other lucrative bundle projects that they are working on with other highly-anticipated titles for the later 2012 to early 2013 quarters. Can anyone say Black Ops bundle!?
PlayStation Focuses on Mobile!
Players can now use their Android HTC phones to get a true "PlayStation Experience" with PlayStation Mobile. If you guys have heard talk in the recent months of a "PlayStation Suite", this is the new and improved version. As a leader in gaming, Sony wants to begin (or continue, I suppose) embrace and further the brand as a leader in mobile gaming whether it be on your cellular phone, or on your tablet and hand help PlayStation gaming device.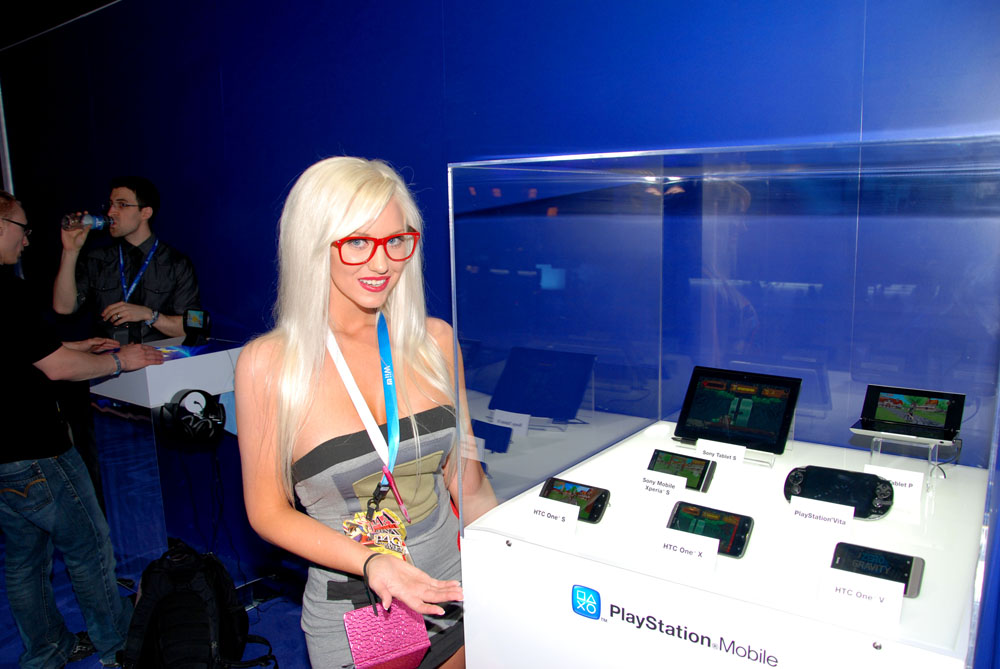 A case at the PlayStationmedia-only area showcasing existing and upcoming PlayStation Mobile compatible devices!
Xbox Smart Glass Heats Up!
Microsoft announced Smart Glass, a new service that allows you to get more out of your gaming, movie and TV show streaming, and more, using your tablet or smart phone. A good example of this is checking out a map of the Game of Thrones world on your tablet, all while watching the show. Extras and tidbits will pop up, and peripheral video game help will be accessed on your mobile devices while you are connected.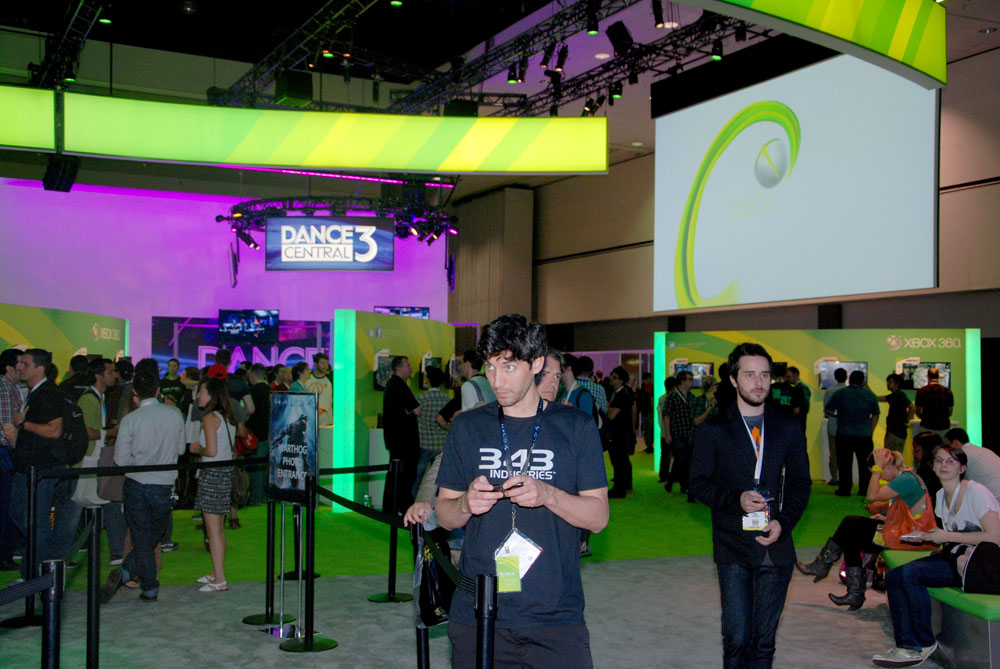 So much green, so many epic new features coming to Xbox Kinect and Live!
Xbox Kinect Signs Partnership with Nike!
Microsoft proudly unveiled their new partnership with Nike+ Fitness at the E3 press conference this year. You may be familiar with the service as there is a similar deal already previously stricken with Apple for its products. This will allow you to track your work outs and progress in the Nike+ Kinect Training game, but it was uncertain whether this will allow you to track interesting fitness tidbits in other Kinect games. I, myself, would like to know how many calories I've burned while Special Beam Cannon-ing Raditz to death in the new Dragonball Z Kinect game!
Xbox goes Musical!
Move over, Apple iTunes! Microsoft is gearing up to out do the music giants this year with the release of a new service on Xbox live. For the users who are more fond of music services that are available on their mobile devices or desktop PCs, have no fear; Xbox music is for you, as well! In addition, it's not just music you will be able to taste through your Xbox, PC, or mobile device, Microsoft is also including video services such as Xfinity TV and MLB.TV as well! Will Microsoft finally live up to its potential in the music and video streaming field with this thirty-million-track service?

Any place is a great place to add booth babe pictures!
Nintendo and the Wii U!
The Wii U is sounding more and more like an improved version of their initial attempt, with a few features reminiscent of the Vita/PS3 connection. The Wii U hardware was announced as supporting two separate GamePad devices, and providing access to Nintendo Land, which will be an improved place for your Wii Mii characters to roam, entwine with the various Wii U games played, and be of further relevance. Even more exciting is that release is confirmed for this year's holiday season! I know I am looking forward to new plays on the Nintendo classics like Super Mario Bros U!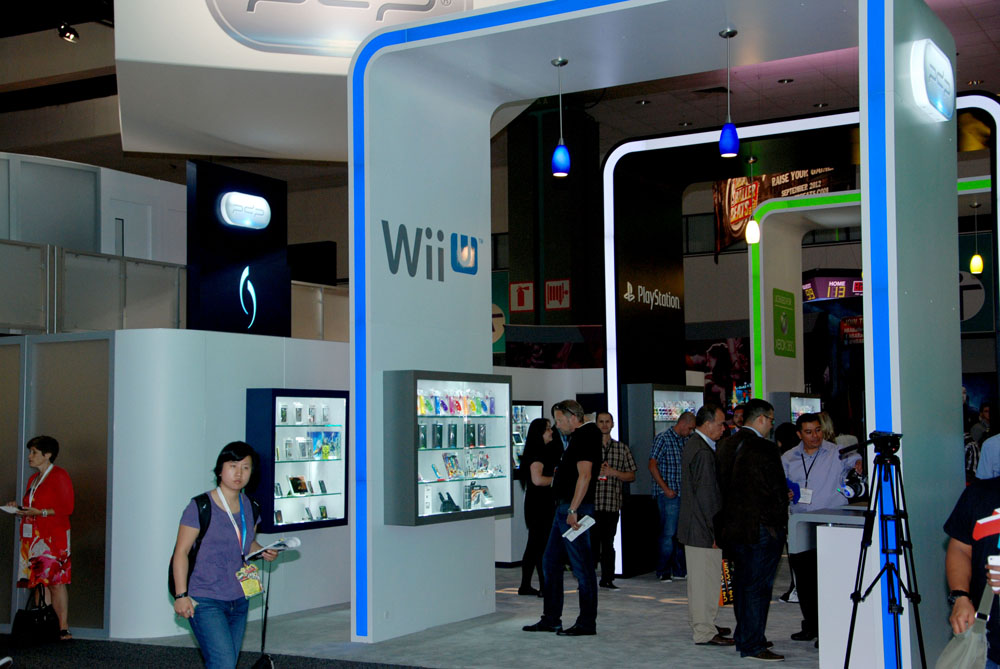 A very Wii-rific Wii U center was erected for Nintendo's most prized E3 commodity!
Nintendo's 3DS Announcements Flail!
Although not the best experience at E3, Nintendo did announce many new and already existing games for the 3DS this year. The news on the 3DS front was actually weak and uneventful, leaving many of the attendees baffled and unanimously unimpressed. I expect there to be a lot more to come from Nintendo's focus, the Wii U, if they are going to flop and flail in the 3DS department. Let's all get excited for the future of Nintendo and its brand new Wii U platform!
GAME ANNOUNCEMENTS TO GET EXCITED ABOUT
Beyond: Two Souls - This is a game I am thrilled to hear about. Not only is it a pseudo-sequel of the amazing Heavy Rain game by Ubisoft, it is also another way for me to get more of the intelligent psychological thriller that I loved. Yeah, I unlocked all trophies and got all endings in HR!
Assassin's Creed 3 and Liberation - The fifth major installment of Assassin's Creed will be set during the American Revolution, and will exploit all new game engines, allowing Connor, the new descendant of Desmond, to climb trees and exist in a less urban environment. Liberation will be the Vita-compatible version with slight variations. AC3 will be on the market October 30, 2012!
Interview with one of Ubisoft's Assassin's Creed content writers. I apologize for the sound issue... I guess "blog-style" videos at such a crazy event still require an external microphone. I owe you guys one!
God of War: Ascension - Available March 12, 2013, I am excited to announce that there will be another chapter in the God of War series! Ascension, though a prequel to the other games, will have an all new online multiplayer component and lots of new backstory on Kratos as a Spartan warrior! This is definitely my most anticipated game of E3!
Devil May Cry - I know I have bitched and moaned about Dante's new look, but after playing a demo of this game in an official DmC E3 strip club, I am definitely converted. You'll get to see for yourself January 13, 2013!
Hitman: Absolution - The stealth assassination Hitman games have been a common fixture in my gaming line-up. The new installment, Absolution, will be available November 20, 2012, and Square Enix is not likely to disappoint!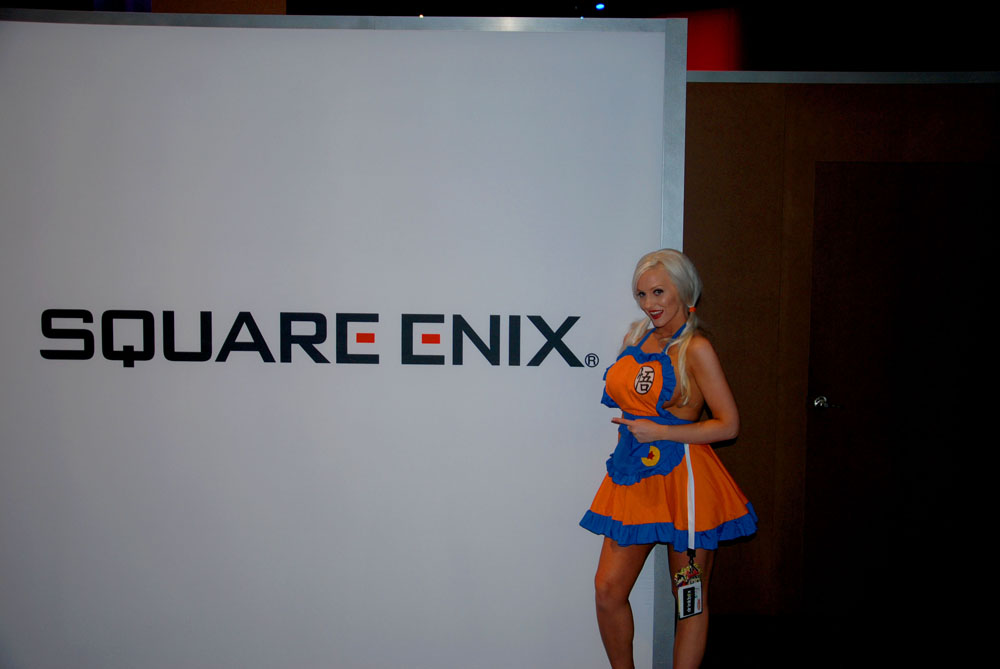 Okay, so I may be a Square Enix fan girl... but with games like Final Fantasy, who isn't!?
Darksiders II - More of the same from the second in the Darksiders franchise, only much better, and this time with Death! No, not that kind of Death (well, that too), one of the other four hoursemen! Uniquely, this game is set at the same time as the events of the first, but with a different perspective! August 14, 2012 is sure to be a dark, epic day!
Far Cry 3 - Far Cry 3 has the makings of a hit with all FPS lovers. Not only are they back in a tropical setting, but there is a new RPG element that allows you to acquire new skills, weapons, and better yourself entirely against the psychos of the island! Release date is September 4, 2012.
Dead or Alive 5 - September 25, 2012 is going to be a very sexy date to remember in the fighting game genre! DoA 5 will be adding a much-anticipated MMA style of fighting to its line up!
Borderlands 2 - Four-player RPG shooter extraordinaire part two? Yes, please! Stay tuned for more this September 18th!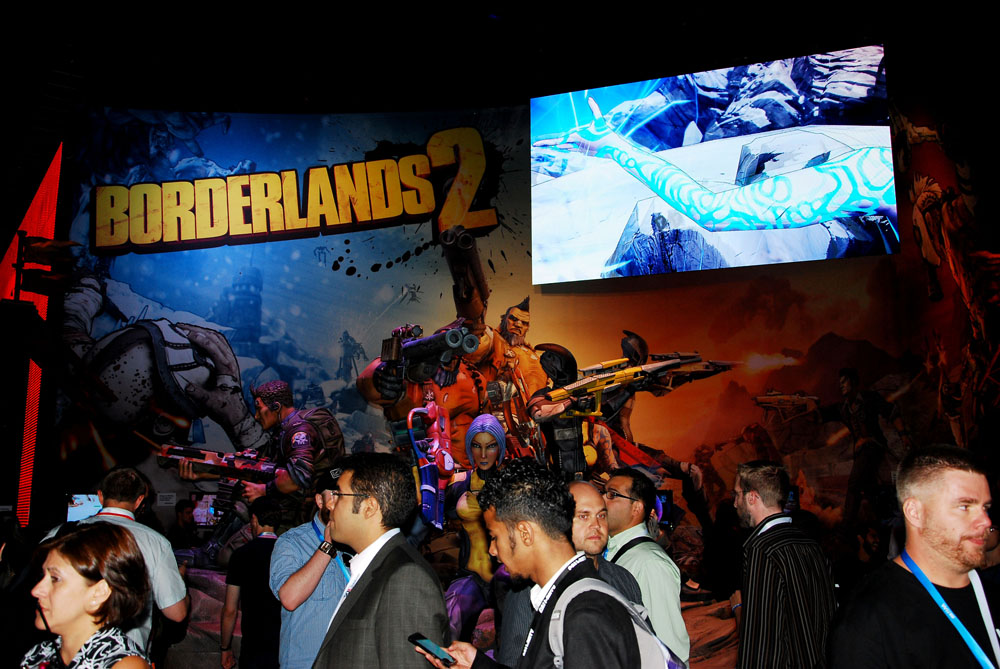 I bet you can't tell that some of those Boarderlands 2 characters are actually giant statues! So cool!
Persona 4 Arena (and Persona 4 Golden) - I am incredibly excited about these releases. I am currently in the middle of finishing up Persona 4, and games from the Shin Megami Tensei line are the best of the best in Japanese RPGs. Arena brings a high-quality fighting experience to characters I know and love... and Yukiko can be a blonde!
Resident Evil 6 - Who hasn't been begging for this sequel... although, if you stare hard enough, the "6" in the logo does look suspect (Go stare at it people!). It's been ten years since the last encounters, and the US is determined to get to the bottom of things. Help them figure out this zombie-pocalypse October 2, 2012!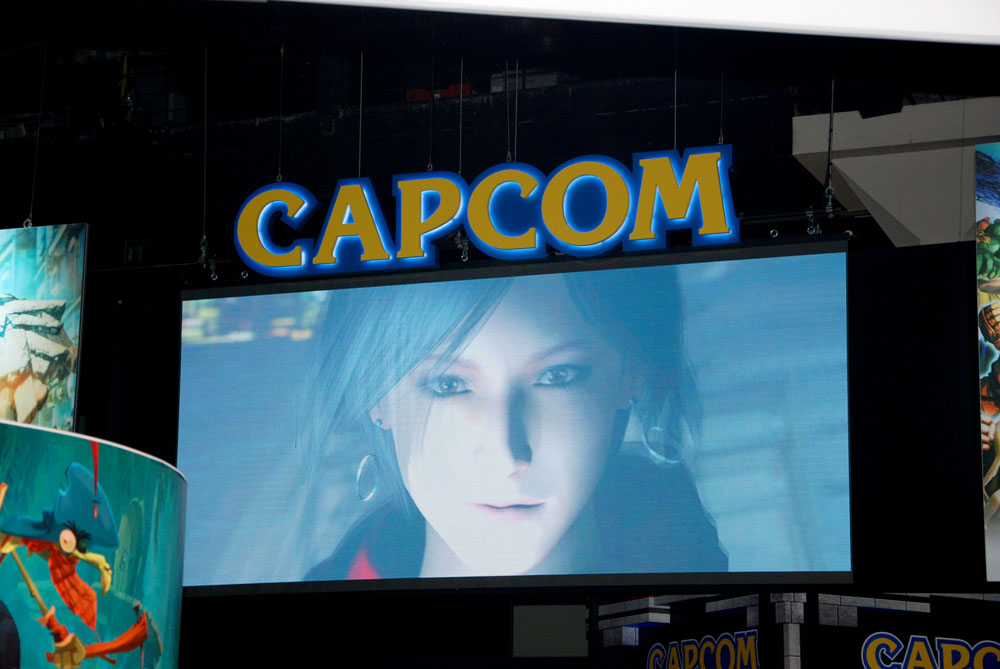 Just a good ol' Capcom release video with plenty of sexy, sexy, game release promises!
Epic Mickey: The Power of Two - The mad doctor is back with a vengeance! The ever-popular team of Disney superheroes, Mickey and his trustworthy pal Oswald, paint and prod their way to success! You can never go wrong with a classic concept like Mickey Mouse! November 18, 2012 is the drop date!
Tomb Raider - Follow the new look of Lara as her origin and storyline are revealed, finally, in this new addition to a much beloved classic. Lara is grittier, stronger, and more passionate than ever. I'm excited to see how things unfold on March 5, 2013!
Street Fighter X Tekken - Quarter three of 2013 will be a big one for the PS Vita as the heroes of Street Fighter collide with those of Tekken! I am extra excited about anything Tekken, and I also have a passion for Ryu--I mean--Street Fighter, as well!
Metal Gear Rising: Revengeance - Who isn't excited about another installment of Metal Gear!? Although I am missing Snake already, I know that Raiden and his badassery will definitely have me hooked on this early 2013 release!

All I needed was a cardboard box to fit right in with this epic MGS booth!
Halo 4 - This is probably the biggest announcement of the event. Most of the Xbox section was made up of Halo paraphernalia, and lines formed around the venue filled with fans trying to get a sneak peak of the upcoming FPS masterpiece. This first part of a new Master Chief trilogy arrives at your front door early November of this year.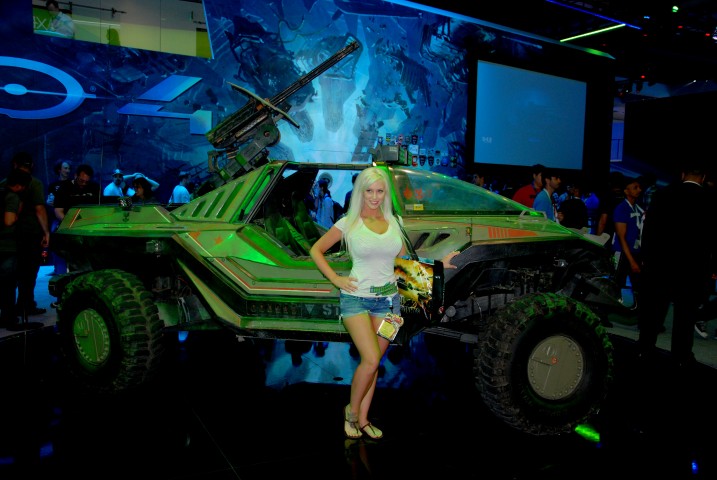 Wouldn't it be badass to have your own Halo 4 Warthog!?
Gears of War: Judgment - Although the information released on this fourth installment to the Gears universe was obscure, I am increasingly more excited to hear the release date the more I learn about it! Stay tuned for this bombshell... and the upcoming Gears game!
Fable: The Journey - The fifth of the Fable series was revealed at this year's E3, and it was so prestigious, it was (right then and there, apparently) nominated for the Game Critic's Award for best game of the 2012 event! Fable was my very first PC game, so I am especially personally excited to see it release on October 9!
Call of Duty: Black Ops II - November 13, 2012 marks the day of reckoning for yet another mission from the massively popular COD: Black Ops series! Everyone, get excited to spend way too much time on this new release this winter!
Tom Clancy's Splinter Cell: Black List - The media-only demo for this game was superb. What little I saw of the storyline to this much anticipated Tom Clancy game was emotional and action-packed. I've always loved the espionage and the unique gameplay, and I am looking for more of the same, yet vastly improved, content!

Just some random love from the front doors of E3 to you guys! Readers of Impulse Gamer rock!
Madden NFL 2013 - One of the longest-running and most popular sports games hits us right in the face with this year's Madden installment on August 28, 2012!
Deadspace 3 - John and Isaac crash-land in space and must find a way to explore and survive in this undetermined 2013 release. The platforms that this game will be available on have not yet been determined, so stay tuned for more about this epic title!
Pikmin 3 - Pikmin, the adorable but strange action-strategy franchise is coming to the Wii U! I am excited for its undetermined release in 2012! I'm interested to see how they integrate Wii U controls with Pikmin-style gameplay for this third-in-series rendition!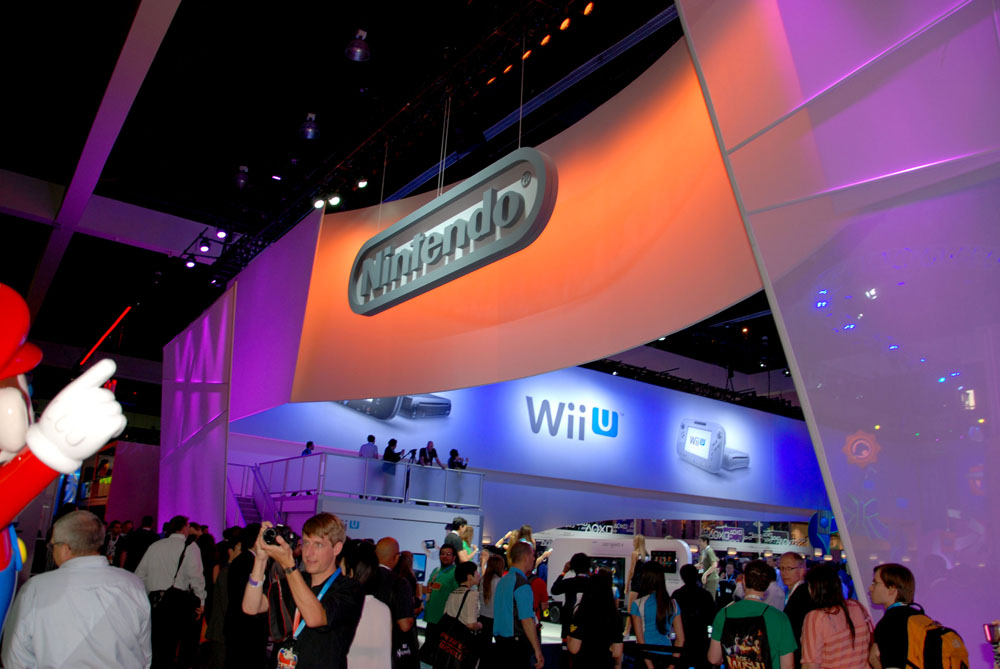 Nintendo... the kind of my world!
Rayman Legends - I had the pleasure of playing this game cooperatively at E3, and I found it to be an awesome homage to the classic Rayman title. I am excited for its release! Globox and Teensie are great supporting characters, and Rayman is as charismatic as I remember growing up!
Counter-Strike: Global Offensive - Valve announced the newest title in their popular FPS franchise, Counter-Strike. Available on August 21 of this year, the game will feature all new weapons, an expanded character list, and new maps of all kinds.
WARGAMING.NET and World of Tanks, World of War Planes - I played these games at the event, as well! I found them to be very cute MMO-based games where you're prompted to choose planes, or tanks, from WWII and battle it out using a massive network of players numbering in the millions. WARGAMING.NET is doing a spectacular job of taking their game to the next level, even offering professional competitive play. I definitely recommend giving this free-to-play website and set of games a shot! I kicked butt my first attempt! Their large booth, seating area, and big screen made them E3's booth of the year, as well!

And battle, we shall!
If console and upcoming game release news is not enough to fill your gaming-driven heart to capacity, please enjoy these images I was able to capture while venturing the barren game-land that is E3. I know you can find images elsewhere of the event, but not ones with a super-hot gamer blonde and her GameBoy/Dragon Ball Z cosplay! As I wrap up my Electronic Entertainment Expo 2012 coverage, I'd like to leave you all with this thought: explore Impulse Gamer and live the life of a high-class, international nerd-baller through us! We'll do the traveling, knowledge compiling, and picture-taking work so you don't have to! You're welcome!
E3 GALLERY
CHECK OUT TARA'S FULL E3 GALLERY HERE!
MEANWHILE, IN TARA LAND...
Needless to say I have been incredibly busy with the events of these past couple weeks, I haven't even had a chance to update my official website, and I only was able to stream some StarCraft II once since I have been home! I hope to get back to a more normal schedule and become motivated to do all these things as I should! I hope you guys enjoy the work I put into the images, article, and to bring you a unique E3 experience through vlog-style video.
This article's Ask Tara question is, naturally, about E3! "Tara, what was something underrated that caught your eye at E3 this year?" Well, there was this one new game being developed for the PS3 that was a fun and interesting party game. I really enjoyed playing it, and the developer had a cute British accent! You all must check out When Vikings Attack!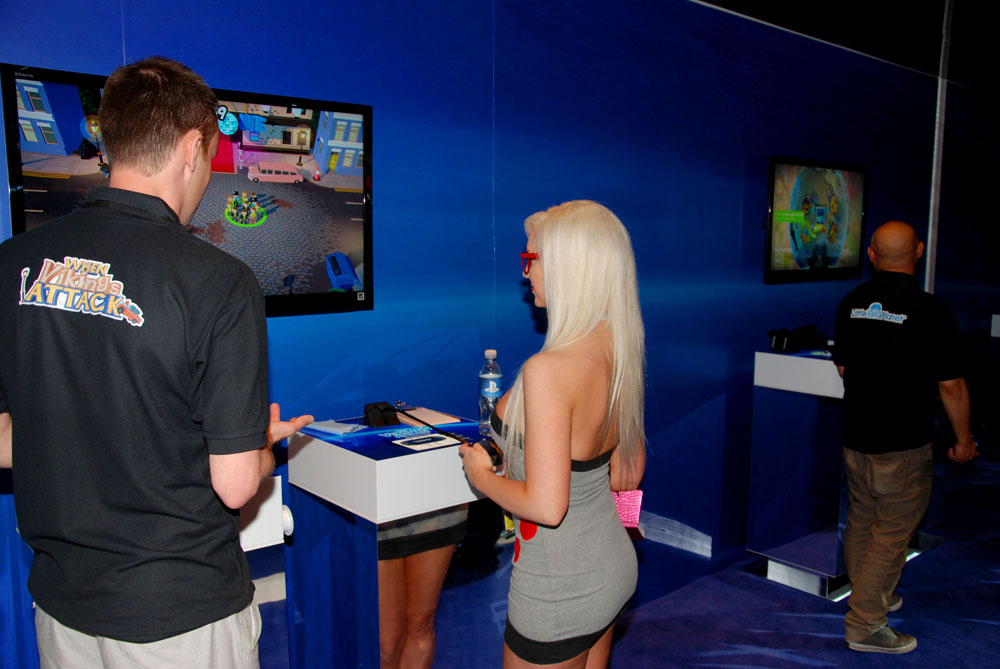 Playing When Vikings Attack and failing against the Game Dev!
I hope you all are enticed to read my next article covering MLG Anaheim next week! Get excited about eSports! If you are into gaming, eSports is the way to further it in a mainstream aspect, as well as enjoy it publicly with friends in a gamer-centered environment! GO ESPORTS!

Follow Tara at her official website, www.tarababcock.com