Urban Chaos: Riot Response
This is a pretty neat little game. As you can guess by the title, there is unrest in the city but this time your job is to actually try and help stop it all before things go crazy. As you can see from the screens, despite your best efforts, things get out of hand and your character Nick Mason needs to get a move on before it gets any worse.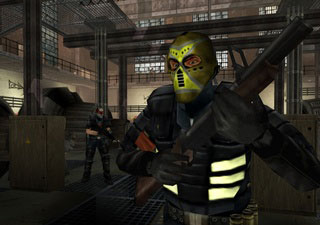 Mason is a member of a task force called T-Zero, a response unit designed to deal with rioters and gangs in a city run amok. Armed with little more than a pistol and riot shield, Nick goes through the first few levels in a learning type environment where you get the hang of how the weapons work and also how to most effectively use your new best friend, the shield.
In most games, shields or armour are often items that we just ignore or just assume that they will be there for most of the game. In Urban Chaos you really do need the shield to get through the game in one piece. The shield can be used for so much that it is not funny, (well it is actually) even deflecting incoming missiles and the like. Use it to prevent burns from the fires that ignite due the Burner gangs that inhabit the gameworld. Combat is fast and furious and learning to use the defences you have will allow you to survive and enjoy more of the game.
There are a whole host of weapons that you can use during the game and most of them have some attribute or another that makes them useful, whether it be fire rate or the fact that you have to take down some gang leaders without killing them in order to make it further through the game.
Graphically Urban Chaos is a satisfying enough game for the PS2. No graphical boundaries are really pushed, however the game doesnít look bad or anything. Itís actually a decent looking game with decent graphics to boot. The speed that the title runs at is nice and only runs into slowdown on the very odd occasion. There are some nice fire effects that are fantastic and necessary to the game due to the incursions by the Burners you will have to tackle throughout.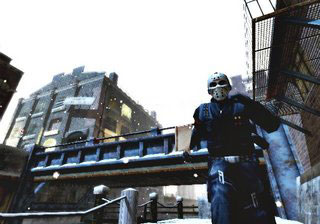 There is a neat way to get health and other help by way of getting in paramedics to assist both yourself and the injured that you will find in the streets and the burning buildings that you may detect with your thermal imaging equipment given to you by a fire-fighter earlier on in the game. This equipment also allows you to make passage safely through smoke ridden areas, acting as a breathing filter.
All things said and done this is a fun game to play. Whilst not pushing any boundaries in either gaming or graphical terms, Urban Chaos is a solid piece of kit that should see you happily playing all the way through to the completion of the game. There are a lot of game incentives through the game that should see you happily playing through on the first time round, though I am not so sure that the gameís life would extend through a second or third play.
That said though, I have no problems recommending this game as a good distraction that you should not lose interest in. Itís solid, works well with the PS2 architecture and is a lot of fun to play. Give it a shot.