Tourist Trophy the Real Riding Simulator
I need to say two words first in this review: Polyphony Digital. I could actually almost just stop the review at that point and just put the scores up. Come on! You expect more? Okay, I guess I had better for the sake of the uninitiated…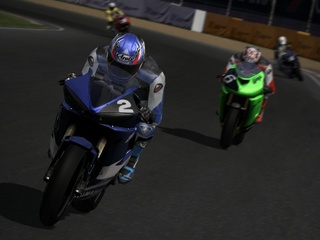 Possibly the easiest thing to clear up the above paragraph would be to state that Polyphony Digital is the creative force behind the amazing Gran Turismo series, arguably one of the best (if not the best) driving simulators on the gaming market. For years PD have created racing games that are almost like tech demos for the Playstation console. If you ever wanted to show off what the console could do, just throw in the Gran Turismo game that is most current and stand by to amaze.
Now the attention of this amazing development team has turned to racing of the two-wheeled variety and once again, the word simulator springs to mind. There are over 120 bikes to take on in this game and fans of motorsport will be delighted to hear that each and every bike looks different, is modelled accurately and behaves in a manner that is different to other bikes.
There are a multitude of views to this game and to see the world fly past you whilst staring directly over the handles facing down the track. It's simply amazing. I know that I should have expected something this good to come from these guys but it still staggers me after many plays at the level of detail that is to be seen.
For those of you wanting an online experience, Tourist Trophy can't help you, sorry about that. Instead play for up to three others is allowed and make for some really challenging competitions. The level of modification seen in past GT games is partially evident here but on a much smaller scale. You can tune your bike up to an extent however then that is it. Not many upgrades can be performed on any one bike, which in a neat way means that you really need to contend and earn more bikes for your garage.
Upgrading to new bikes isn't a matter of money either, you can do this by completing challenges and winning races which is pretty neat as well. The feel of the bikes after sooping them up is spot on and both smaller and lighter bikes do handle totally differently from the larger heavier bikes. Those who try to stay on the one machine all the way through are for the most part going to fall apart when competing with better class machines.
Offering up two modes, Arcade and Tourist Trophy (motorbike equivalent of Gran Turismo mode), Arcade allows you to get in and play the game without a lot of fuss. Tourist Trophy mode is where it all gets serious and you are going to spend many, many hours playing and enjoying the game.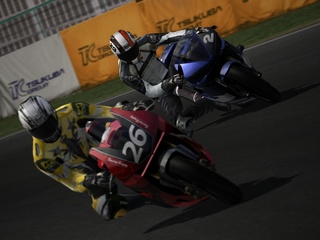 I think that some gamers are going to have a feeling of déjà vu with the game if they have played Gran Turismo games in the past as the tracks are rehashed for your enjoyment here. Having said that though, riding a bike along those tracks is bloody magnificent and felt so different from driving them as well you could imagine.
All things said and done, Tourist Trophy is a game that will hold up for quite some time. Casual gamers will be happy to just jump into a race, whilst bike fans will like the idea of really making those horses work through the extended career mode. Couple that with top notch graphics and game physics and you are on a winner. Give it a shot.