SpongeBob Squarepants & Friends Unite
Nick fans will be pleased to check out this title featuring most of the Nicktoons favourite characters. When Jimmy Neutron discovers a threat that will affect all in the various worlds these characters inhabit, he calls for aid and Spongebob answers the cry in his usual odd kind of way!
Aptly named the Evil Syndicate, the bad guys have a doomsday device (donít they all?), that must be stopped before trouble really gets out of hand. Our guys must make sure that they are on top of their game to prevent that and itís there that you come in and take control over some of these well loved characters and their odd abilities.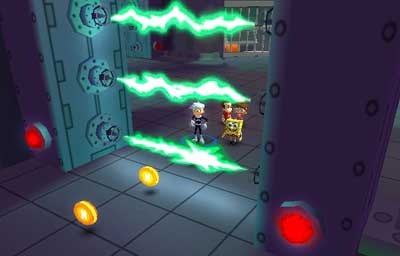 The game is surprisingly fun, even for this ďolderĒ player and I found that the characters all controlled fairly well. There is hardly a learning curve to be mentioned in this title, it is easy to pick up and play and pretty well paced as well. The title is also well suited to younger gamers with nothing really scary or troubling in the game to disturb young minds.
Graphically the game really suits the mood and look of the cartoons with all characters being faithfully reproduced. The backgrounds are at times a little bit on the bland side, however with not a great deal of detail which in a way really makes the playable characters stand out.
There are more than 15 environments to play your way through on this fun ride and fans of the cartoons should recognise them or at least be able to guess by the design which does its best to do homage to the shows.
This fun game also features cooperative play which should ensure peace and quiet in the house for at least a little while from the kids! Audio is appropriate to the title and sound effects are humorous and even made me raise a smile. Voice acting is good and certainly lends itself to the credibility of the story.
Iíve got no problems telling you to have a crack at this game. Itís not going to rewrite the way that you play games, however it will provide a few hours distraction for gamers of all ages and the kids are going to love it because of the characters involved.
See what you think.