Okay… a game based on a confectionary had mixed responses at our offices but once the CD was slotted into our PlayStation 2, we were all pleasantly surprised at the outcome. However, with that said, Smarties Meltdown is strictly intended for the younger audience as older gamers, although they may have fun, will not get as much out of this title as children.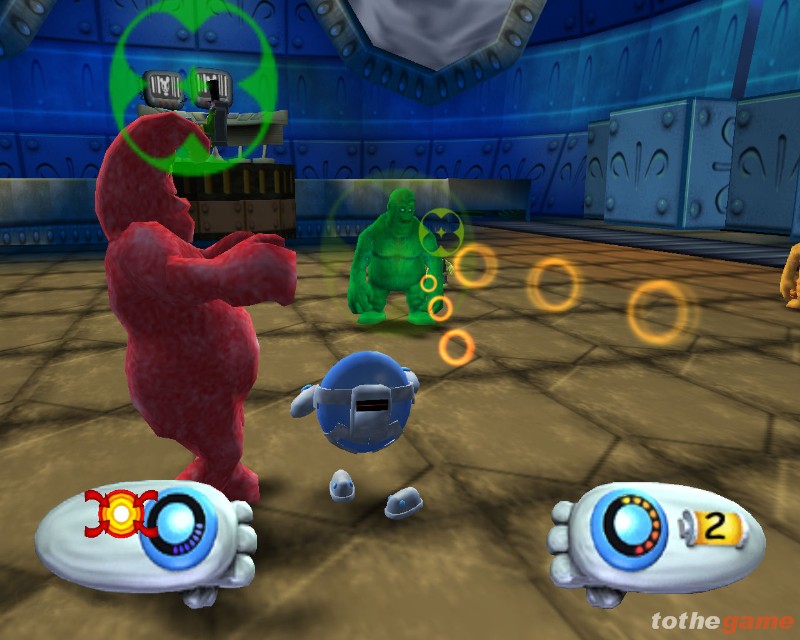 With that said, Smarties Meltdown is a third person action adventure that is based on the popular smarties confectionary (there should have been some real smarties included in the box) that is set on huge Smarties planet that orbits around the planet Earth.
Fortunately for the denizens of Earth, this is where smarties are also created and when this factory planet is attacked by a fleet of evil confectionaries led by the villainous Dr. Soursweet, a meltdown threatens the very existence of these extremely tasty confectionaries.
Features
3 Levels of difficulty - Smart, Smarter, Smartest
6 fun levels & 2 bonus levels to find and unlock, including space walk & Boss level
5 Main Characters Big Blue (Hero Smartie), Smarties Crew, Dr Soursweet (the evil villain), his army of Stroopers (Sugar Troopers) and the Chocbots
Big Blue Character features the voice of Dave Benson Phillips, Children's presenter (Cbeebies, Playhouse Disney)
4 permanent & 5 temporary upgrades to Blue's Exosuit. 5 different pickups from Smarties to Power balls to boost power, health or skill
Variety of adversary behaviours & AI
The story behind Smarties Meltdown begins when the children of Earth decide that the latest confectionary craze called "Stroopers" is not what it's claimed to be and they vote by their wallets.
Angered by the decisions of the children of Earth, Dr. Soursweet decides to implement his own devious plan by cutting off the supply of Smarties to earth by invading the world of Smarties with his sugar-coated jelly Stroopers. With the factory closed, it's up to our hero Big Blue to save the world of Smarties and ensure that the world of Smarties are liberated.
The gameplay of Smarties Meltdown features your traditional arcade gameplay with a twist that incorporates the world of first person shooters. It's a mixture of Rainman meets in Doom in this kids friendly version. The developers have also ensured that the dualshock controller works perfectly with the game and even the most basic of gamers will be able to pick this title up in a matter of minutes.
The only unfortunate aspect of Smarties Meltdown is the considerably short time that it took this gamer to complete but bare in mind, the more basic of gamers will take quite a bit more time to complete.
Graphically, Smarties Meltdown is a colourful treat on the PS2 that features extremely colourful and animated characters in an amazing 3D world. As with the sound and music, the developers have really come to town on the title with all the cutesy sounds and music that will have children coming back for more.
In conclusion, Smarties Meltdown will be enjoyed by just about every young gamer who will play this title again and again. Best of all, Smarties is a budget title and won't hurt those parents out there on a budget. Great stuff!