Singstar Take That
As Sony continue to release some of the biggest bands to their Singstar franchise, it was unexpected to hear that the famous 90's boy band Take That would have their very own game. I think I just heard a thousand Robbie Williams fans rejoice!
Available on both the PS2 and PS3, Singstar Take That is definitely a strange choice by Sony and where it fits in the grand scheme of things is a little bewildering, considering that the band wasn't as big as the previous releases with ABBA or Queen.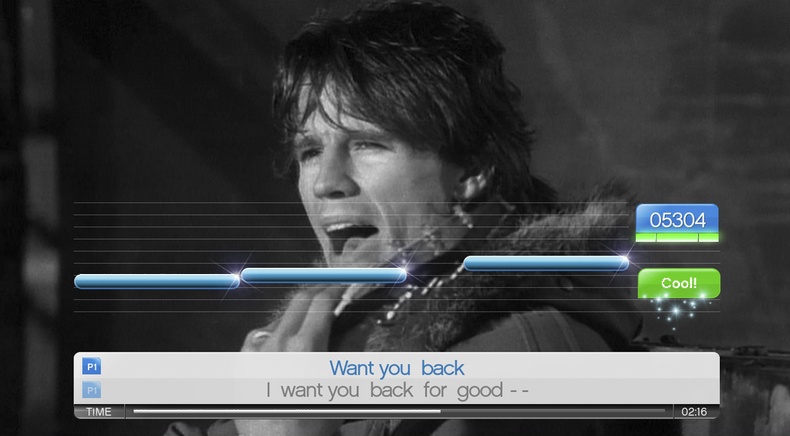 Ironically the gameplay of Singstar Take That remains almost a carbon copy of the previous "band" releases and when there nothing is wrong with the gameplay, there's really no need to fiddle.
Microsoft's LIPS is one game that they tried to be a little too clever for their own good which in my books is no way as near as fun as the Singstar series. With that said, Singstar Take That is a gaming version of Karaoke where the player can sing solo, duet or compete against other players as they attempt to match the speed and rhythm with the words carefully displayed on the screen.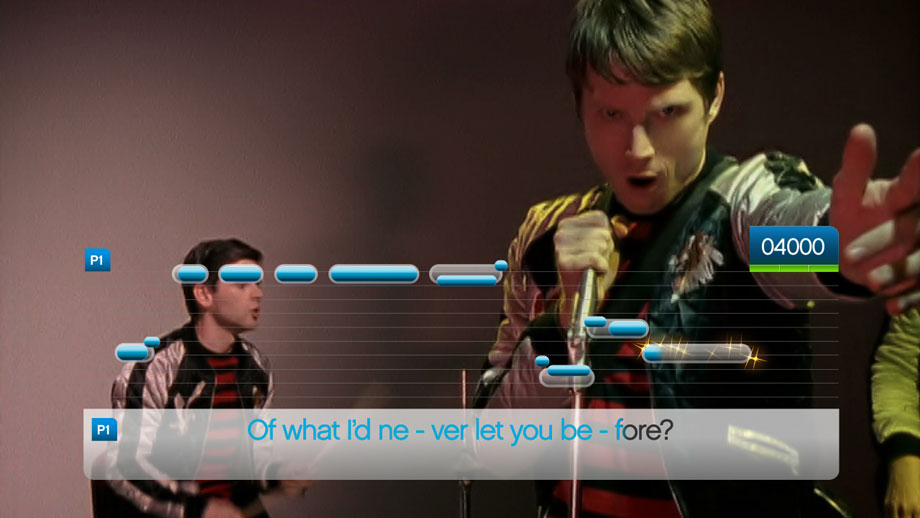 Needless to say, all the gaming modes are there, including the fun party game "pass the mic" mode. Although I wouldn't be caught dead buying Singstar Take That, for me, it works better as a party game, unless you're a fan of Take That, than it's a given that this will be on your Christmas wish list.
In relation to the gameplay which revolves around "scores", the closer you get to matching your singing (or humming) with the real singer, the higher the points you will accumulate and the more points you get, the higher the rank you are awarded. It's simplicity at its best!
Apart from the sturdy gameplay, what generally makes Singstar so entertaining is the great track listing and unfortunately for Singstar Take That, you really need to be a fan of the band if you're to get any real mileage out of this title. For the Take That fanatics, the tracks included in the game are as follows;

- A Million Love Songs
- Babe
- Back For Good
- Beautiful World
- Could It Be Magic
- Do What U Like
- Everything Changes
- Greatest Day
- Hold Up A Light
- I'd Wait for Life
- It Only Takes a Minute
- Love Ain't Here Anymore
- Never Forget
- Once You've Tasted Love
- Patience
- Pray
- Promises
- Reach Out
- Relight My Fire
- Rule the World
- Said It All
- Shine
- Sure
- Up All Night
- Why Can't I Wake Up With You

The game also contains music videos of the band to help with that total Take That experience and graphically, it's quite slick on the PS3 and compared to the PS2 version, the high definition truly makes things that slightly more entertaining and dare I say, a little more appealing for this boy band.
Although my partner and I enjoyed sitting down with a couple of "britto's" to pump out some Take That hits and quite a few that we didn't know, unfortunately the replay value is a little dry and lacklustre. You really need to be a fan to appreciate this game and if you are, than you'll have 25-tracks to sing to your hearts content.
Even after finishing this review, I'm still bewildered as to why Sony decided to target this game for a world wide release but more specifically, how about some Australian releases? Imagine screaming some Jimmy Barnes classics... However back to the point, it was a little difficult to score this game but I tried to be fair because if you're a fan or know their music, you'll be looking at 8 but for the majority, a good 6.5 will do it.