Singstar Chart Hits
Some may think that the Singstar series is like whipping a dead horse, however with so many Singstar releases on both the PS2 and PS3, Sony is obviously doing something right. Although the perfect format for Singstar would be just the game with a truck of downloadable content, all at an affordable price, this will probably not happen for another 5 or so years.
Some people are apprehensive in spending their hard earned money on virtual purchases and both Sony and Microsoft need to investigate why Apple have succeeded so well in this aspect. Thatís my theory on why physical games are still so popular but enough crazy rantingÖ Singstar Chart Hits has landed on both the PS2 and PS3 for another entertaining gaming karaoke experience as people try to outsing Lady Gaga and La Roux. Gameplay? You've pretty much seen it all before from solo to duet, battles and the like...Singstar is now more about the songs than the actual gameplay itself.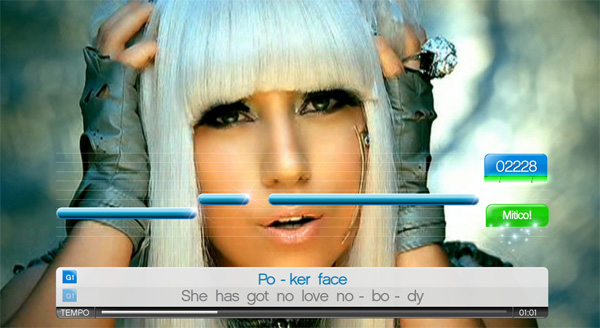 The biggest highlight of Singstar Chart Hits is the inclusion of a variety of Australian singers and bands which is quite extraordinary. However, the big US and UK a-listers are still around, however Chart Hits have some great aussie favourites such as Wes Carr, Guy Sebastian, Wolfmother and even The Presets. For starters, thatís not a bad list and you have both mainstream and indie singers. It's definitely a great compilation with its diversity. Even the songs we thought were so-so was still entertaining, albeit a little embarassing!
Gameplay? If youíve played the last 10 or so Singstar games, not much has really changed besides a few tweaks here and there, especially on the PS3 version due to the power and internet capabilities of the console. At its core, the game is a karaoke game, however score is taken into consideration and the better you sing, the more points you are awarded to become a true sing star.
By matching the words which appear on the screen, the game awards you with points of how your tone and pitch matches with the singer or band who are singing. Even though you could literally hum your way through it, there is still an element of skill and talent. Whether you want to play this solo or with others, the gameplay actually works, although more so with female players. Another aspect of Singstar is that even if you are not a gamer, you can still easily pick up the microphones and start singing, hence the popularity of this series.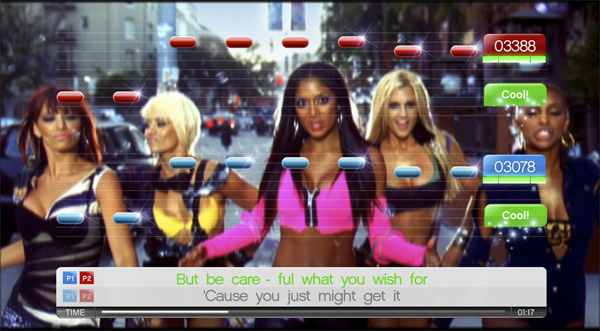 Graphically, Singstar Chart Hits is decent looking games on both the PS2 and PS3. However, the PS3 version contains FULL HD music videos and the menu system is considerably more slicker than the PS2 version. Either way, both versions are graphically good for whichever console you own.
However, the sound quality is the winner and sounds great through our surround sound setup, especially when we were blasting out songs by La Roux and Empire of the Sun. But most importantly, here is the tracklisting for Singstar Chart Hits;

TRACK LISTING:
1. 3Oh!3 - Don't Trust Me
2. A.R. Rahman feat The Pussycat Dolls - Jai Ho! (Your Are My Destiny)
3. Alex Lloyd - Amazing
4. Ben Lee - Catch My Disease
5. Colbie Caillat 0 Fallin For You
6. Empire Of The Sun - Walking On A Dream
7. George Michael - Outside
8. Guy Sebastian feat Jordin Sparks - Art Of Love
9. Kate Miller Heike - The Last Day On Earth
10. La Roux - Bullet Proof
11. Lady GaGa - Poker Face
12. Lady GaGa - Love Game
13. Michael Buble - Haven't Met You Yet
14. Mika - We Are Golden
15. Natalie Bassingwaighte - Alive
16. Nelly Furtado - Turn Off The Light
17. OneRepublic - All The Right Moves
18. Pixie Lott - Boys And Girls
19. The Living End - White Noise
20. The Presets - This Boy's In Love
21. The Pussycat Dolls - Hush Hush
22. Vanessa Amorosi - This Is Who I Am
23. Vitamin C - Graduation (Friends Forever)
24. Wes Carr - Feels Like Woah
25. Wes Carr - Yeah
AND 5 EXTRA TRACKS, EXCLUSIVE TO THE PS3 VERSION
1. Lady GaGa - Bad Romance
2. The Pussycat Dolls - When I Grow Up
3. Natalie Bassingwaighte - Someday Soon
4. Milli Canilli - Blame It On The Rain
5. Wolfmother - New Moon Rising
As you can see, the PS3 version has five exclusive tracks which may not mean much to some people but it does give owners of this console more of an incentive to purchase it. With 25 tracks available on the PS2 version and 30 for the PS3, Sony have definitely done their homework on this release which includes tracks by a variety of singers and bands which does not alienate at all. My only gripe is that the PS2 version does come with 5 less tracks? Surely, the DVD could handle 5 extra tracks?
In conclusion, Singstar Chart Hits features a diverse tracklisting, crystal clear audio and some great music videos which look amazing (PS3) version on a FULL HD TV. This is one compilation that provides a breath of fresh air to the Singstar series and with the BETA trial of Singstar online going well since April 2010, I cannot wait to see what the developers off fans of this franchise next. In the mean, Singstar Chart Hits is pretty damn impressive!