Rogue Trooper
Third person action is the name of the game here with Rogue Trooper from Atari. Anyone who was wondering if that was some sort of Star Wars type rip off should know that Rogue Trooper originally surfaced as a character in the popular Brit Sci Fi mag 2000AD. It is actually over 20 years old.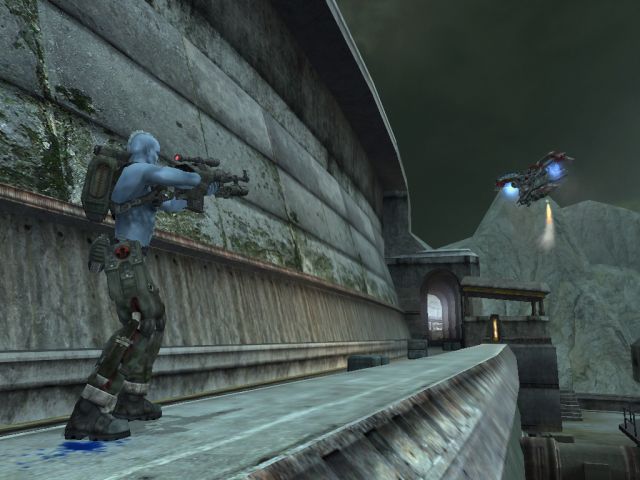 The Rogue Trooper in the title is like a clone trooper of sorts, a super soldier that is part of an elite team that has been put together to fight in wars of the future. Our war takes place on Nu Earth, a place where Rogue and his buddies are ambushed and all our killed except our hero who of course has to find out who betrayed them and fight his way through a hostile environment at the same time.
In an interesting twist to the title, Rogueís team mates, although physically gone, still take an active part in the game in the way that their consciousness has been placed into bio chips that Rogue carries around with him in his helmet, weaponry and other parts of his get up. They help him with what needs doing and augment his skills with their own expertise.
The style of gameplay is quite down the line with little straying from the path of what you are meant to be doing at any given time. This does not take away from the title and simply means that you are going to have a faster paced game given the lack of wandering that you can do. Also due to the fact that you can easily do most of the stuff in the game without using most of the abilities given by your bio chip buddies means that you primarily rely on just one of them, your weapons buddy aptly nicknamed Gunnar.
The visuals in the game, whilst not revolutionary, more than do the trick and you do get the feeling of being in a very desolate place indeed. Rogue himself looks just like his character from the comic and the colours used are of a kind of pastel variety that works quite well. Characters in motion have a decent range of animations and attention to the AI means that enemies will attempt to take cover when under fire. I know that this should always be the case in this day and age, but occasionally we find it not to be.
The game is pretty intuitive to pick up and play with good use of the D Pad to control what you are using at any given time. Pressing the select button allows you to augment weapons and also create new ammunition. This is done by processing battlefield waste and salvaging what you can after a firefight from the bodies of the fallen. I thought this was pretty neat and a unique way of replenishing as opposed to your usual way of either just picking it up from bodies or the old thing of weapons and ammo just lying all over the place.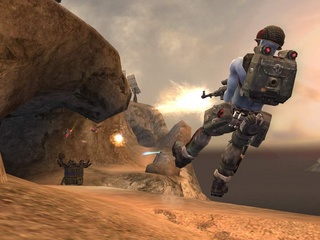 This is a game that I think most players who want something fast and snappy will pick up and enjoy. There really isnít a great deal to it in terms of getting bogged down by storyline all the time and Rogue himself is a bit of a cookie cut character. The bio chips are one of the highlights of the game and the chatter from the fallen Rogue Troopers can be a bit over the top at times, but still all the better for being there. Players can expect this game to be over in a goodly amount of time as it is very straight forward what is expected of you with little room for deviation from what the designers intended. The weapons are all fun to use and with some quick reactions from players to incoming fire, you should do alright throughout the whole game.
Iíd say that if you are expecting something epic from this game then you need to look elsewhere, but if you are looking at something fun, fast and to the point then itís certainly worth giving a shot. Give it a try and see for yourself with a rent before buying if you are wavering over the purchase.