Madden NFL 08
EA Sports have once again released the definitive American football game and the developers have returned the title to its roots with improved gameplay and once again spectacular graphics that proves the PlayStation 2 still has another few years of life on it.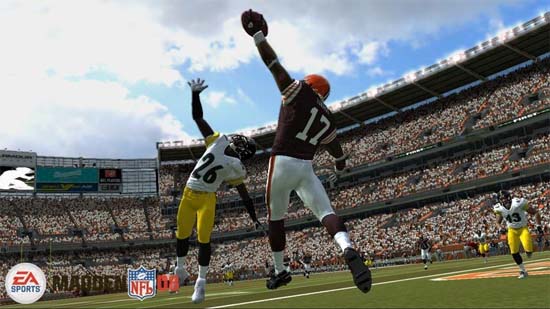 Features
Customizable stats summaries

New intuitive controls

View gameplay with greater realism at up to 60 frames per second

Control the lead blocker on running plays - Throw the perfect block to create a running lane, then take control of the tailback and rip off the big gain

Play your way to the Pro Football Hall of Fame by taking complete control of any position on the field
EA have cunningly employed a variety of gaming strategies into Madden 08 by allowing those gamers who wish to spend a good evening play a game to fine tune their strategies or for those gamers that want a fast and hard game without the complicated football offences and defences.
Control wise, Madden 08 features a great control system that even novice gamers will have no problem in mastering. Although the majority of buttons and sticks are used on the DualShock controller, modifications such as the second analog controller allows for simpler tackles without the complexities of previous editions.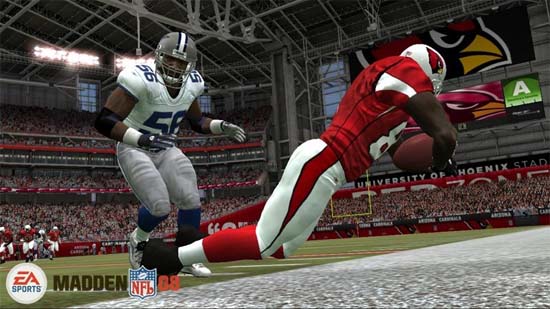 Although the game contains a variety of gameplay modes, our most enjoyable aspect of Madden 08 is the "Fantasy Challenge" game that allows the player to build their ultimate American football team without the management complexities. Another cool aspect is that Madden 08 features online play which is great for those who wish to challenge real opponents rather than the sometimes easy to difficult artificial intelligence of the game.
Last but not least is the new on-field "weapons system" feature that gives the gamer a variety of new gameplay options through the use of icons above different players, indicating a variety of attributes, ensuring that you can target or bypass these players.
Graphically, Madden 08 looks quite impressive on the PlayStation 2 and features highly detailed background environments (the stadiums look amazing) and realistic character animations. The developers have also ensured that the frame rate of the title remains quite constant without hardly any slowdown. There are also a variety of great light effects and some extremely realistic textures to create one decent looking title.
The title features your traditional "EA SPORTS" soundtrack with its hard rock score that fits the sporting genre perfectly. Add in your almost flawless commentary by Al Michaels & John Madden and one can almost be forgiven in thinking that they are watching TV with the realistic sound effects and realistic crowd sounds.
In conclusion, Madden NFL 08 is a worthy purchase for those that love NFL games, however it has almost amazed me of how relatively well these games go in Australia and this current incarnation is no exception to the rule, sturdy and improved gameplay with that hard EA edge. Great stuff!