Let's Make a Soccer Team!
Let's Make a Soccer Team! allows you to create your own football club from scratch and control every element of its progress against real-life teams and players. Your career begins when you take charge of your own club in England, France, Holland, Italy, Germany or Spain with just three matches of the season remaining. A ruthless rival is threatening to take over your club, to safeguard its future you must guide your team to promotion to the second division.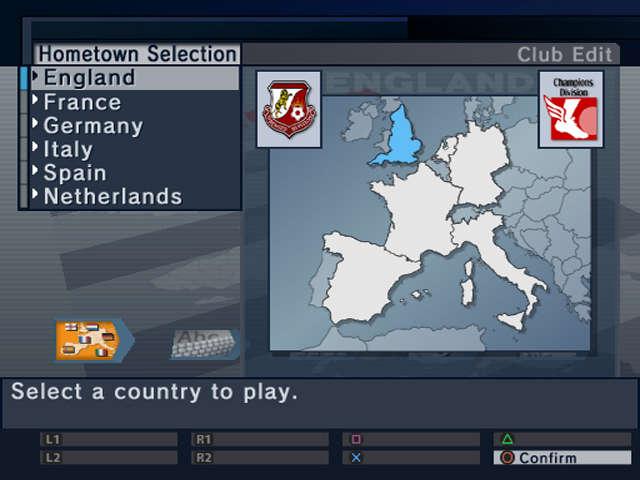 Let's Make a Soccer Team is the latest Soccer Management game from Sony that allows players to create their own dream by becoming not only the manager but also chairman of their football club. For those that are having a little trouble reading that first sentence, that's correct, this is probably the first true soccer management game for the PlayStation and was actually designed in Japan!
Features
As boss, you take responsibility for the clubs successes and failures - on and off the pitch. Appoint your own personal secretary to help manage your diary as you focus on the tasks of controlling everything from the badge and kit design, right through to sponsorship, merchandising, stadium expansion and extra facilities to help bolster profits.

You'll also be in charge of the squad, so you'll have to buy and sell players, set-up training sessions to nurture the stars of the future, tweak your tactics and mastermind your climb to the top. Through the advanced 3D match engine of Let's Make a Soccer Team! you can monitor your team's progress and view your tactics in action whilst managing your team from the dugout. Success will then allow you to rebuild the squad in a bid for another promotion into the top league, and once you achieve that - the Championship and European competitions await.

Keep your players, fans and the media happy - dealing with players concerns; media interviews and rivals mind games. Your club in the real football world - time to decide if you belong in the dugout or the director's box!
With that said, the game allows players to perform a variety of functions as manager such as mastering staff morale, training, tactics, transfers, stadium development, sponsorship, merchandise and many many more aspects of football management. Unfortunately for those that want realism, the teams are unfortunately limited to only a select number of European countries such as England, Germany or Spain.
Unlike most soccer management games, Let's Make a Soccer Team features some interesting twists that are clearly Japanese in origin such as the option of choosing your own personal secretary that each have their own... special attributes. Once the necessities are out of the way, the gamer then decides about his or her football team.
Fortunately not all aspects of the game are controlled by the player which assist in the gameplay value because nothing is worse than having to control every inch of gameplay, especially in management or world-builder games. Thus as manager, you have the power to delegate certain responsibilities to staff while you sit back in the stands and watch your team win... or lose.
With that said, the chairman aspect is arguably the strongest point of Let's Make A Soccer Team, as you can ignore the day to day triviality of improving players, to build up the ground and maximize the potential of your back office staff. You can appreciate why this title was such a success in Japan as it offers the practically of signing players and making decisions without any of the depth or strategy that more experienced Australian players demand.
The menu system and controls of the game are relatively straightforward and are extremely reminiscent of Konami's Pro Evolution Soccer series. Once the game starts, the player can either choose to watch the events on the field with some commentary or receive the quick option that basically gets to the point.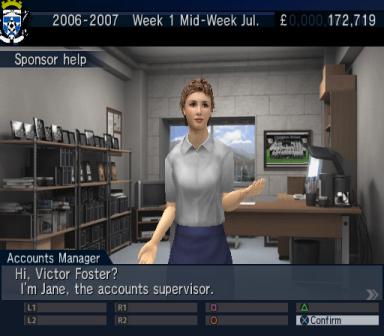 Graphically, Let's Make a Soccer Team is a mixed bag that sometimes features extraordinarily realistic animation that is sometimes matched with poor animation. Fortunately the backgrounds, player designs and menu system almost makes up for this slight graphical hitch.
In conclusion, Let's Make a Soccer Team is not your stock standard PC sports management simulations but is aimed at those who just wish to dabble in the management aspect of games to basically give you a taste. The developers have added some unique things into the game such as being able to choose your own secretary and the creation of merchandise that screams Japanese and in the end, it comes down to good clean fun. Unfortunately it may become a little repetitive for those wanting more.