Lara Croft Tomb Raider: Legend
Letís get this out of the way; this game was the one that Crystal Dynamics and Eidos needed to revive the Tomb Raider franchise. After a lacklustre last outing, Eidos took developer Core away from the project as the name Tomb Raider needed some fresh blood. What weíve got here is a kick arse game that truly has invigorated this gamer and I am really pleased to say that Lara is well and truly back with an offering that is as fresh and exciting as the original two Tomb Raider games.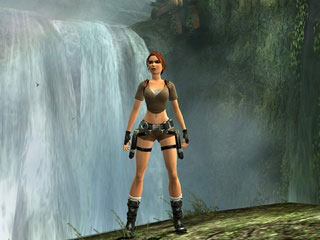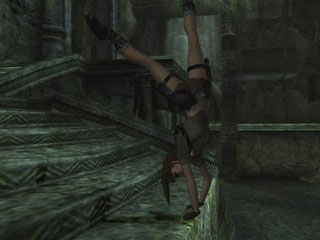 The story is a mix of present and past. Lara is sure that a friend of hers Amanda is still alive, despite being trapped under a pile of rubble underwater, an accident that Lara only just avoided herself. This all ties in with the disappearance of her mother as well, presumably into some kind of vortex as she tried to spare Lara from the same fate. Croft needs to find out what happened and it involves some sort of ancient sword relic that other parties are keen to get into their possession as well.
The tale takes you all over the world to some truly fantastic locales. The attention to detail is fabulous and in fact it is this game that has really shone to me in terms of the fact that if you put your mind to it that great looking games can still be developed on the PS2. It simply looks amazing and there is very little to complain about graphically.
The game has upped the ante from the puzzles in the past where you just had to pull across some blocks to get to a lever or something along those lines, you will actually have to think. Part of my thing was a series of slapping my forehead when you work out what you are meant to do, part of it was really enjoying the fact that this time round, the game is going to throw a number of spanners in your works.
Traps and adventuring aside, there is plenty for those of us with itchy trigger fingers. Lara can handle a number of weapons with inclusion of throwing hand grenades. There are a number of fire modes and also clicking the R3 button can do some close and personal firing. Locking onto enemies by holding on to the L1 and then deftly flicking firing and changing targets will see Lara taking out most of her foes.
Gymnastic moves abound in the title as Lara is possibly her most animated in any game in the series. In a great effort to make sure that the game runs as smoothly as possible, If you get Lara near an item that she can grab, thatís what happens. Sheíll grab with both hands and if only one manages to hold on then itís a press with the triangle that will allow her to rip the other hand up and make sure she is safe.
Locales in the game include Kazakhstan, England, Japan and loads more that Ms. Croft has to negotiate her way through. Everything looks highly polished even on the PS2 and there are many interactive items that you can latch onto with your grappling hook, including your enemies in a Mortal Kombat ďGet over here!Ē type way.
In a bit of a breakaway another thing that I enjoyed is the occasional side step into a Dragonís lair mode where Lara is pre animated and you affect her movements by simple button pressing at the right time. Itís pretty cool and theyíve fitted it into the game really well.
My only gripe with the title is that itís over too soon. I clocked in at 11 hours
With a compelling storyline, drop dead gorgeous graphics and a real return to form, this is one game that if you had been put off the franchise then you simply owe it to yourself to find out why Lara and Tomb Raider was so awesome in the first place. I would have to give this one both thumbs up and say that it is a must have title for your PS2. If you want to see a game done right, then this one is for you.