Guitar Hero Rocks the 80's
Guitar Hero Rocks the 80's is an amazing addition to the Guitar Hero franchise that allows gamers to transform into 80's rock stars that include bands such as Twisted Sister and The Police in this extraordinary addictive and entertaining title.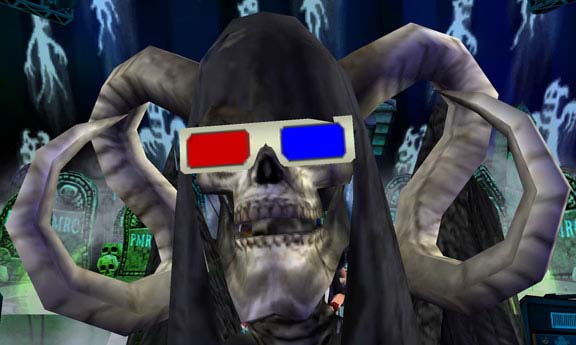 It should be noted that this current incarnation of Guitar Hero II is basically an "expansion pack" to the previous title which offers gamers 30 new songs from the 1980's with almost identical gameplay... not that this is a bad thing mind you!
Fans of the series will have little complaints in purchasing this title, provided you are a fan of 80's music because you can once again put on those tight pants, slap on way too much hair gel and start rocking your house.
So what exactly is Guitar Hero? Basically it's a rhythm game where the player must match the notes on their PS2 Guitar controller that is fortunately shaped like a real guitar.
By matching the correct buttons at the same time, you will successfully play that note and with practice, you will become a Rockstar master as you pump out the tunes in time to the original classic. The six stars of Guitar Hero II also return which include Johnny Napalm, Judy Nails, Izzy Sparks, Pandora, Axel Steel, and Grim Ripper.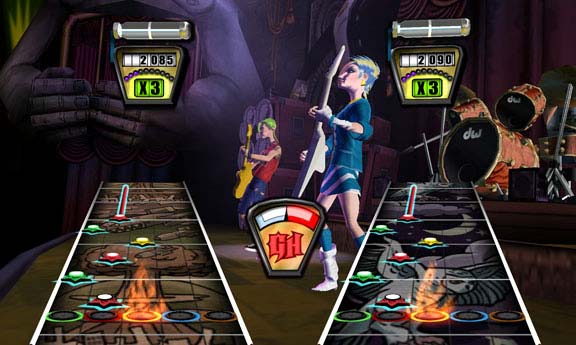 The star of the title are the classic 80's rock tunes which include greats such as The Vapors "Turning Japense" and .38 Special's "Hold on Loosely" which will have you dancing and playing your guitar like a true Rockstar in the comfort of your own home. Even the songs that have been remixed still tip their hat to the original tunes but gives it a true rock remake.
Graphically, Guitar Hero Rocks the 80's proves that the PlayStation 2 still has some life left in this old dinosaur. The characters have been professionally rendered, even though they appear a little too cartoony at the best of times with their 80's style of hair and costumes. Match that with some great venues, courtesy of Guitar Hero 2 and you have a truly visual and entertaining title.
In conclusion, Guitar Hero Rocks the 80's is definitely a walk down memory lane for this old gamer that we could easily recommend to lovers of the original title and those that love those classic 80's songs. Although in terms in of gameplay, absolutely nothing has changed, this title basically increases your music library. A fun little addition to the Guitar Hero empire!

Soundtrack list

1. Opening Licks

* "(Bang Your Head) Metal Health" - Quiet Riot
* "We Got the Beat" - The Go-Go's
* "I Ran (So Far Away)" - A Flock of Seagulls
* "Balls to the Wall" - Accept
* "18 and Life" - Skid Row (encore)

2. Amp Warmers

* "No One Like You" - Scorpions
* "Shakin'" - Eddie Money
* "Heat of the Moment" - Asia
* "Radar Love" - White Lion [13]
* "Because, It's Midnite" - Limozeen (encore)

3. String Snappers

* "Holy Diver" - Dio
* "Turning Japanese" - The Vapors
* "Hold on Loosely" - .38 Special
* "The Warrior" - Scandal
* "I Wanna Rock" - Twisted Sister (encore) [14]

4. Return of the Shred

* "What I Like About You" - The Romantics
* "Synchronicity II" - The Police
* "Ballroom Blitz" - Krokus[15]
* "Only a Lad" - Oingo Boingo
* "Round and Round" - Ratt (encore)

5. Relentless Riffs

* "Ain't Nothin' But a Good Time" - Poison
* "Lonely is the Night" - Billy Squier
* "Bathroom Wall" - Faster Pussycat
* "Los Angeles" - X
* "Wrathchild" - Iron Maiden (encore)

6. Furious Fretwork

* "Electric Eye" - Judas Priest[16]
* "Police Truck" - Dead Kennedys
* "Seventeen" - Winger
* "Caught in a Mosh" - Anthrax
* "Play With Me" - Extreme (encore)