Grand Theft Auto: Liberty City Stories
There are a million stories in Liberty City. This one changes everything. Once a trusted wise guy in the Leone crime family, Toni Cipriani was forced into hiding after killing a made man. Now he's back and it's time for things to be put right.

The streets of Liberty City are in turmoil. Warring Mafiosi vie for control as the town begins to self-destruct under waves of political corruption, organized crime, drug trafficking and union strikes. No one can be trusted as Toni tries to clean up the mess of the city's chaotic underworld. Deranged hit men, morally depraved tycoons, cynical politicians and his own mother stand in his way as Toni tires to bring the city under Leone control.
Fun Fact #1: The majority of PSP games are ports from the PlayStation 2
Fun Fact #2: Grand Theft Auto: Liberty Stories was a PSP exclusive
Fun Fact #3: Grand Theft Auto: Liberty City Stories is a PSP port on the PS2
With these little fun facts out of the way, Grand Theft Auto: Liberty City Stories was a thoroughly entertaining game on the PSP that unfortunately pushed the console to its potential with its PlayStation 2 style graphics. Needless to say, it is definitely a must have game for the PSP but how does this port compare to its older brother? Read on...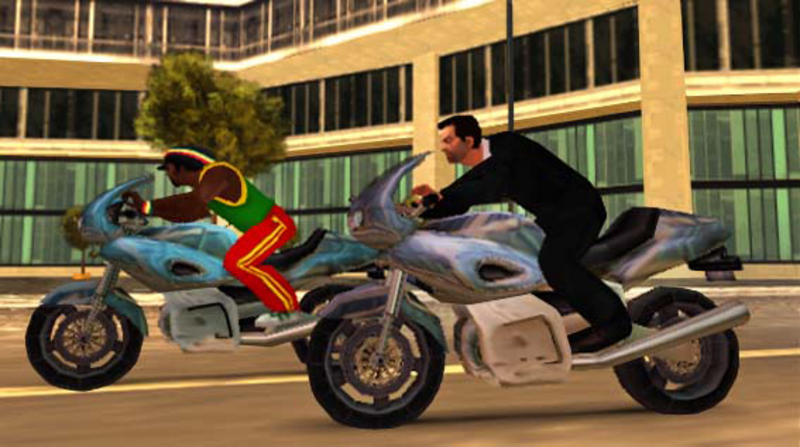 The storyline of Grand Theft Auto: Liberty City Stories takes place in the Grand Theft Auto III universe, within the walls of Liberty City and once again players have access to all the islands within this city. The gamer takes the role of Tony Cipriani, an upcoming Mafioso from the Leone family whose destiny became complete in Grand Theft Auto III. As this game is set several years before Tony's capture, you start from a lowly level street thug until you eventually become a feared and deadly mobster that made Grand Theft Auto III so great.
Fun Fact #4: If it ain't broke, don't fix it!
Rockstar have made the Grand Theft Auto series a truly unique experience that gave the player just about unlimited freedom and once again, the gameplay of this current incarnation is similar to previous incarnations. The universe of Grand Theft Auto is massive and with previous versions, you can interact with just about anything and anyone in the gaming world. Whether you're completing the prescribed missions or just racing around and having fun, this game has it all.
Features:
Massive non-linear storyline penned by an award-winning writing team

Professional character voice acting and production

All-new soundtrack with the in-game radio stations that Grand Theft Auto made famous
Missions are allocated to players by meeting various people in the gaming world and when you interact with these dark and seedy underworld characters, their name becomes highlighted on your map so you can either accept their missions or move onto the next character. The beauty of selective missions is that it makes the game non-linear which not only increases the gameplay value of the title but keeps things unique and interesting.
Rockstar have once again gone outside the square as the missions are extremely entertaining, scary and down right freaky. Whether it's being hired to hit off celebrities because of a crazed major or delivering contraband to shady characters, the world of Grand Theft Auto is truly a fun place to be.
Unfortunately Liberty City Stories has only three save houses, unlike the almost infinite save houses in San Andreas which does become a little annoying, especially on those difficult missions. Fortunately there are a plethora of vehicles that will assist you to reach your intended destination, whether it's an ambulance, truck or boat, there is always something to get somewhere in Liberty City Stories.
The gameplay of Liberty City Stories is extremely reminiscent of the PSP version but fortunately nothing beats the DualShock controller which allows the gamer to use the analog stick to control not only the targeting system but also the camera. Another aspect of Liberty City Stories that is absent from the PlayStation 2 version is the multiplayer modes that are unfortunately missing from this current incarnation.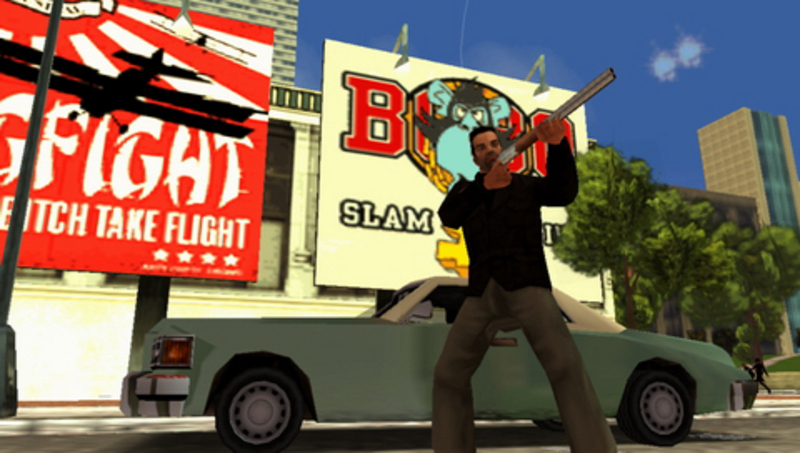 Graphically, the title is a little dated when compares to the other Grand Theft Auto games on the PlayStation 2 as it's almost as if you have plugged your PSP into your high definition Plasma television that is a no-no. Although the frame-rate and draw distance have been increased in the PlayStation 2 version, the characters still look a little like LEGO and it would of probably been an impressive game around 3 or 4 years ago.
What truly stands out in this version of Grand Theft Auto is the exceptional audio quality of this game which features one of the best sound tracks I have heard in a long time that not only include licensed tracks but also various radio stations that once again feature extraordinary shock jocks, DJ's and announcers. The game also contains all the sounds of the Liberty City Stories from car crashes, police sirens and the realistic noises of the public.
In conclusion, Grand Theft Auto: Liberty Stories is an entertaining title in the current drizzle in the gaming world but unfortunately it does not hold up too well tot he current games on the market. However, if you're looking for your GTA fix then you really should check this game out and best of all, the title isn't a full priced PS2 game and some places online have it for $39.95AUD