EyeToy Kinetic Combat
Hayah! KaPow! Kungphooey! Kinetic is back again to make you lazy bones move, myself included!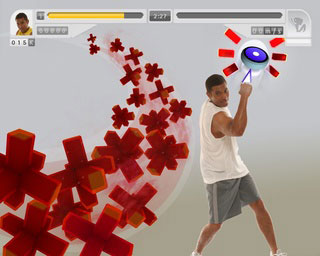 After the success of the first Kinetic, Sony have decided that itís time to make you put on those boxing gloves, karate gi and anything else that you would decide to wear when you are whipping pixelated buttocks!
One of the first things that you need to realise is that if you really want to, this lil ol game can actually help you work off some of the lard you might have acquired playing other games. So before you play, make sure you have an idea of your weight and other bits and pieces as if you want to get the most out of the title, these details will affect the way the game performs for you.
The game is tied into the PS2ís internal clock and as long as you stick with the program that is set out for you, most gamers should see some results by doing as the game says. As the title progresses, the difficulty of workouts increase and over the time that you play the game you should see some benefits.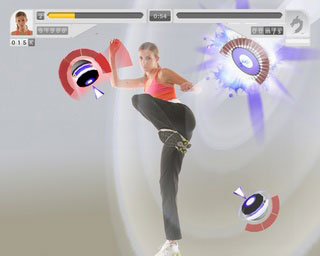 Naturally donít go thinking this game is going to make you Jet Li and any other martial arts type guy. Whilst you will get an energetic workout, the instruction is pretty passive and encouraging and as long as you hit the right parts of the screen at the right time, you are going to go just fine.
You are going to need plenty of room when you play this game as you will be punching and kicking and will need your whole body visible to the EyeToy. It comes with a special widescreen adaptor that will help with this but just be sure that you donít break anything good when playing this game, so clear some space.
This title has been released with perfect timing for Christmas. I think that there will be a lot of punching and kicking around the tree come the 25th so make sure that if you have any good presents they are nowhere near the PS2!
Get your fight on with EyeToy Kinetic Combat!