Dragonball Z Budokai Tenkaichi 2
Fans of DBZ should be stoked. Tenkaichi 2 follows the storylines of the DBZ universe and delivers up a game that will be loved by fans and first timers alike. Attention to detail is key in this game and itís shown here in spades with a rich world filled with opportunity for fighting your way literally over air land and sea.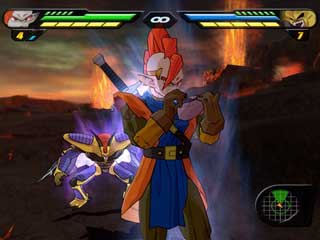 This is a fast paced game which plays totally into itís cartoon, anime origins. Gamers will need to be quick on the controllers to get the most out of it and practice will indeed make perfect. Every character that you can think of has been included and their presence in the game makes sense with it being propelled along by a very solid storyline that is told during gameplay.
As you can imagine, fighting with characters of the power that some of these ones possess would wreck the odd village or two and that has been taken into account with some very satisfying environmental damage effects that destroy buildings and other structures. Itís an insane amount of fun that is really well put together.
As in the past this is a dream to look at with great framerates and animations to die for. The graphic style is cell shading and the colours are every bit as vibrant, if not moreso than the cartoon. Everything is over the top and the likeness to the cartoon is perfect. It is truly a chance for fans of the series to play as their fave characters in a very realistic way.
Players can select regions of a map to travel to and this helps with the story progression. There are a number of game modes that you can play in order to get better before taking on the main game, or you can just jump right in if you like, itís that simple.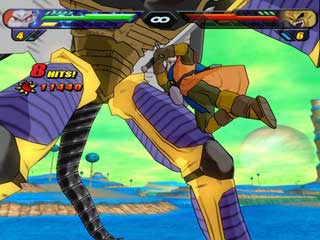 As mentioned earlier, battles take place wherever you can think of, within the one fight. Using the acrobatics that most characters display on the show, you could start the fight off on the ground but shortly be battling in the middle of the sky. Other fights could just as easily see the water being the scene for combat.
Upgrades abound in this game depending on the mode you are playing in. You can even go and find out more about the series and characters in the DBZ Library which is chock full of useful tidbits about anything and everything DBZ. I do think that the hardcore fans will be very happy with what they get in this title.
Ultimately this is a title that works, and works well. It does tend to favour those who might have played before or know the characters from the cartoon, and might even alienate players who are expected to know who everyone is. For those gamers I would suggest the DBZ Library might be the first point of contact for you or even checking out a few episodes on DVD, it really is a great series and worth doing.