Buzz! The Sports Quiz
Buzz and Rose are back in the next incarnation of this popular series, this time taking the mental challenge to those with a bit of a liking for all things sports. Using the controllers that are provided, players will have a ball with the different ways that you can play the games that are included with questions ranging from general knowledge through to indigenous questions about Australian Rules football and other bits and piec6es that Aussies will identify with.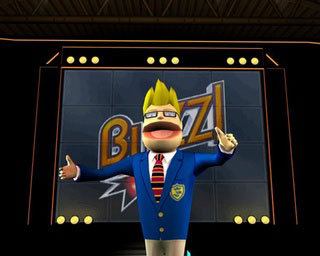 Yes, this is the way that these games should be put together now, with content relevant to the region in which the title is released. I remember in earlier games years ago, you simply had to take into account that trivia games would ask obscure questions about baseball and American Football that you would be guaranteed to have no idea about. Now there has been a lot more thought put into the whole thing with different parts of the world being asked relevant questions. Great Stuff.
You make your way through the title and there are a variety of styles which you use to play the game. Buzz keeps it all interesting throughout and the voice work that is done is funny and entertaining. Buzz is one heck of a host and though heís over the top at times, strangely I did not get sick of it. The graphic style of the game is also pretty basic but itís almost the simplicity of it all that keeps it so amusing to play.
If you want to up the ante when playing the game against mates you can also wager points on if you get the next round right or not. Possibly not such a great thing to be teaching the kids, however with a few beers on a Saturday evening, it sure provides a lot of fun times when there is gambling involved!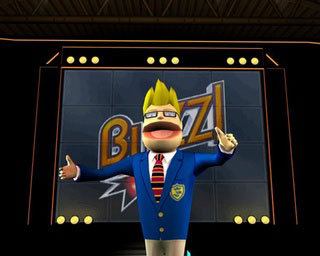 As you would expect with a game that has a title like this, everything is sporting themed and the winners are shown by a medal count. Even the gaming backgrounds are sport oriented which all makes sense but does really bring me to this point: If you donít like sports then this is a game that will not work for you one iota as you get it in spades. For those who are enthusiasts, it will be right on the money for you. I would also add that some of the questions might be above the ability of our very young players to handle however the content is certainly appropriate.
This latest Buzz! Game is a good addition to the series, though the direct theme of it in this nature may put off some gamers. This might be one that if you already own the controllers then a rental first may not hurt to see what you think.