Buzz! Junior RoboJam
Buzz! Junior: RoboJam features four cute robots competing in a number of ridiculous and funny challenges to become Robot of the Month. You'll need quick reactions in order to help them battle their way through a hilarious collection of great new games. These include dodging the rockets of top military droids on the firing range, becoming crash test dummies for the day, and dancing the night away with an enormous singing alien octopus.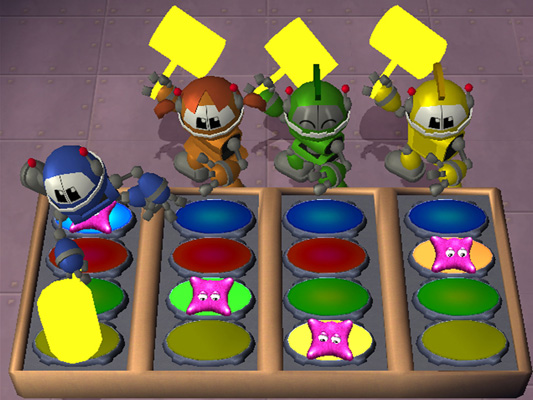 The hapless robot pals compete against each other in an every-bot-for-himself competition. Gain the greatest number of nuts for your robot by the end of the challenge to win! When less than four players are available, or even when only one person is playing, Buzz! Junior: RoboJam, allows players to participate in the full 4-player mode and have the most possible fun. 1-4 player Buzzer bashing fun, select from four Robots which have different colours and characteristics. 25 great games giving even more Buzz! Junior humour (all with a whiff of diesel oil).

Features
1-4 player buzzer-bashing fun

25 brand new games with ten specially-created Team Challenges: kids will come back for more time and time again

A brand-new world, light years away from Buzz! Junior: Jungle Party - but the same awesome Buzz! Junior style of play that kids love

Build Your Own Robot feature: players can customise the colourful boy/girl robots to suit their own personalities

Forthcoming releases in the Buzz! Junior series make the Buzz! controllers a great investment

Great for kids but the adults won't be able to resist getting involved

Requires Buzz! Buzzers to play
Buzz! Junior RoboJam is another Buzz "buzzer" game for the PlayStation that once again reunites four younger players in an exciting game of entertaining challenges as they battle for supremacy. Needless to say, no one is really a loser in Buzz! Junior RoboJam which means even the youngest of players will be able to enjoy this title along with their older siblings and friends.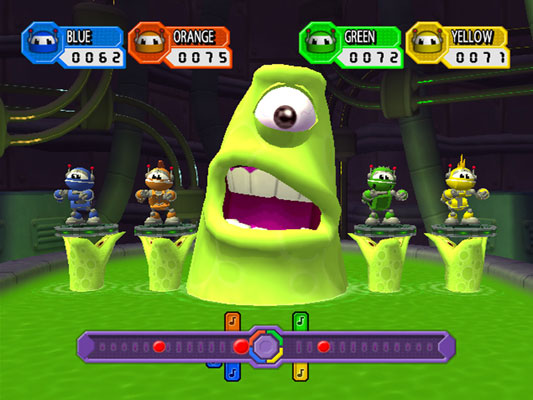 Although the games are rather simplistic and almost in the same genre of Eyetoy, the developers have really utilised the buzzers in this title, however it may be wise in informing the children to be gentle as they play their way through over 25 different games.

Some of the exciting features of Buzz! Junior RoboJam is that gamers can now build their own boy/girl robots to suit their own tastes and personalities and give them a sense of ownership with their characters which is great for the younger gamer.
Even if you don't have four players available, gamers can either play solo or up to four other players and even against the AI of Buzz! in this hilarious and addictive game. It should be noted that this title is definitely for the younger gamer and older games will probably receive very little from this game.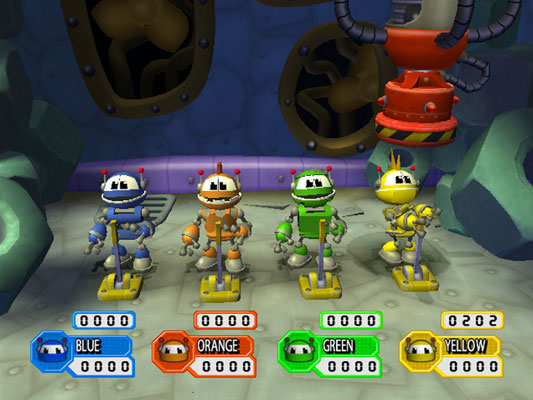 Graphically, the title is rather simplistic yet has a Saturday morning cartoon feel with its bright colours and "cartoon" like graphics that will easily draw the player into this wondrous world.
Match that with some great sound effects and a very entertaining musical score and Buzz! Junior RoboJam is one title that I would recommend those parents who own the original Buzz! title and wish to give their children a game that will definitely keep them entertained for hours upon hours. Check it out!