Buzz! Junior Jungle Party
This cute little game continues the buzz franchise that came out a few months ago with the game show like controllers. The title is a truly family affair with the content being suitable for everyone who might sit down in front of the machine when the game is on.
Using the Buzz! Controllers means that your normal ones are forgotten in this title and everyone can bash away to their hearts delight. This title featured a whole stack of games with various themes with a concise guide as to how to make them all work. These are all fairly simple to get into, yet will prove to be a lot of fun, especially when playing the game with the youngsters.
Getting into the game is easy and after choosing your monkey as your character you can then choose which games you want to play and how long youíd like to play them for. A lot of the titles are simply quickest on the buzzer wins although with others it will be a matter of timing that determines the winner. All are fun to play and lead to some good nature ribbing amongst my family.
Bright and full of character, this game works perfectly for the young kids itís really aimed at, older players will possibly lose interest in playing the mini games when the same themes start cropping up over and over again, but the young ones donít notice; there are new pics on the screen and that is all that they care about!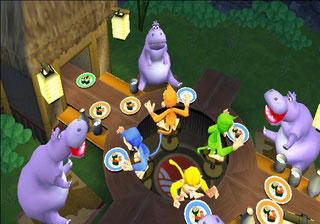 Ultimately I donít think there are going to be many gamers who donít enjoy this. Itís easy to get into, works great as a party game for both young and old and even though the games do sort of repeat themselves activity wise, they are still lots of fun. Itís just a matter now of seeing what can be done with the controllers outside of simple question and answer games, and this title is a nice start to all that.
If you have kids, then this game is worth picking up and trying out, even if you donít have the controllers yet (which you will need to play the game). Just be aware that this is a younger title and that the fun is of a simple nature and you will be fine. For those of you who enjoyed the trivia game, remember that this is a totally different use of the controllers.
Good fun.